Feature image via Shutterstock.
Today marks the beginning of the first weekend of Coachella, which means that summer festival season is officially upon us. Somewhere out in the world, OutKast are preparing to embark upon a 40-stop festival tour despite tangible evidence of any new OutKast material. For those of us who are slightly less ambitious, one or two outdoor festivals this summer sound like a doable thing. According to thousands of thrill-seeking masochists, nothing sounds better than gathering in a large and chaotic environment, paying exorbitant amounts for tickets, accommodations, camping and food, and basking in a pit of sweaty, potentially unstable strangers while listening to the delightfully muddy strains of a marginally popular, recently hyped band playing several hundred feet away.
Before you accuse me of just being negative, hear me out — I love live music.  It's what I do.  As a teenager, I approached every concert I was about to see extremely cautiously, as though seeing a band I loved in the flesh had the potential to destroy the magic I found in their albums (spoiler alert: it does).  It was never a casual night out; each show was an event.  My friends and I used to show up at gigs hours before doors just to loiter around outside and meet the other weirdos in line, and we developed fool-proof techniques for squirming our way to the front of every crowded room so we could stand in front of the speakers and sing along like lunatics.  Outdoor festivals like Warped Tour and Ozzfest were our bread and butter, extensively planned and attended with ritualistic fervor.
Nowadays, I've been to thousands of shows, I've lost a solid chunk of my high-end hearing, and I'd rather be seated in a booth in the balcony or leaning against the bar.  I get it — I'm old and cranky, and outdoor music festivals are for the young.  Why, then, do the organizers of such events insist upon putting together such tantalizing lineups, which even my jaded little heart can't resist?
Hopefully, with the tips I'm about to list below, you and I can get through festival season together.  Let's hold each other.
---
First Of All, Girl, Your Outfit
Having the proper ensemble for an outdoor festival is of utmost importance.  According to the Internet, I am led to believe that people who understand how to dress themselves all over the globe aspire to look as cool and breezy as Sienna Miller and Kelly Osbourne did at Coachella this one time: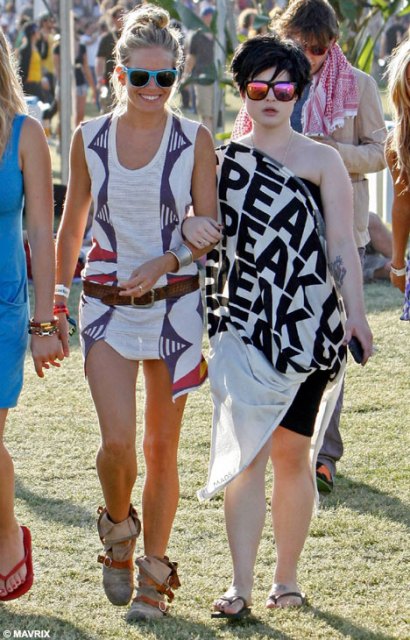 I am here to tell you: nope nope nope nope nope.
First of all, I don't care if the festival is at a beach resort, in the middle of a cornfield or on actual Mars, I will never wear white to anything.  I will also never wear shorts, and I will never wear flip-flops.  Kelly, I'm sure you had a marvelous time, but you look like you are holding a white flag around a black tube dress?  Here is a picture of me in May 2008 when I attended my very first (and subsequently last) Bamboozle:
It might be 115 degrees, but I'm still going to wear black jeans no matter what; I'm probably also going to wear a black top, although it might be a tank top of some sort.  It's just who I am, and the sooner you accept this, the sooner we can move on to more important matters, like whether we're going to try to catch Dum Dum Girls or Austra.
You're going to be outside all damn day, and you're going to be walking all over the grounds between assorted stages, pausing occasionally to drop $15 on a single bottle of water.  Make sure the shoes you bring are comfortable, breathable, and sturdy.  Wearing flip-flops is like a huge cosmic invitation for someone wearing boots to step on you in a crowded mosh-friendly area and subsequently break important bones in your body.  If it's gonna be muddy, cute rain boots are always an option.  Think this through.
Laugh at me all you want, but believe me when I say you are going to need sunblock.  The last thing you want when you're being unwillingly pressed against a thousand strangers' sweaty bodies is a painful sunburn.  I use Coppertone Waterbabies SPF 50, like the kind they use on actual babies.  I live in Los Angeles and I glow in the fucking dark.  Just trust me on this one.
The only other absolutely essential item you will need for personal upkeep is a pair of sunglasses.  You will hate your life without them.
---
The Great Outdoors
Are you camping?  You're camping, aren't you?  By day three of sleeping out in the middle of nowhere with a bunch of bros on ecstasy, you're going to feel really gross, but you're still going to want to Instagram your adventures and make all your friends jealous, right?  You're going to want your makeup to be on fucking point; you never know when somebody might be taking a glamorous photo of you enjoying your fabulous life.  The best thing I can recommend is Lizz's guide to feeling less gross after flying. These tips are great for feeling less gross after… well, most gross things.  Having clean face wipes on hand after a long and sweaty day is an absolute game-changer.  Beyond that, I use Revlon ColorStay eyeliner cos it actually stays on my face when I'm sweating, unlike a lot of other cheap drugstore brands.  Whatever works.
There's no real way around it; being away from your creature comforts is going to be at least a little bit unpleasant, but it always helps to be as prepared as you can possibly be.  It's highly unlikely you'll regret bringing a spare roll of toilet paper, a small hand soap or a container of Purell.  Did you pack your deodorant?  You may want to double check.  Earplugs are a pretty solid idea if you plan on still hearing things ten or twenty years from now (I never used them, and now I have the hearing capacity of a normal person nearly twice my age).  You may also want a mister fan, or a bandana you can soak in water and lay across the back of your neck.  You will be fighting a near-constant battle against dehydration and heat exhaustion, and every little bit helps.
---
Don't Be A Jerk
Hey, everybody wants to be standing stageside, calmly sipping a Vitamin Water in VIP with Lindsay Lohan, smugly fanning themselves with a festival program while Lana Del Rey performs just a few feet away.  You're important and I believe in you!  But the festival staff who are putting this thing together are super stressed out and have enough to deal with, and they don't even get to relax and enjoy the show!  You'll get a lot further if you treat everyone you encounter (especially security) with absolute respect.
In short, don't be Kate Moss trying to talk her way backstage in this picture from Glastonbury a few years back.  It's not a good look:
---
Make A Plan, But Don't Necessarily Stick To It
Every time I go to any sort of action-packed musical happening, I create a really intense and seriously overwhelming colour-coded Google calendar so I can be absolutely sure I don't miss any of the acts that I must witness.  When you're dealing with multiple stages, there's a lot going on at once, and you'll have to make some unpleasant decisions between a lot of great bands all performing at exactly the same time.  I often find it useful to figure out how important different performers' sets are to me, and then walking through what an ideal day would look like if I happened to see only my first choices for every available time slot.  This incidentally is the planning routine of a crazy person, and life almost never works out this way.  You have no idea what kinds of adventures you're going to run into throughout the course of the day, or what you'll discover, or what might sound like a good idea to you after several beers in the sun with the absolutely gorgeous girl you just met standing in line at the merch booth.  Be flexible and open, and you might be surprised by how much more fun the unplanned can turn out to be.
Bring sunblock, though.  For real.