WELCOME TO BRA WEEK! This week and next, the Autostraddle writers and some special guests will be giving you the scoop on over-the-shoulder-boulder-holders and otherwise-inclined chest-covering situations — fashion, history, feelings and so much more.
---
How To Size Yourself For A Bra
by Robin Roemer
To fit yourself properly for a bra, besides the old trial and error method, you'll need to measure your bust. If you don't have a cloth tape measure, just use a strip and then measure that with a yard stick or regular tape measure.
Step 1: Measure your band length. This is length around your chest just under your breasts.
Step 2: Measure across your chest, right in the middle across your nipples.
Step 3: Take the measurement from step one and subtract from step two! This number will determine your cup size.
Use this handy chart to help you find your cup size in inches or centimeters.
Your size will be your band length and your cup size. Voilá! Little known fact. Cup size is not universal. So if your breasts are the same size as someone, but your band size is different, you do not share the same cup size. See this infographic!
This info is important if you ever want to change bra sizes!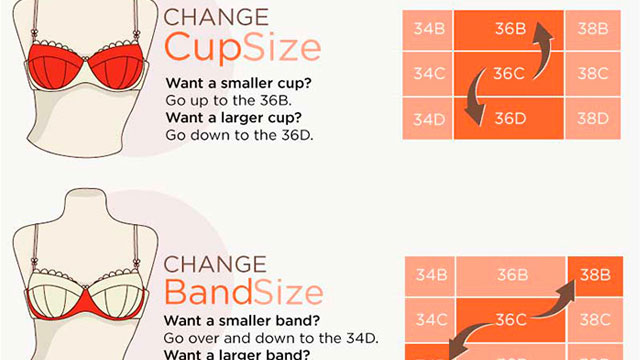 A few extra tips!
– You should be able to stick one finger under your strap. Don't let it be much looser than that since the elastic in bras tends to stretch out over time.

– Lean over when you put your bra on. It'll help you fall into place a bit easier.

– There should not be any gaps between your breast and the inside of the cup. Your boobs should also not be popping out of your bra.
---
Where To Buy Something A Little Fancy
by Robin Roemer
My experience in lingerie stems from my years photographing couture lingerie collections, working with a lingerie personal shopper doing private boudoir shoots for her clients and abiding by a strict no-cotton policy. At this point in my life, I feel just as sexy (and a few dollars richer) in cotton boyshorts, but I still appreciate and admire the craftsmanship present in fine lingerie.
So if you want to blow your tax return on something sexy, or have a special gift in mind and a little cash to spend, here are just a few of my favorite lingerie stores!
Journelle has several boutiques in NYC, but you can easily shop online! They carry several different brands/designers. One of my favorites, Elle Macpherson's line of intimates, can be found here and isn't over the top expensive!
La Perla is one of my favorite lingerie brands. You can find their stores all over the world, in several of the largest US cities and online.
Agent Provocateur is couture meets kink. If you prefer leather to lace, but still want a feminine cut, try Agents selection. Find a store near you or shop online!
If you find even the most timid lingerie trashy, Kiki de Montparnasse is refined and sophisticated brand you might want to peep.
This isn't a lingerie brand per se, but if you are looking for fun leather accessories you can wear from day to night, Zana Bayne is a really amazing designer you should check out. The Zana Bayne fashion week show is up now on their website and items can be purchased from the online shop.
My most recent designer obsession is Dani Read.
If these brands are a bit more than you want to spend, you can do what I usually do and check out these collections for inspiration (or just eye candy). Whether you shop thrifty, do it yourself, or drop some serious cash, make sure you check out the materials on your garments before chucking them in a washing machine. It might be worth your while to hand wash your delicates!
Here are some picks from those stores for your collection: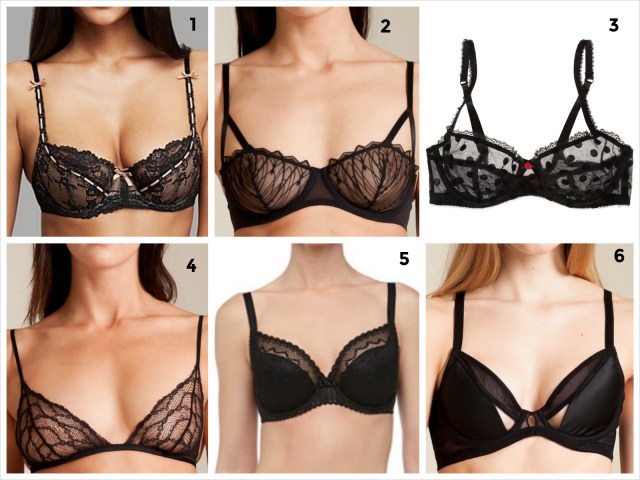 1. Elle MacPherson Artistry Contour Bra ($65) (A-DD).  2. La Perla Renata Demi-Cup ($124) (B-D).  3. L'Agent by Agent Provocateur ($74) (A-DD). 4. Kiki de Montparnasse Ondule Soft Cup Bra ($195) (S-L).  5. Chantelle Mutine Full-Figure Plunge Bra ($78) (D-G). 6. Lascivious Rachel Full Cup Bra ($190) (B-DD).
---

Where To Buy Something That Looks A Little Fancy
by intern veronica
Brands like Calvin Klein, DKNY and Victoria's Secret are great if you're able to make a mid-level investment in your bra. When it comes to lingerie, unfortunately cheaper bras are more likely to break (underwire popping out of the fabric, most often) or fray in the wash, but they'll do the trick for as long as they hold up! I find H&M and Forever 21 to be great sources of bras that won't last long but look good trying and Target is also a good place to find good stuff. Especially if you're looking for hard-to-find sizes, I can't recommend HerRoom and their search-by-size feature enough, and also Big Girl Bras, which goes from 28A to 58J.
Here are some options for people of all sizes and price ranges!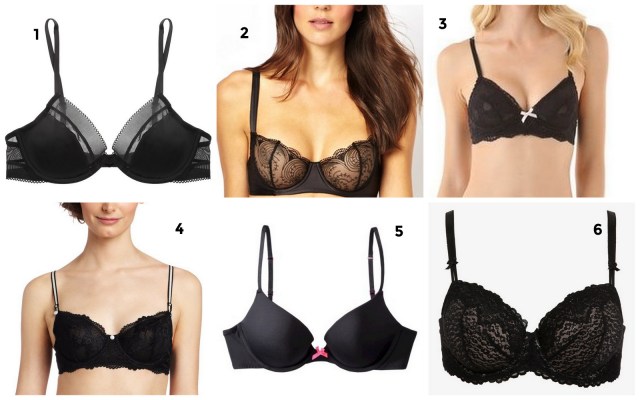 Black Nights
1. Calvin Klein Underwear Icon Bare Stretch-Satin Underwired Bra ($40) (B-D). 2. ASOS Boudoir Art Nouveau Lace Underwired Bra ($33.87) (B-D). 3. Bluebird Isabella Bralette ($32) (S-L). 4. Jezebel Women's Ideal Unlined ($32) (B-DD). 5. Xhiliration Perfect T-Shirt Push-Up Plunge Bra ($12.99) (A-D). 6. Torrid Lace Demi Bra ($42.50) (44B-40DDD)
---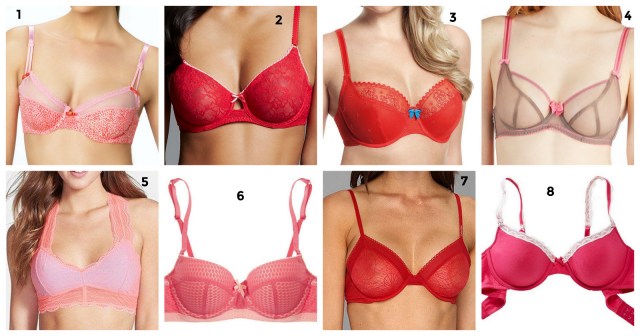 Pretty In Pink / Lady In Red
1. Felina Marielle Full-Busted Bra ($39) (32C – 40DDD). 2. b.tempt'd by Wacoal Full Bloom Underwire bra ($35) (32B-38D). 3. Cleo by Panache Lucy Balconnet Bra ($53) (28D-38J).  4. Under it All Unlined Bra in Grey and Pink ($62.99) (32B-38D). 5. "Scarlette" Lined Lace Bralette ($30). 6. Elle MacPherson Safari Style Stretch-Mesh Balconette Bra ($45) (32A-36DD). 7. Calvin Klein Launch Lace Underwire Bra ($31.99) (32B-38C). 8. Hannah Cotton Lightly Lined Bra ($24.99) (30AA- 38DD)