Sophia uses the Litchfield Dream Phone to call up all the hot guys she met at the mall today. She has the biggest crush on Dan but she'll take Jax or Gunner if Dan's not interested in being her man.
Sophia's next call is to her ex-wife Crystal. Sophia goes in on how annoying and dangerous it is to deal with all the new C.O.s and their incompetence when interacting with a transgender inmate. She's going to print out everything Autostraddle has ever written about being a trans woman, including all the pieces on how to act in allyship towards trans women, turn them into packet, and hand it out to every dumbass, transphobic officer at Litchfield.
On Crystal's end, high school hellcats, Michael and Benny, storm the house and rummage through the well-stocked grocery bags for grub. Lil' Michael's been wearing cologne and eating all the string cheese. Crystal relays to Sophia that she told Michael to ease up on the Axe body spray and he told her to "stop riding his dick."
Michael, in attempt to get a girl his age to actually ride his dick, snuck a girl into his room. Poor Crystal was downstairs watching Family Feud while Michael was upstairs finding his way to first and second base.
Crystal sent the anonymous young girl home. No slut-shaming though. Cuz Crystal is good like that. Sophia interrupts her story to say that maybe Michael's misbehaving is a sign that he can't be friends with Benny, Gloria's son. (I still don't understand why Sophia doesn't like Benny. Is it cuz Benny's Latino? Or because Sophia doesn't like Gloria? I don't understand this hitch in Sophia's otherwise thoughtful/logical character.)
Crystal doesn't understand what Benny has to do with it either. This entire situation with Michael has to do with the fact that he's a teenager and wants to get laid.
Crystal: This isn't about Benny. This is about Michael not rushing into sex and respecting women. Did you tell Michael that he should find an insecure girl for practice?
Sophia: He told you that?
Crystal: Yeah. He told me that.
We end on Sophia's face of shame.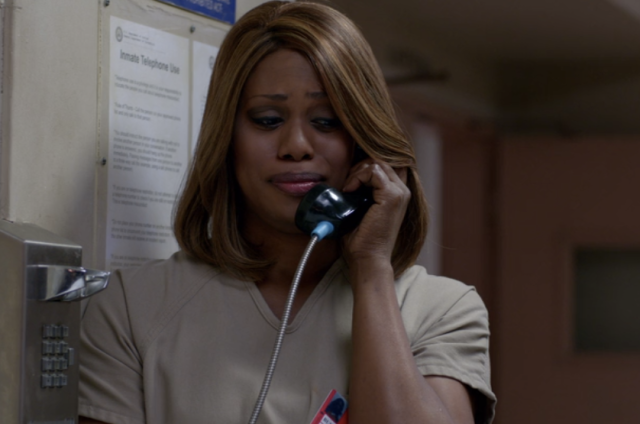 ---
At Chang's Commissary and Beauty Aids, Demarco asks for packs of the spicy Italian sausage ramen and they're out. They're out of all the ramen. ALL THE RAMEN. Someone even bought the Lysol flavored ramen.
Who? How?
---
With the blood of a million conquerors and gentrifiers running through her veins of ice, Piper bought up all the ramen properties in the neighborhood for the sole reason of having them all; not cuz she needs them to live but so that she can be the owner of this very hot commodity and utilize this shift in the supply and demand chain to her advantage and to further exploit the more disadvantaged folks around her.
The inmates need the ramen packets to cover up the vile taste of carcass chili. Since Piper owns all the packets, she'll make them wear her perve panties for ramen packets.
Alex: You're one clever asshole.
I'm so down for the Alex that isn't into Piper's utter bullshit.
I'd be more into this whole "panties for sale" bullshit if Flaca was the one running the panty scheme and not Piper. Flaca's the one who grew up sewing. How did Piper get so good at making panties anyway?
Alex is just as bored as I am. Imagine running kilos of cocaine internationally and then being in jail with someone who thinks they're Al Capone because they bought all of the ramen at the commissary.
Piper wants to know if Alex talked to the Gerber baby guard about smuggling panties out of Litchfield in his diapers. Alex hasn't. She's been much too busy working on her eyebrow game, spying on Tank Girl, and cognating her thetans. Piper's not into it. Piper wants Alex to focus on cognating the damn ramen packs into panties that get smuggled out of the prison.
Alex believes that Tank Girl is the reason Leah Remini left the Church and for that reason, she must be destroyed. If Alex doesn't combusticate Tank Girl into the atmospheres of Orion, then her own life will be in very real danger. V Real Danger, starring Fahri, Tom Cruise, and Alex
Piper is desperate for Alex to go back to being a drug rebel without a cause, not this babbling punk ass who's worried about getting killed. Besides, Alex has it easy. She's just gotta convince a dude to do a thing!
Piper: Men are even easier. With women you've got to build trust. Men just need the promise of sex and the promise of sex is free.
Alex: And what happens when they come to collect on that promise?
Piper: Worst case scenario you give the dude a handjob.
Oh, cool, aight, just a little handy dandy? Cool. Sign me up.
---
Flash to Fahri's Haus of Flashing Lights and Lines of Coco. Alex is a clubhouse trap queen cutting lines of coke in the VIP section. The only way to mourn, imo. Fahri's about to leave the party to pick up pizza and a drug mule. Alex is having so much fun and feeling herself so hard that she convinces Fahri to let the pizza and the drug runner find their own damn ride to the club. And Fahri listens to her! This is why you never get high off your own supply cuz it makes you lose your damn mind, make the wrong choices, and in the end it's your ass. But at that moment, they all pop a Molly or ecstasy or something and it's dance time. Alex has moves we've never seen.
It's all fist pumps and awkward freak dancing, until Fahri looks at the 17 missed calls on his phone and finds out the pizza and the drugs got arrested.
---
Suzanne is curled up in the corner of her bunk writing her sci-fi erotic masterpiece and hiding from Jehovah's Witnesses. Her genius must be released and no, she's not looking for Jesus. She'll take a pamphlet though. Now run along.
Poussey pops up from the cement wall that divides their bunks and asks if she's done with the next chapter in Erotic Tales of Sex Octopus and Scissor Shark — because this is the 3rd element in the "Poussey's Lost Identity" storyline (Her hootch addiction, The Norma Cult, and now octopussy porn.)
Suzanne won't rush the brilliance of her art for any damn body. And then out of nowhere, another fine ass unknown inmate appears and tells Suzanne that there wasn't enough scissoring in her fan fiction. Is there ever enough? Poussey jumps in to offer her academic breakdown of the Rodcockers versus Gilly vulvas. I'd read the hell out of Suzanne's frikitona sci-fi sex stories too, btw.
Jewish Black Cindy jumps in to add that what the story really needs is more Piranha Denzel Washington. The three of them offer insight into what the next steps for Erotic Tales of Sex Octopus and Scissor Shark need to be. Frustrated, Suzanne summons her Patronus, Falcor the Luck Dragon, and soars off into the Neverending Story, Pt. 2.
Pages: 1 2 3See entire article on one page