Hello and welcome to the eighth recap of the third season of Orange is the New Black, a network television beauty pageant that pits Evangelical Christian mermaids against renegade Wiccan Werewolves to decide once and for all who's worthy of the last Strawberry-Rita.
---
Welcome to mystery-meat hell, snitches. Red's kitchen is the New World Order and that means bags of pork-and-cow-guts puree have arrived on the scene. Litchfield bought them wholesale from the local school district. No word yet on if they'll also purchase the school's surplus of six-month-old graham crackers and hard-as-a-rock, slightly gray raisin snacks.
Marizta and Blanca slice the bags of chunky meat smoothies open and slop them into a metal pan. Beef Wellington. It's a celebration.
Red is pissed. She was hoping they'd be able to expand the vegetable garden with grazing land for cattle. She'd envisioned the day she could sacrifice her fattened calves to the Russian Gods of War and use their flesh to feed her prison kindred. All those innuendos with Cracker Barrel Healey were for nought.
---
The slop makes the cafeteria rounds. It's a symbol of what actually trickles down when trickle-down economics is served to the masses. Beef Wellington, my ass.
Black Cindy, the New Jew on the Block, greets her table of fellow kosher diners with all the warmth and affection of a sitcom Bat Mitzvah. Judaism has saved them all from having to consume Guy Fieri's backwash meat surprise-a-rooni.
Of course whenever Black people have something wonderful, there's gotta be some jealous fool trying to scheme on taking it away or getting their portion of it. We see you, Piper. Can Jewish Black Cindy live, y'all?
---
Morello's cool with it. Maybe one of her imaginary Jewish husbands will actually marry her and then she too can have a bowl of Stef's vegan matzoh ball soup.
Piper, who's never had life so hard before, wonders what Demarco is sprinkling on her meat chowder. Obviously, it's meat-flavored Crystal Light. Piper is now jealous of both Jewish Black Cindy and Crafty-With-A-Flavoring-Packet Demarco.
---
Listen, JBC might be switching religions but she's not one of those Norma-worshipping nutjobs. Huge difference. Huge.
At Norma's table of Dianetics and drag queens, all followers are holding hands and whispering, "If you can't love yourself, how the hell are you gonna love anyone else?" over and over again.
Poussey is so sad she's not at that table with them. She was really hoping to lip-sync for her life and win. What's the prize, you ask? Is it ten thousand dollars worth of cubic zirconium diamantes? Nope, it's 30 seconds of intense eye-contact from Norma, La Santera Blanca.
Taystee tells Poussey it's a cult. Black Cindy tells Poussey it's a cult. Everyone tells Poussey it's a fucking cult, and yet: they don't know what it's like to get touched by La Santera Blanca. None of them know what Poussey knows. None of them have seen the heavens overflowing with marigolds and semi-naked loverbois plucking on harps.
Poussey has seen the Promised Land. She's been touched by Norma and that shit is too real for words. And if anyone has a pill for believing in this storyline, please send it my way. Actually do you have enough for all of us on the OITNB recap team? That'd be great, thanks.
---
In the hallway of broken dreams, Pensatucky meets one of the creepiest dudes to hit Litchfield yet, C.O. Charlie Coats. Like what kind of casting calls is OITNB putting out?
Wanted: White men who look like they could be pedophiles or serial killers or murderous clowns. Actually, if you look like you could be all three of those things, you've got the part.
C.O. Coates is on van duty with Pensatucky but since he doesn't know his dick from a doorknob, Pensatucky must instruct him on how to be a guard and start a vehicle.
---
In the edgy white-girl section of the Litchfielmd dorms, Tank Girl and Bif Naked chit chat about interior design strategies. Tank Girl wants to cover the walls in monochromatic chevron wall paper. Alex isn't having any of that. Chevron is over, Tank Girl. It's fucking over.
So Alex does what any good Scientologist would do and uses a beard to have a baby while jumping on Oprah's couch. A frightened Tank Girl flees the scene. Alex is surrounded by criminals, heavy rollers even the sheisty individuals. She doesn't trust anyone, not even a beloved comic book heroine.
---
Flashback to Alex crying at a funeral and could she be anymore gorgeous in the moment? No. Alex is literal perfection. She's at her mom's funeral, without Piper. And I swear to Jewish Black Cindy, one of the best ways to weed people out of your life is to take attendance at a funeral. Alex's mom sounded like she was the actual best. She cared for shelter dogs, fed homeless people, and loved her drug-dealing, gal-pal-having daughter. What more could you ask for in a mom?
Alex leaves the funeral looking so fly. Blue hair extensions hanging down her back, black leather jacket, etc. As she walks away from the funeral, Fahri rolls up in his totally neutral, not-used-for-selling-drugs and/or doing-illegal-activities car and scoops her up. Ugh, we all have that one friend who's a complete bastard and yet somehow manages to be there during our roughest times.
Fahri is that friend. He's the friend that says "fuck your ex-girlfriend" while offering you a bump of funeral cocaine. And if you're really lucky, before you snort the coke, he'll also put you on to a drug deal in Paris. Cuz money makes the world go round and your mom's dead, so what do you have to lose? Nothing. Alex takes it all.
Sophia uses the Litchfield Dream Phone to call up all the hot guys she met at the mall today. She has the biggest crush on Dan but she'll take Jax or Gunner if Dan's not interested in being her man.
Sophia's next call is to her ex-wife Crystal. Sophia goes in on how annoying and dangerous it is to deal with all the new C.O.s and their incompetence when interacting with a transgender inmate. She's going to print out everything Autostraddle has ever written about being a trans woman, including all the pieces on how to act in allyship towards trans women, turn them into packet, and hand it out to every dumbass, transphobic officer at Litchfield.
On Crystal's end, high school hellcats, Michael and Benny, storm the house and rummage through the well-stocked grocery bags for grub. Lil' Michael's been wearing cologne and eating all the string cheese. Crystal relays to Sophia that she told Michael to ease up on the Axe body spray and he told her to "stop riding his dick."
Michael, in attempt to get a girl his age to actually ride his dick, snuck a girl into his room. Poor Crystal was downstairs watching Family Feud while Michael was upstairs finding his way to first and second base.
Crystal sent the anonymous young girl home. No slut-shaming though. Cuz Crystal is good like that. Sophia interrupts her story to say that maybe Michael's misbehaving is a sign that he can't be friends with Benny, Gloria's son. (I still don't understand why Sophia doesn't like Benny. Is it cuz Benny's Latino? Or because Sophia doesn't like Gloria? I don't understand this hitch in Sophia's otherwise thoughtful/logical character.)
Crystal doesn't understand what Benny has to do with it either. This entire situation with Michael has to do with the fact that he's a teenager and wants to get laid.
Crystal: This isn't about Benny. This is about Michael not rushing into sex and respecting women. Did you tell Michael that he should find an insecure girl for practice?
Sophia: He told you that?
Crystal: Yeah. He told me that.
We end on Sophia's face of shame.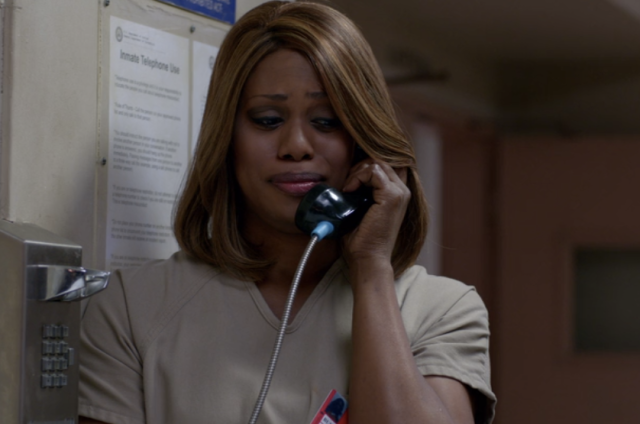 ---
At Chang's Commissary and Beauty Aids, Demarco asks for packs of the spicy Italian sausage ramen and they're out. They're out of all the ramen. ALL THE RAMEN. Someone even bought the Lysol flavored ramen.
Who? How?
---
With the blood of a million conquerors and gentrifiers running through her veins of ice, Piper bought up all the ramen properties in the neighborhood for the sole reason of having them all; not cuz she needs them to live but so that she can be the owner of this very hot commodity and utilize this shift in the supply and demand chain to her advantage and to further exploit the more disadvantaged folks around her.
The inmates need the ramen packets to cover up the vile taste of carcass chili. Since Piper owns all the packets, she'll make them wear her perve panties for ramen packets.
Alex: You're one clever asshole.
I'm so down for the Alex that isn't into Piper's utter bullshit.
I'd be more into this whole "panties for sale" bullshit if Flaca was the one running the panty scheme and not Piper. Flaca's the one who grew up sewing. How did Piper get so good at making panties anyway?
Alex is just as bored as I am. Imagine running kilos of cocaine internationally and then being in jail with someone who thinks they're Al Capone because they bought all of the ramen at the commissary.
Piper wants to know if Alex talked to the Gerber baby guard about smuggling panties out of Litchfield in his diapers. Alex hasn't. She's been much too busy working on her eyebrow game, spying on Tank Girl, and cognating her thetans. Piper's not into it. Piper wants Alex to focus on cognating the damn ramen packs into panties that get smuggled out of the prison.
Alex believes that Tank Girl is the reason Leah Remini left the Church and for that reason, she must be destroyed. If Alex doesn't combusticate Tank Girl into the atmospheres of Orion, then her own life will be in very real danger. V Real Danger, starring Fahri, Tom Cruise, and Alex
Piper is desperate for Alex to go back to being a drug rebel without a cause, not this babbling punk ass who's worried about getting killed. Besides, Alex has it easy. She's just gotta convince a dude to do a thing!
Piper: Men are even easier. With women you've got to build trust. Men just need the promise of sex and the promise of sex is free.
Alex: And what happens when they come to collect on that promise?
Piper: Worst case scenario you give the dude a handjob.
Oh, cool, aight, just a little handy dandy? Cool. Sign me up.
---
Flash to Fahri's Haus of Flashing Lights and Lines of Coco. Alex is a clubhouse trap queen cutting lines of coke in the VIP section. The only way to mourn, imo. Fahri's about to leave the party to pick up pizza and a drug mule. Alex is having so much fun and feeling herself so hard that she convinces Fahri to let the pizza and the drug runner find their own damn ride to the club. And Fahri listens to her! This is why you never get high off your own supply cuz it makes you lose your damn mind, make the wrong choices, and in the end it's your ass. But at that moment, they all pop a Molly or ecstasy or something and it's dance time. Alex has moves we've never seen.
It's all fist pumps and awkward freak dancing, until Fahri looks at the 17 missed calls on his phone and finds out the pizza and the drugs got arrested.
---
Suzanne is curled up in the corner of her bunk writing her sci-fi erotic masterpiece and hiding from Jehovah's Witnesses. Her genius must be released and no, she's not looking for Jesus. She'll take a pamphlet though. Now run along.
Poussey pops up from the cement wall that divides their bunks and asks if she's done with the next chapter in Erotic Tales of Sex Octopus and Scissor Shark — because this is the 3rd element in the "Poussey's Lost Identity" storyline (Her hootch addiction, The Norma Cult, and now octopussy porn.)
Suzanne won't rush the brilliance of her art for any damn body. And then out of nowhere, another fine ass unknown inmate appears and tells Suzanne that there wasn't enough scissoring in her fan fiction. Is there ever enough? Poussey jumps in to offer her academic breakdown of the Rodcockers versus Gilly vulvas. I'd read the hell out of Suzanne's frikitona sci-fi sex stories too, btw.
Jewish Black Cindy jumps in to add that what the story really needs is more Piranha Denzel Washington. The three of them offer insight into what the next steps for Erotic Tales of Sex Octopus and Scissor Shark need to be. Frustrated, Suzanne summons her Patronus, Falcor the Luck Dragon, and soars off into the Neverending Story, Pt. 2.
Big Boo and Morello are playing chess. I want them to be doing this in Union Square park so bad. Maybe if we all shut our eyes and pretend, it'll come true! Anyway, in a scene that I wish would have lasted much longer, Boo and Morello break down the philosophy of one of the world's oldest games.
Big Boo: Pawns are called pawns for a reason. They're minesweepers, uneducated militants with suicide vests. You must protect your more important people.
Morello: All of my people are important people and I mourn them all equally. Just cuz you're a horsey or you can move diagonally does not mean you are better than little nubby guy who moves one spot at a time.
Morello drops these life lessons on all of our beating hearts, y'all. I hope we're all listening.
Piper drops in to share her Clever Asshole Grin with the world. Big Boo sniffs her out and asks what's going on in the land of uncooked boxes of spaghetti.
And lo, the Angel of Ramen came upon them, the glory of the flavor packets showed round about them and they were so afraid and the angel said unto them, "Fear not! For behold, I bring you tidings of great joy that involve an illegal panty ring and shrimp, pork, and chicken flavor packets, for unto you was born this day in the prison of Litchfield a White Savior who is Piper, that's me, Piper Kerman, the new Al Capone of Panties."
Piper: I need your vadge sweat and maybe some, uh, colorless discharge. I'm starting a business selling stinky panties to perverts.
Jones: That's the miraculous adventure?
Piper: It's easy. I give you flavor packets and you give me something you're already giving away for free.
Big Boo: And you get to keep the money
Piper: And you are supporting a local business.
And this is absolute bullshit. Piper is really good at co-opting the language of the people and using it to provide legitimacy to her unscrupulous pursuits but also to ease her conscience should it ever bubble up and cause her to question her morality.
Jones calls her business plan "disgusting," but I think we all know,she's also calling Piper disgusting. Not because selling panties is inherently bad at all but the slick oil salesman way Piper goes about it is disgusting.
But of course, Piper doesn't listen to herself when she speaks so she goes on for a minute about how she used to be grossed out by her own cootie scent. Again, she utilizes the language of the oppressed and points to the patriarchy and because she's in the company of white women, this tool works. White women are oppressed by white men and it's white men that have made white women hate their cootie scents. So her panty-selling business is actually FEMINISM Y'ALL.
Her one good point is that the same men who want to shame women's bodies/scents are the same men who will buy used prison panties in bulk. There's no lie there, Piper. Ningun.
She ends her speech on a picnic table summoning the spirits of a thousand white suffragettes. In that moment the symbol of the patriarchy, C.O. Stone Cold Steve Austin, orders Piper to step down from the table and resume her position as the inferior sex.
All the prisoners are in there like swimwear and are ready for Operation Stanky Drawers.
---
We find Soso in Healy's Office of Last Resorts. Papa Roach is playing and it's all very early 2000s when emo tried to become scream rap. Soso still needs a friend. Healey still needs a hand job and I'm terrified of what's gonna go down between them. We almost lost Red to this human sack of instant mashed potatoes. Soso goes on and on about how she can't have friends because she talks too much. And then she says the thing that makes Healey fume, she says, "The only place I feel like I can really talk without getting jumped on is in Berdie's drama class. Is it possible to change counselors?"
Healey can't handle the fact that a Black woman is making him obsolete because she's that much better at her job. He won't switch Soso to Berdie's counsel. Instead he gives her the wisdom of men: Depression is all in your head. Go take a pill. No one likes a sad broad.
---
Daya Pregnany Update, Gestational Week 435: STILL PREGGZZ
Aleida tells Daya that someone should rub her feet but ha, it ain't gonna be her. She asks Daya if she's thought some more about giving her baby to Brad Pitt and Angelina Jolie. Daya shrugs; she's not sure if they can handle another baby. Aleida's smacks Daya in the face and asks her if she's that stupid. Of course they can. This would be their first Latino baby so you know it'd get spoiled.
Stupid Daya.
Aleida: You gotta realize this isn't for you. It's for her. A better life. Washers and dryers in the building. Math tutor. Shit involving horses.
Daya: If I really love her, money shouldn't matter.
Aleida: Daya, stop being such a selfish bitch and commit to this. Now. Because if you're still on the fence when this thing comes out of you, you're gonna keep it. Do the right thing.
And with a few love slaps to Daya's thigh, Aleida's out that bitch and heading to Chang's Commissary and Beauty Aids to pick up some new rolos for her doobie.
---
We find Caputo doing what he does best — actually what he does best is hate-bang Figeuroa — so it's what he does second best and that's try to improve the lives of the women at Litchfield. Caputo at his core actually gives so many mustached fucks.
He's trying to get their books back, like the good ones, the law books that will help them get out of jail, and he's trying to get them college courses. He's put in for all these programs and all he's getting is budget cuts. And smarmy annoying Corporate Shmuck, Jr. doesn't have much to offer Caputo besides constipated looks and weasely shrugs.
---
On the road again with Pensatucky and bug-eyed drifter C.O. Coates, we find ourselves in that weird place on this show where it's hard to tell if people are flirting or abusing their power or reminding those in power that they're dangerous criminals. So like it's hella uncomfortable and this might be a good time to soak your feet in some Epsom salts and smoke an American Spirit.
---
Piper and Stella are sewing partners in the workroom. But they're also trying to lowkey smash, you know? So, Stella goes the direct route and asks if Alex is Piper's main chick or if there's wiggle room for a quickie in the janitor's closet. Piper admits that Alex is her girlfriend but doesn't make eye contact which is code for "my gf doesn't have to know that we finger bang tho." Wink wink.
Not only is Stella gorgeous but she's also so goddamn smart that she figures out Piper's super secret plan to seduce Gerber Baby into smuggling out the panties. She's got her looks, her pretty face, but she never underestimates the importance of BODY LANGUAGE. HA!
Officer Gerber Baby has the sexual charisma of Michael Cera in every movie role he's ever played and I know there's an appeal to that, the awkward baby-faced cutie pie who gets nervous around real life girls but is still really nice; I get that niche or whatever.
But Piper flirting with him is like watching a used up Real Housewife flirt with their teen daughter's boyfriend. Are any of us here for that? Nope.
---
Alex is pulling weeds in the garden, again looking mighty fine. Tank Girl offers her a bouquet of poison ivy as a symbol of love and friendship. Alex declines and wonders if it's really a symbol of imminent death.
---
Flashback! Alex and Fahri are in a hotel room. He's freaking out because the pizza and drugs are still in jail. He's also freaking out because he left the top level drug boss exposed and he's probably gonna die. Newsflash: He dies! Gets shot right in the head in front of Alex by his own henchbro.
---
Coates and Tucky talk donuts in another attempt at a cute/light-hearted scene that does nothing but build an impending sense of doom. Eat your donuts, Tucky, and get TF back to Litchfield.
Coates: A donut that's selling donuts is basically a slave trader.
Take a shot if you literally smacked your forehead at any point during this asinine conversation. And remember that we could be watching Poussey and Taystee do something or Black Cindy reading a smuggled in copy of the Torah or Yoga Jones doing yoga, but no, we're watching Tucky suffer this fool. They end up at a lake feeding donuts to the ducks.
---
Over at the League of Unfairly Wealthy Sociopathic Shareholders, we meet Linda. She's a woman with a brain who isn't ugly. The men let her speak. She wiggles into the old boys club by offering money-saving solutions instead of radical ideas. She's the perfect woman. Speaks when spoken to and only says things they want to here. Well done, Linda! Now, show the boys in legal how well you can make a sandwich.
Corporate Weasel Jr. uses his time at this meeting to bring up Caputo's requests: books, college courses, job-training, etc. But not one person gives a shit about the women at Litchfield; this is what corporations do to prisons, schools, farms. They suck the humanity out of them and turn them into dividends and profit margins. Dude actually tries to push forward initiatives that would help the prisoners and elevate their quality of life but he's shut down fast. He's also reprimanded by Daddy Corporate Weasel.
---
Daya and Delia Powell, Pornstache's mom, meet up for another round of Hot Potato Baby Edition. God, Delia Powell is the foxy, rich MILF I've been searching for my entire life. Jeezus. Daya's still down to give her the baby. She asks that Delia write to her and let her know the baby is doing okay. Daya's also convinced the baby is going to be a girl.
Pornstache's mom is relieved that Daya's only asking for letters. She thought Daya was going to up the baby service fee that Aleida put into place. Daya is shocked. She had no idea that mom dukes was extorting Pornstache's mom. In this moment, Daya stays true to her character and tells Pornstache's mom that Pornstache is NOT THE FATHER.
Daya was down to lie to give her baby a better life but she's not down to be involved in the same lie with money exchanging hands.
Delia Powell thanks Daya for her honesty and gets the eff out of Litchfield. Her good white lady armor has been shook to its core and she needs a spa treatment and a martini ASAP. God, I love her tho.
---
Sophia and Gloria squash their beef in line for the payphone. Sophia apologizes for thinking Benny's a scumbag. Both of them wish they could be home parenting their kids in person, not from prison.
Suzanne hands off her latest spot of brilliance to Poussey. Gilly and Rodcocker have an orgy with the cast of Sense8. Poussey just about loses her shit. She even gives up her place in the phone line to read Suzanne's newest chapters.
---
Tired of serving sewage chowder and meat slop soup to her fellow inmates, Red barges into Healey's office and quits. She can't quit though, not officially.
Healey can't help her because despite all his rage he is still just a rat in a cage. Red leaves her chef's coat in his office. Healey takes this as an opportunity to sniff it and inhale her essence. He's one step away from buying all the dirty prison panties, I swear to God.
---
Berdie catches him at peak sketchiness.
Berdie: What are you doing?
Healey: Oh, sometimes the inmates sneak cigarettes so I gotta smell their clothes.
Berdie let's his absolute filthy bullshit slide. She turns the conversation to Soso, and Healey's ineptitude. Berdie thinks that throwing meds at Soso isn't going to help anything. Healey argues that he handled the problem with truth, justice, and the American way. Obvs that doesn't fly with Berdie.
Berdie: When someone's feeling vulnerable, they need their pain acknowledged, not be made to feel worse for having it.
Can the congregation of individuals like myself dealing with mental health and emotional well being issues say Hallelu? Gracias a Dios? Round of applause for Berdie.
Hell hath no fury like a white man scorned, tho. Let's be real. Healey can barely contain his smug rage over Berdie calling his actions into question.
Healey: Well, look, no offense to you but she's my counselee and I don't need to take advice from someone like you.
Aka someone who is Black and a woman and more qualified in every way to run the world.
Berdie handles all of his patriarchal hot air with a grace and a dignity that Healey doesn't deserve. She maintains her position as someone with a Masters in Psychology that Soso shouldn't be on meds. Healey gives up, salutes her like an asshole, and hands over Soso's files.
I could watch Berdie do this all day. Can someone let her into the board room of the League of Unfairly Wealthy Sociopathic Shareholders?
---
Taystee catches Poussey in the stairwell reading A Series of Unfortunate Rodcocking. But alas, Poussey's been dipping into her stash of hootch and our poor, sweet, beautiful lamb is all sorts of drunk and sad.
Can anybody find her somebody to love? Taystee tells her that she needs help. She needs to go to AA.
Poussey: I don't need to talk about how I need a drink. I need a reason not to drink. Is AA gonna make me feel useful? Tell me I have a future? Give me somebody to spend that future with?
Taystee: You got me for whatever future we got. You got me.
Poussey: That's not enough. I'm lonely. I'm always gonna be lonely.
Oh Poussey, you're breaking our hearts. You deserve the love of a million fangirls. And Taystee deserves a medal for being this season's caretaker of sad souls and misunderstood literary geniuses.
---
Flash to Corporate Weasel Jr dumping on Caputo for leaving work early.
Cue Caputo and the Whiskers jamming out in their garage singing songs about destroying The Man.
---
Taystee passes the Cult of Norma as they silently reflect on Taylor Swift and her girl posse. They send to her and her posse strength, compassion, and incredible bangs that never fray or split at the ends. In the middle of it all is Poussey who got lost on her way to AA but heard the opening snare pop of Blank Space and knew she'd found home.
Disappointed, Taystee sends bad energy into the group. It ripples through La Santa Blanca. Everyone feels it. The door is shut on Taystee's face.
---
Over a game of Old Maid, Piper tells Alex that Gerber Baby is down to be the panty mule. Alex still thinks Tank Girl is out to kill her.
Tank Girl admits to staring at Alex but only because Alex is staring at her. The first one to laugh loses the game of life. Piper tells Alex her paranoia is all in her head because Piper is actually Healey's first born daughter.
---
Flashback! Alex has made it to the fire level and must defeat King Koopa. Instead of a battle, he offers to send her to rehab because he's a criminal mastermind with a heart of gold and a soft spot for troubled white girls.
---
Masturbation alley is filled with moans and sighs of Christ's love as Suzanne's latest erotica hits the dormitories.
Tank Girl hasn't read A Series of Unfortunate Rodcocking but it's all good. She's got other thing on her mind.
Tank Girl is rodclocking Alex's every move.
Pages: 1 2 3See entire article on one page