You may have heard that I was strapped to a chair to watch all 13 episodes of Orange is the New Black. You heard right. Yesterday and last night, I made my way through every single episode of this show. Yes, I know how it ends. Yes, I have a lot of feelings. No, I won't spoil you. I love you guys so much that I'm going to take time out of my busy, busy unemployed schedule to recap every single episode so you can follow along as you too attempt to watch the show at a natural non-marathon pace. Good luck with that.
Piper is your standard young professional WASPy Smith graduate (yes, a Smith graduate, and we all know what us Seven Sisters ladies get up to when we're in isolated female-dominated environments) who has her own artisanal bath products line. She's engaged to the guy from American Pie, and she's headed to prison because she moved drug money across international borders back when she was dating a lady in an international drug cartel. Yes, a lady, and I repeat, she dated that lady. Which means that you know from the first episode Orange is the New Black is a show that features LGBTQ characters.
I'll be honest: I was a teensy bit nervous about all this. Because a lot of series that have queer characters in their secondary lineup can take their sweet time getting to the token LGBTQ storylines. Within those storylines, we'll be lucky if we get a kiss, and if we do get a kiss, we'll be lucky if any sex scene that follows isn't weirdly chaste or largely made up of implication. You know, that super close up on the girl's face right before it cuts out that suggests maybe, just maybe, she's about to get eaten out? I hate that shit. We repealed DOMA and gluten-free products are available in most major grocery stores, so why are we still pretending like girls are just gently rolling around with their clothes on? Let's be a progressive media culture and admit that girlfriend is receiving some game-changing oral sex. Anyway.
So how long into the series do we have to wait to see full-on unquestionably girl-on-girl action? Nineteen seconds. Nineteen seconds and there's two naked ladies tongue-kissing in the shower. Do you know what you can do in 19 seconds? In 19 seconds you can lightly toast a bagel, or you can apply an olive oil and aloe-based moisturizer to your legs, or you can leave a message on your ex's answering machine reminding her that it's your weekend with the dog. In 19 seconds, Orange is the New Black said hey, guess what? We're not going to play that 'Our main character kissed a girl once and we're going to tease you with it the whole season to bait the queer audience and keep them tuning in' game. We're going to be upfront about our characters' sexualities and it's going to be pretty to watch. Like, super pretty.
So with that lovely period of her life established, we move on to Piper's current situation. Is it weird that the showers at this prison look a whole lot like my dormitory showers in college, complete with our sworn fear of being barefoot anywhere near the bathroom? Piper has made flip-flops out of maxipads, which only furthers my obsession with the possibility of creating a 50 Things You Can Do With Maxipads Besides Catch Your Menstrual Discharge book.
Roll the opening credits! Featuring Regina Spektor. The only way you could make these credits any gayer would be Annie Clark and Carrie Brownstein covering 'All The Things She Said' over black and white stills from an Indigo Girls concert.
Now we get to see Piper's pre-prison life, aka New York 30-something landed gentry heteroland. She and her fiance are having a fun ironic pig roast with her pregnant best friend and business partner. They're having a dinner party the night before she goes to jail as a last hurrah, which is the most ridiculous privileged thing ever. The show knows this. The show is aware that Piper is not exactly a sympathetic character, that the fact she can throw a fucking dinner party to faux-celebrate her incarceration is going to establish a stark contrast to the people she is about to encounter in prison, and they're not shying away from that. The criticisms I've seen that Piper isn't a likable character don't seem to be aware of the fact that the powers that be are not trying to make her the most likable face on the show. They're aiming to make her a shallow lens through which we gain access to much deeper stories.
After the dinner party, Piper and American Pie Jason Biggs have awkward farewell sex. Or maybe it's not supposed to be portrayed as awkward, but since I have no idea what straight sex looks like beyond the impression I gained from One Tree Hill, I don't know how to recognize good straight sex when it happens. Also why are straight girls always wearing those spaghetti strap camisoles when they're having sex? I didn't even know they still sold those. Did the straight girls stock up at Old Navy in 2002?
Piper is surrendering herself to the prison, which is apparently what you do when you are admitting you are guilty of the crime and don't want to have your case go to trial because you might have to go for more time? Legal stuff something something jail something legal trial something drugs? Flashback to Piper explaining her going to prison to her parents, who are hung up on the lesbian part of everything.
Call me crazy, but I'm pretty sure there's a sexuality where you can have relationships with women and relationships with men and have neither of them erase or negate the other. It's called
and it's a legitimate identity! But more on that later. In the meantime, Piper is saying her final goodbye to American Pie Jason Biggs. She says the words that every single one of us would utter were we to be incarcerated tomorrow.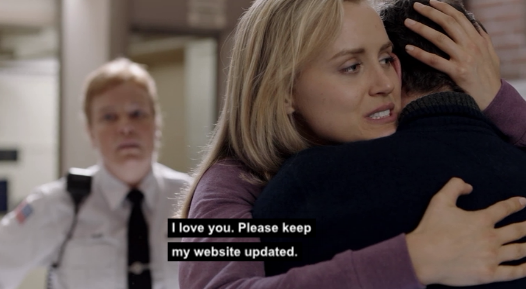 Piper's told to strip as she enters prison, which prompts a flashback to a sexier time in her life. And who is part of that sexier time in her life? Fucking DONNA FROM THAT 70'S SHOW who has never looked better. Indeed, I am a true blue top and can thus recognize her throbbing top energy, and I just want to give her a giant high five for being a sexy top with magical top powers. I feel proud of her, does that make sense?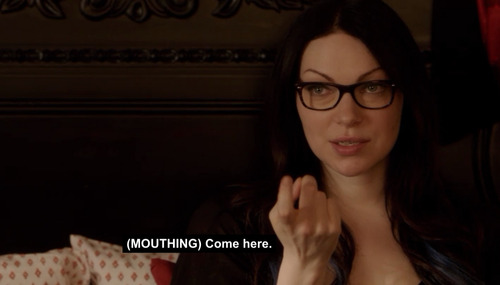 I mean, come on.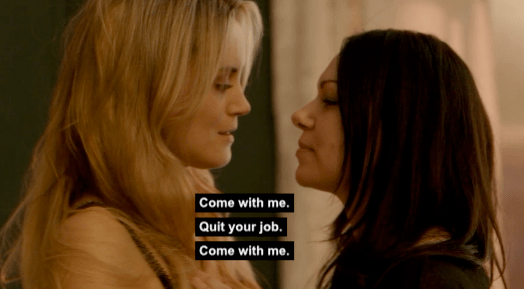 No, really. Come on. I understand this relationship is being established as the bad news that got Piper into the bad news situation, but shit, it just hurts so good.
So there's one time in Piper's life where her lover asked her to do something and she did it. On the other hand, we have American Pie Jason Biggs asking Piper to marry him by pulling out an engagement ring in a ziplock baggie while they're at the beach. Apparently at this point Piper already knows she's going to jail and this seems to be another one of those pre-prison celebratory events, which adds a little twist to that particular arrangement. Jason Biggs may or may not have said he needed to "lock it down."
So Piper rolls into prison. At this point, my girlfriend and I started playing Spot The Hot Dyke, which only took about half a second to win. And, bonus, there were finally hot butches and masculine of center folks for her to spot, as opposed to me being excited about all the feminine folk.
Piper has a tattoo of a fish! She got it in Bali when she was scuba diving with her girlfriend because getting commemorative relationship tattoos is just something we gaydies do, let's be real. Flashback to Alex covering Piper's tattoo with makeup so she can take drug money across international borders, the whole bad news thing that led to the bad news prison situation.
I just want to take a moment to talk about Alex's bangs in this scene. Piper is sporting the wig from lesbian hell, but Alex looks like a rockabilly librarian who wants to take you to the quiet section and paddle the everloving shit out of you. I'm getting chills just looking at her.
I know they're bad news, but I ship it, guys. Lesbian criminals who are members of an international drug cartel, what the fuck else is up.
Back at Ye Olde Jaile, Piper is getting the welcome speech from her counselor. He gives her a lecture pretty identical to the one my mother gave me before I went to Bryn Mawr.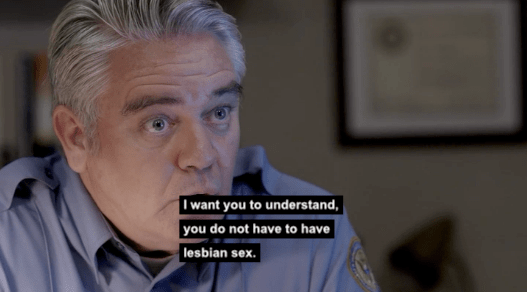 I don't have to eat candy either, but it's delicious, so.
The newbies are being shown around their quarters. They're introduced to the yoga instructor, Jones, who also voiced Patty Mayonnaise on Doug. I'm going to let you internalize that and then never be able to unhear it later when shit hits the fan.
One of the newbies gets slapped in the face by a current inmate. Is it her angry ex or her partner in crime or?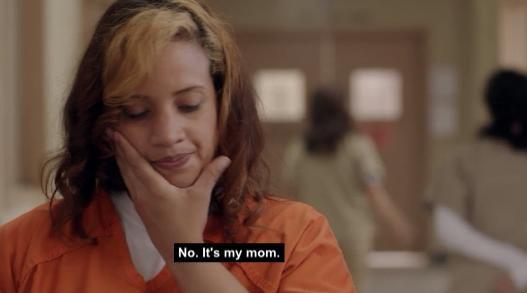 But more on that to come. Things we learn about this inmate: She doesn't speak Spanish, she is really cute, and I am already super invested in her storyline.
Piper is meeting her roommates, and one of them is Natasha Fuckin' Lyonne. Welcome back, baby girl. We missed you.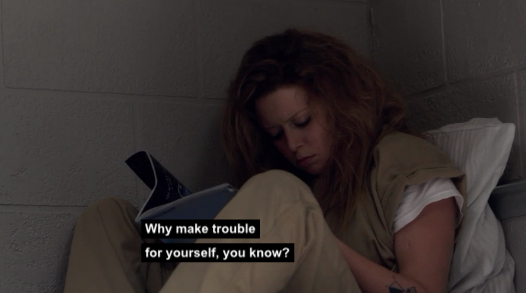 Meanwhile in flashback land: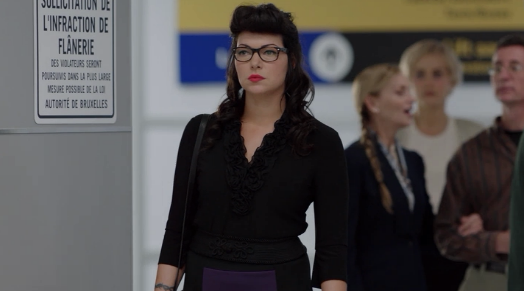 You're welcome.
At Ye Olde Canteene, Piper is getting to know her fellow inmates. There's a nun who I can already tell I love; Jones, the yoga instructor played by Patty Mayonnaise; and Nicky, whose gaydar is on point.
I almost spit wine on myself when I saw Lea DeLaria because as a butch person, I have one million feelings about butch representation in media, and right there's fucking Lea DeLaria with her fucking BUTCH tattoo. The media can fuck a lot of things up, and look, on this journey we are about to take with this show, we will encounter problematic things for sure, but damn it all, they have got butches on the screen and they're not exclusively punchlines and I like that, okay? That feels really good to me.
And then there's Red, who I will refer to from now as Kapitan Janeway. Red runs the kitchens. Piper insults her food. Piper's a dumbass, because Red's a badass, and you should not fuck with Red.
Piper gets to call American Pie Jason Biggs after crying in front of the security guard, and I am so bored by their relationship that I'm not going to post a picture. No, seriously, are we supposed to be rooting for this? Fucking Alex shows up in the flashbacks looking like sex in glasses and we're supposed to buy that anybody would downgrade to milk toast semi-clumsy American Pie Jason Biggs. Blergh.
Piper goes to take a shower, and walks in on some graphic lesbian sex taking place in a shower stall. That literally happened to me four separate times in college, I'm not even kidding.
At lunch, we meet Laverne Cox's character Sophia who I am still obsessed with after watching the entire show. Wait until her episode, guys. Just fucking wait for it.
Piper finds out that Red has prepared something special for her after she mentioned how disgusting the food was yesterday. What, praytell, is this special meal?
**~*IT'S A USED TAMPON IN AN ENGLISH MUFFIN*~**
Piper is a little horrified by all this, so she runs outside for some fresh air. And who is there waiting for her?
Yep. Tune in next time for how to add tampons to your omelette and 23 more uses for maxipads that don't involve collecting your moon spillage. If you didn't think this show wasn't going to have a strong feminine product presence, you clearly have never been to Girl Scout camp. Or a women's college. Or a women's prison. I've started to feel like, at least in this respect, they are all the same thing.