A Day of Work zooms in on the daily routine and work habits of Autostraddle team members. Read about the coffee, the cats, the Slack meetings, emails and minutiae that makes Autostraddle go.
---
5/17/2021
Hi friend!
We started talking about kicking off an A+ member drive today, which is always exciting, not only because A+ is, you know, the thing that keeps our publication running, but also because I actually really believe being an A+ member is a very cool thing for people to do with their time and money. It feels rewarding to give back to your community in a way you know is making an immediate impact, and in a time when it's hard to know exactly where to aim with your limited resources.
It opens up cool posts, like our A+ Insider, which everyone loves. Plus Nicole has worked so hard to create and offer so many community perks like our A+ Discord Server days, which always spin-off amazing IRL groups, like the seventy-three Thirsty Sword Lesbians who came out of the last fundraiser. They care about our A+ members so much it makes me emotional.
The short of the surgery is that my spinal column is crushing a bunch of my nerves, which was causing me problems before Long Covid and may be exacerbating my Long Covid symptoms, so the neurosurgery team is going to access my spine via the front of my neck and remove several discs from between my vertebrae, remove a couple of osteophytes, and then perform a multi-level bone graft/cervical fusion. It sounds scary, and it is, but I did get a good laugh out of the nurse I talked to about my post-operative brace when I asked her if I could have a human-sized cat cone, the one that makes it looks like your head is poking through a piece of toast. Sadly, I cannot — but I can get the brace I need in Tennessee Lady Vols orange, so at least I can support my favorite team while also making sure the top half of my body is the color of a construction cone so I don't get hit by any cars.
But, as always with the rad things that still delight me about this job after all these years, my enthusiasm was tempered by the knowledge that our fundraising projects take a whole lot of time and mental/emotional energy, when my work plate is always teetering full every single day; and I'm going to miss a good bit of this membership drive because I'm having major surgery on my spine on June 2nd, which makes this the second huge health issue I have that's caused me to be absent around major fundraising projects. (The first was in 2020 during the onset of my Long Covid.)
I stand with one foot firmly rooted in guilt and one foot firmly rooted in gratitude as I think about this membership drive. Guilt that I won't be here for all of it, offering my time and skills and support to our team, and gratitude for both our readers and my co-workers. I am literally the only person I know with Long Covid who has not had to live in terror that I'm going to lose my job as I've had to physically and cognitively adapt to the new reality Covid caused for me. You, our readers, have made sure our community continues to thrive, and that I continue to have a place inside it, despite the fact that the queer media landscape gets more fraught by the day. And my co-workers have given me grace, space, encouragement, empowerment, and — most importantly — have met every accessibility need I've had with tenacity and generosity.
The brace nurse came to measure me today during the middle of my workday, when I was editing Nic's Batwoman recap. And then the guy who delivers my intramuscular injections arrived when I was editing Valerie's Legends of Tomorrow recap. And then! My Long Covid doctor called when I was writing the Pop Culture Fix to tell me I need a stronger Mast Cell Stabilizer because my histamines are "still off the charts, honey." Drew was the only person on the TV Team to get an uninterrupted edit today, and I'm glad for it, because she said "dykey swagger" when she was talking about a lesbian horror hero, and it reminded me that I need to make a list of top TV characters with dykey swagger. Of course, as soon as I thought about that, my brain spiraled out with all the things I need to get done in the next two weeks before I take medical leave, including finishing up writing a couple of pop culture lists, which we've been running on Thursdays to decent traffic success. (I have eleven posts to edit and five posts to write before I go, in addition to the things I'm writing and editing the next two weeks, which includes nine TV recaps, nine Pop Culture Fixes, and ten other TV/film pieces.) (Eleven if I can get Valerie to let me interview her about how she thinks The Masked Singer is a real TV show and not a collective cultural hallucination.)
Then, of course, there's co-running our social media, which I do with Valerie every day; finishing up some A+ work like answering things in Some Answers to Some Questions and contributing to our Fundraiser Impact Report; finishing up interviews and writing a reported piece on how to get treated for Long Covid for a series Ro's editing; delivering social media stats to our senior editors; managing all my records in our editorial calendar Airtable; trying to stay on top of all the billion PR emails I get every day; and taking a Yoast Academy class on site structure so I can be a good editor inside the new categories system Riese has built for Autostraddle to help us with our SEO. (I already finished the SEO courses and definitely scored an A!) (Okay I actually probably scored a B+ but I retook all the quizzes I didn't ace.)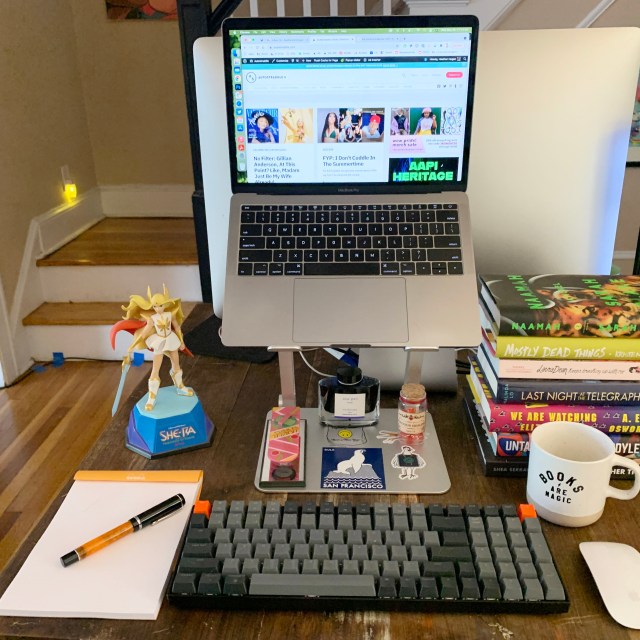 So anyway, right, yes, those are the reasons my original hype was mitigated when Nicole announced the membership drive. It was a pretty exhausting day pecking through my to-do list — but then, also, Stef decided to watch the first episode of A Shot at Love with Tila Tequila and liveblog it in Slack, and where else are you going to get that kind of entertainment at work?
My main feelings right now, if I'm being honest, are fear and overwhelm. You never know how a body's going to react to neurosurgery, and no one knows what Long Covid's going to act like with neurosurgery. I want to get as much done as I can before my medical leave, so my teammates are in a good place without me; and I also want to crawl under the covers and snap photos of Pokemon on my Nintendo Switch for two straight weeks and not think about anything else; and I also want to leave you with articles that make you laugh and think hard and feel like you're at home here (because you are); and I also want to stare at the ceiling and have a good cry. One thing that's for sure is that in two weeks I'm going to have a whole new body to re-learn.
Another thing that's for sure is that, one day soon, I'm going to have a job — a job I fucking love — to return to, because of you. And there's no words in the world to express the magnitude of my gratitude that you've made that my reality. I know how lucky I am. I know it every day.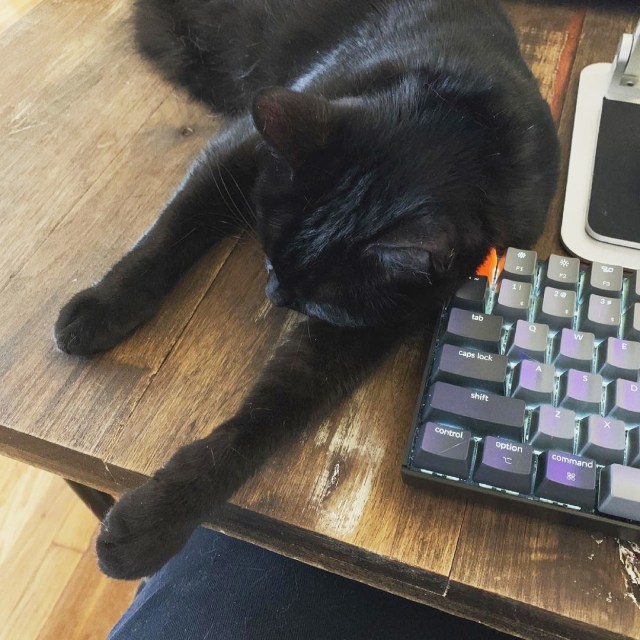 If you haven't joined A+ yet, maybe today could be the day! You get access to rad exclusive content, to loads of discounts on A+ merch, to holigay sales from some of your fave brands and Autostraddle's store, to hilarious weekends on our A+ Members Only Pop-Up Discord Servers — and you get to know you're keeping queer independent media alive for you and the folks who can't afford to join A+ themselves.
Thank you for taking the time to read a whole new letter for me. I'll keep on writing for you as long as you'll keep on reading.
love,