Someone recently found Autostraddle by Googling "movies to make her break up with him" and, friends, it really touched my heart! Because we've all been there! Wanting the girl we like to break up with some stupid boy! Drew, our resident queer movie expert, and I talked it out and decided there's two ways you can go here. You can watch a queer movie with your friend that is just so dang sexy they might catch on fire, or you can watch a queer movie with your friend that has a misandrist angle to it. Bonus points if it's a film that does both of those things! Drew and I made a quick list of 10 queer movies that'll surely make her break up with him. (And if you're looking for movies about friendship and misandry, Carmen's already got you covered on that!) Please weigh in with your own helpful suggestions in the comments!
---
Bound
Bound doesn't queer the genre just by making them both women — it queers the genre by deepening both characters. Corky isn't a fool and Violet isn't evil. They're both just desperate. Hot and desperate and in love. Violet uses her sexuality to get what she wants, but with Corky it's genuine. As Violet says, with Corky it's sex — with everyone else it's just work. It's not subversive to have Corky trust Violet, but it's absolutely subversive to have Violet prove worth trusting. She's only a femme fatale in the sense that she's a femme and if you're a man and you deserve it she'll kill you. But Corky isn't a man and her gamble pays off. Yes, this is ultimately just a gay movie about overcoming trust issues.
Then there are the erotics that Hideko seizes for herself, ones that are technically taboo and yet entirely her own. There are classic lesbian period drama erotic images like Sook-hee and Hideko undoing approximately one thousand buttons along each other's spines, like Sook-hee watching Hideko pull on gloves, like a bathing scene that is maybe the sexiest scene in the whole movie, and I'm including the actual sex scenes. Now let's talk about those actual sex scenes! They are long; they are spitty; they are sweaty. Hideko and Sook-hee lap at each other and buck their bodies against each other and want each other so, so much.
Kissing Jessica Stein

I used to hate this ending. I related deeply to Jessica and her rejection of queerness felt like a betrayal. But the years have passed, and as my own queerness has changed my relationship to my family and myself, I've realized I'm really more of a Helen anyway. The fact is queerness freed Jessica from the confines of an expected life and whether she wants to date another woman or settle down with Josh Meyers that will always be true. That's the power of a queer identity — no matter how short-lived.
Desert Hearts
Desert Hearts is the first lesbian movie that made me cry. The death and dismemberment and dashed dreams of the films I saw before it, that was all fine and good and unsurprising. Where I grew up, lesbians were witches, and witches burn, and I knew that. It was the tenderness of Desert Hearts that got me, the hope, and the idea that a woman didn't need to have it all nailed down by the time she hit 30, that a woman could give in to what she wanted and just figure it out as she went along, no matter how young or old she was, or what she'd committed to do or be in the past.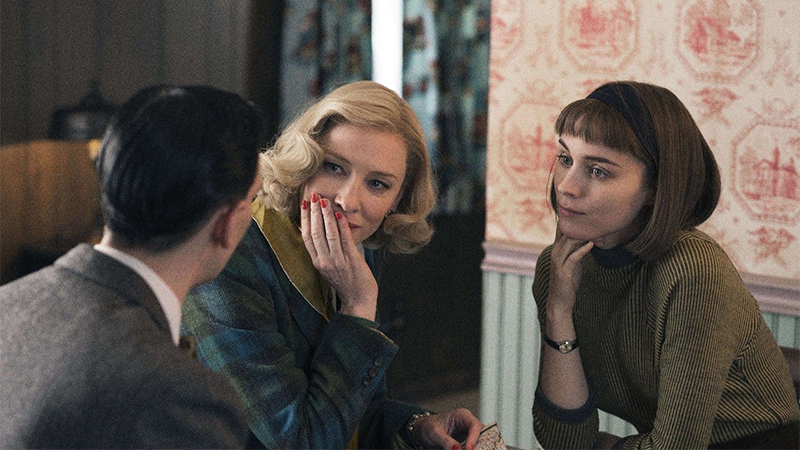 From Heather's article on Carol's Oscars snub:
Carol's director, Todd Haynes, who was also snubbed by the Academy for the first time this awards season, refused to center on masculine experience (he cut a scene where Therese gave Richard a hand job, for example, deciding to eschew all male pleasure on-screen). He also made the bold decision to allow Carol's audience to laugh at men. Not with men. No, Haynes invited viewers to see the men in his movie — these husbands and boyfriends and duplicitous know-it-all notions sellers — through the eyes of queer women and to laugh openly at their silliness, unearned confidence, and expendability.
The most triumphant moment of the film comes when Carol walks out on Harge (and a roomful of male lawyers) after declaring that she will not live against her grain. He is the embodiment of toxic masculinity and she shrugs him off like her fur coat.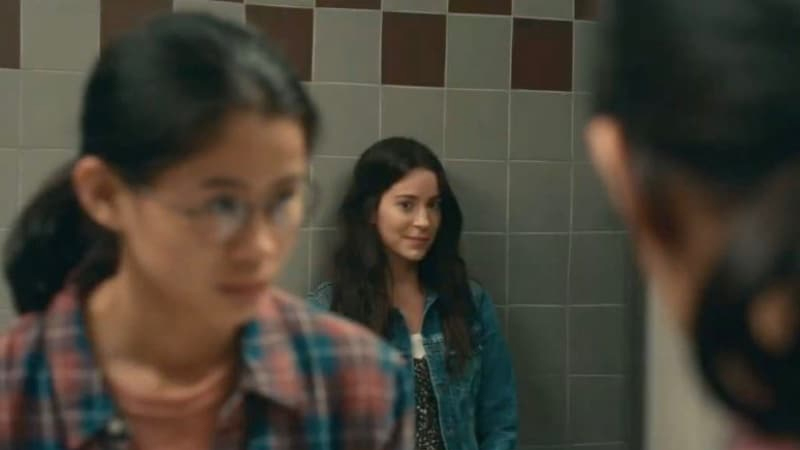 From Drew Gregory's love letter to The Half of It:
You aren't a love story, but that doesn't mean your love story is any less important. Watching Ellie and Aster connect — even under the guise of Ellie as Paul — is overwhelming. It's that thing, right, where you're in a small town and nobody understands you and then suddenly you find one person who does. And, sure, there's probably a whole world of people out there who could understand you like they do, but you don't know that. You're young. And for the first time in your life you don't feel alone. Even if someday you realize you weren't actually soulmates, it still means everything, and will always mean everything, because when life felt impossible and the future seemed bleak that person showed you that you could belong.
Fried Green Tomatoes
My favorite lesbian movie, Fried Green Tomatoes, is not even technically a lesbian movie. Technically it's a movie about two women who live together, raise a child together, defend and love each other, and have sexually-charged food fights in a Totally Heterosexual way. The relationship is a lot less subtextual in the book (although it's never actually spelled out in the book either, you'll have to read fanfiction for that), but I'll always love the movie all the same. I don't know how many times I've seen it over the years, as it was a regular feature in the network TV Saturday Afternoon movie line-up throughout my own formative years. It's also probably the only queer film you can comfortably watch with your foot-washing Baptist granny. While the queer aspect may have been covert, the relationship between Idgie and Ruth was a strong, positive and beautiful one which made a big impression on my own burgeoning yet equally subtextual queer identity. Before I even could fully articulate why, I thought the picnic scene where Idgie pulls out fresh honeycomb from the hive for Ruth was one of the most romantic scenes in film.
Portrait of a Lady on Fire
Portrait of a Lady on Fire is not simply a work of the female gaze, it is not simply a work of lesbian cinema. It is pushing against the boundaries of the screen, frantically, lovingly, desperately, erotically, grasping grasping grasping for a new language, a new way of seeing… Marianne studies and she paints, falling in love as an act of creation. Every glance thrills her as an artist, overwhelms her as a potential lover, and pains her as a spy… I will not reduce actors Noémie Merlant and Adèle Haenel to adjectives. To say they are good or great or brilliant is insufficient. Sciamma's attempt to capture without controlling allows for their performances to feel accomplished in a way that's separate from the viewer. They are each other's only audience.
I Can't Think Straight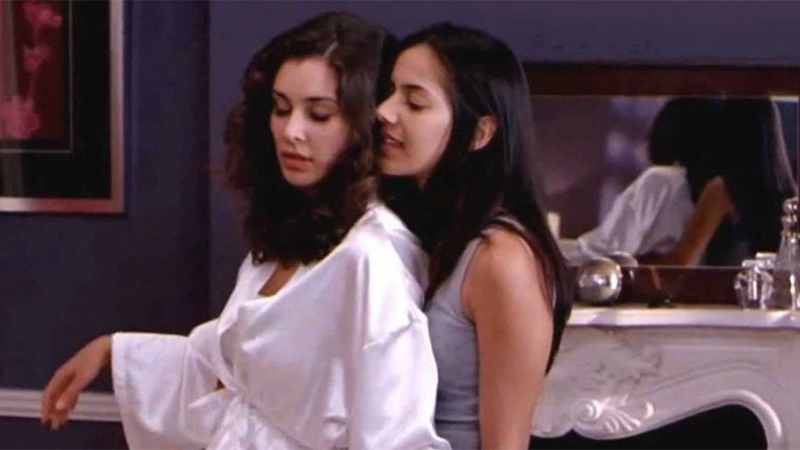 This movie made both Natalie and Valerie Anne's top ten lists, already a shining endorsement. Natalie says she didn't fall in love with I Can't Think Straight right away, but when it clicked, it clicked. Valerie says maybe it nudged her one step closer out of the closet. Seems like exactly the kind of thing you want to show the girl you want to break up with her boyfriend.
9 to 5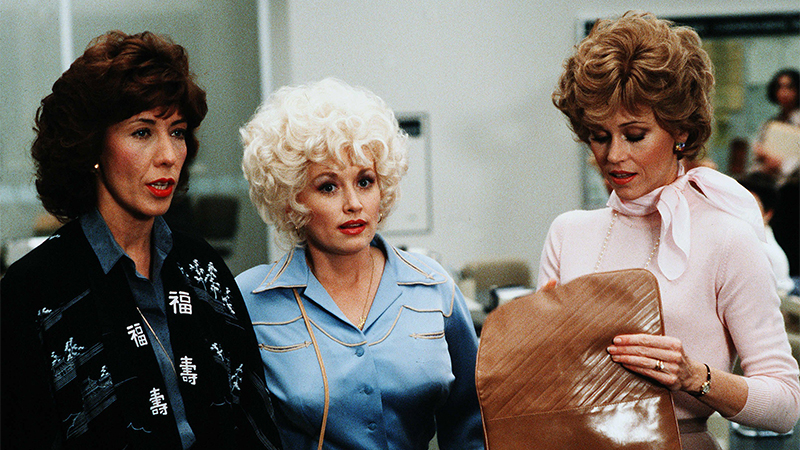 I'm going to count this as queer because lesbian icon Lily Tomlin is in it. What you get with 9 to 5 is a hilarious and resonant movie that still holds up after all these decades, a reminder that men have always been terrible, the message that no one will ever understand you like the women in your life, and a perfect bridge to Grace and Frankie, the greatest TV show ever about best friends realizing they're soul mates.