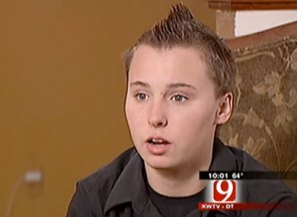 UPDATE: It's incredibly possible and perhaps even "likely" or "definite" that this story, reported dubiously by the allegedly reputable Advocate, is bullshit. Stay tuned for a follow-up post in a few hours!
UPDATE #2: HERE IT IS!
++++++++++++++++++++++++++
According to the Mid Del School District's website, you should consider sending your children to their schools because they have art, sports, community, good teachers and "a Dropout Prevention Specialist and Graduation Coaches to assist students who are at risk of not earning a High School Diploma."
That is, if you're straight.
According to KWTV News, 18-year-old Melissa McKenzie said she was kicked out of Del City High School in Del City, Okla., at the beginning of the semester when the principal found out she was living with her girlfriend instead of her family. The principal then told her if she returned to her family's home, she would be welcomed back to school.
Kelsey Hicks (pictured), McKenzie's girlfriend, dropped out of school but wanted to finish her education so she could become a firefighter. Upon asking school leaders if she could return, she said they instead encouraged her to drop out.
"The principal will say 'Well, you're gay. You're not going to do anything with your life. You might as well just drop out now,'" Hicks said. "It's stuff to put you down that makes you want to drop out."
Kelsey Hicks also says that she was kicked off the softball team for being gay, which seems particularly crazy because how are you supposed to meet girls if you can't play on the softball team.
[Fun Fact! In 2008, Oklahoma was the only state in which every county voted for John McCain.]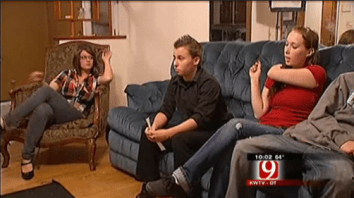 The local news station tried to get a comment from the school, but all the school would say was that neither of the girls is a current student of the school and neither has filed a complaint. The girls say that they have filed complaints and that they are not giving up on their fight to get back into school.
Kelsey just wants to be a firefighter like Dani Campbell. How can you argue with that face.
I mean is this for real? Maybe we're just being naive but it seems pretty crazy that in 2010 a principal – or any other educator or thinking human being, for that matter – would suggest or encourage dropping out of school, for ANY student. But then again, people are assholes. Maybe it's not so crazy that some bigoted high school principal would see nothing wrong with imposing his own dubious morality on his student body. It probably happens more often than we'd like to think.
Thankfully the girls are speaking out, and they're not the only ones: over the last few years we've seen an increasing number of kids taking their stories to the media when damning the man locally doesn't work out. This was crystal-clear for Constance McMillen and Ceara Sturgis. But sometimes the quickness with which these stories circulate works against us, like in the case of Cheyenne Williams. And sometimes people die before their stories get heard, which is the greatest tragedy of all.
In fact, Constance McMillen might have changed the world. Because maybe school administrators don't listen, but journalists sure do! And we have our enablers, the ACLU and Lambda Legal.
Just recently 14-year-old openly gay student Graeme Taylor spoke at a school board meeting in defense of his teacher, Jay McDowell, who was disciplined after he kicked two students out of his class for anti-gay bullying and when he was unsuccessful, Towleroad and consequentially Buzzfeed picked up the story. You can watch the video here, it's pretty moving.
Kids are already among the most powerless people in our society, and it can be really difficult to stand up to adults in positions of power when you have little-to-no agency; the extra disenfranchisement of being gay makes what these kids are doing extra brave, and we hope these schools will be held accountable.