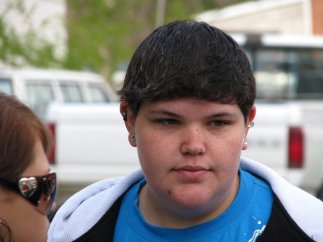 The 17-year old accused last April of attacking lesbian teenager Cheyenne Williams has been acquitted on all charges, which suggests a similar verdict will be handed down to the two 18-year-olds involved, Corinne Schwab and Ashley Sams, also charged with fourth-degree assault and menacing. The girls were originally charged with attempted murder and kidnapping but on April 29th, a judge said that the attack was not a hate crime and charges were reduced from attempted murder and kidnapping to fourth-degree assault and menacing (both misdemeanors). The acquitted teenager's attorney, Sharon K. Allen Gay, said that if the prosecutor doesn't move to dismiss the charges against the other two girls, Gay will be "basically arguing it's a waste of time" to have another trial:
The judge acquitted her after hearing only the prosecution's case — before the defense presented any witnesses, said Gay, who represents Sams.
Jordan Palmer, founder of the Kentucky Equality Federation, who has served as spokesman for Williams and her family, was not available for comment on Monday's verdict… in addition, no one returned a phone message left at Williams' home…
Does that sound weird to you? Maybe not.  But IT GETS WEIRDER and actually even more REALLY F*CKING UPSETTING. Why? Well, to be honest, it's time we consider the possibility that something is really wrong here and that Cheyenne — or her attorneys/advocates/mom — might be lying about the nature of the attack. OMFG HOW CAN YOU SAY THAT AGAINST THE PERSECUTED HOMOSEXUALS you may be asking us, the court is homophobic! This is all a conspiracy! HOW DARE YOU SUGGEST THAT SOMEONE WOULD LIE ABOUT BEING HATE CRIMED?
And trust me — I pretty much think everything in America is part of a giant conspiracy led by straight white patriarchal systems of power and my politics are way more left-wing radical than I could probably ever legally write here if I ever wanted to get another advertiser.
So let's figure this out together, yeah? We're right here with you — skeptical but also desiring truth. Maybe even read a little bit about Jordan Palmer and the Kentucky Equality Federation.
Are we (the GLBT media) capable of looking at this case objectively? Should we always assume that the gay is on the Side of Truth and anyone against her is just Against Gays? Clearly "innocent until proven guilty" was thrown out the window when the GLBT media first started reporting on this, which is, I think, totally fine. But– well, let's begin at the beginning…
You might remember this case from when we reported on it at the time: Cheyenne had been out as a lesbian for some time (and had a girlfriend), the four girls were best friends and the alleged attackers claimed the whole thing was a "prank gone awry." Cheyenne's Mom called it a hate crime. The incident occurred on the same day as the "Day of Silence" anti-violence event, promoted by the national Lesbian Gay Bisexual & Transgender Alliance. Many students at Cheyenne's school supported the day but others wore stickers which declared "gay is not the way." In other words, Jackson County isn't exactly the Castro District, but it's also not Malawi.
Cheyenne signed a sworn criminal complaint saying that she was abducted on Friday April 16th by the three girls. Cheyenne claimed she was taken to Flat Lick Falls, a remote area 60 miles southeast of Lexington, under the pretext that her friends were taking her to a job interview. Once there they allegedly beat and choked her and attempted to push her off a 50-foot cliff. Williams allegedly broke free by fending off her attackers with a stick. Before the attack, a large rock was allegedly thrown at her, which allegedly caused her to fall and injure her back. The attackers then allegedly took Williams to a restaurant and then allegedly warned her not to say anything.
Based on Williams's statement, a local prosecutor issued arrest warrants for the three suspects without a police investigation. They were arrested and released from jail when their parents posted $25,000 bail.
Kentucky.com reported: "The detective handling the case said he would not characterize the alleged attack as a hate crime. It appears the incident started as a prank but escalated to the point that Williams was frightened and sustained minor injuries."
About a week later, a little more (vague and unsubstantiated) information surfaced regarding the strange and disturbing story of Cheyenne Williams when the Kentucky Equality Federation (an independent volunteer-run group) said that the three friends had made a secret pact giving Cheyenne six months to "turn straight or else" — but there was no word on where this information about the pact might have come from.
The Kentucky Equality Federation ("Kentucky's largest all-volunteer grassroots lesbian, gay, bisexual, transgender and intersex civil rights and advocacy organization"), which was then speaking exclusively on Cheyenne's behalf and used apostrophes to pluralize "Video" and "Picture" on its website, which may or may not have been driving us insane, said the pact had been made amongst the assailants and that Williams was not aware of it until the day of the assault.
State Police Detective Joie Peters told reporters that the girls had been best friends since sixth grade with no prior problems between them and that one of the alleged attackers had in fact recently shared a room with The Lesbian during a senior trip to Key West and The Bahamas! You can't just go to the Bahamas with somebody and then throw them off a cliff, right? That would be so rude, because memories from senior trips are 4ever.
On April 26th, The Lexington Herald-Leader reported (via Towleroad) that the classmate's lawyers claimed the whole thing "was a 'staged incident' in which Williams was a willing participant." The attorneys said the attack had been video recorded via cell-phone and the video would show that Cheyenne was a willing participant.
In June, Corinne Schawb's attorney sought to file a perjury charge against Cheyenne Williams.
On June 7th, the Kentucky Equality Federation stated that Cheyenne's inconsistent testimony was a result of "victim intimidation."
Today, August 18th, in response to the acquittal, United We Stand Kentucky (volunteer journalists, bloggers, and contributors associated with the Kentucky Equality Federation) reported:
The lack of official court room procedure, as well as inadequate prosecution in this case continue to unfold.  London based Kentucky Equality Federation Treasurer Dean Byrd stated it was his belief that if the case had taken place in a urban court such as Lexington, Richmond, or Louisville the outcome would have been different.
The grandmother of the alleged victim today added: "The judge mentioned lack of evidence; maybe it was because the judge slept through the evidence."
The Kentucky Equality Federation released a statement today:
The family has give Kentucky Equality Federation the green light to begin getting information for a civil case.
I drilled Ms. Williams with Statehouse candidate Matthew Vanderpool during the last hearing and both of us were satisfied that she was being truthful. Mr. Vanderpool, an openly gay candidate for the Kentucky House of Representatives also offered his support to the family and wanted to shed light on hate crimes across the Commonwealth regardless of race, sex, religion, disability, sexual orientation, or gender identity.
It would not be the first time in the history of the Kentucky Court of Justice or the United States that a person was found criminally innocent and later found guilty in civil court.
This case and its information have also been forwarded to the FBI.
As a community, we remain united with Ms. Williams."
The Statehouse candidate Matthew Vanderpool is worth a closer look: check out this recent post about Vandepool on Joe.my.God.
Kentucky.com also reported the following:
Williams videotaped part of the alleged attack on her cell phone. That tape is a key piece of evidence… Williams said at an earlier hearing that she did not laugh throughout the attack, but the video confirms she did laugh during the event, according to defense attorneys and police.
State police Detective Joie Peters, who began investigating after the three teens were charged, has testified that Williams' story to him did not match other evidence and statements. For instance, Hays, the county attorney, said Williams told him she blacked out during the attack, but Williams did not tell Peters that, the detective said.
The judge's ruling on Monday confirms that no crime was committed in the case, Gay said in a news release.

When the story came out there WAS no evidence suggesting she was lying (or telling the truth, really), and because hate crimes against gay people are such a hot-button, sensitive topic with a rich history of denial or dismissal by mainstream society, I think it's a natural reaction to believe the person. We did. Like any victim. But more so because it's "one of us" being wronged in a way that we've possibly experienced ourselves.
So far, the only evidence that exists supporting Cheyenne's story is Cheyenne's testimony. Defendants tried to block her testimony, claiming it was inconsistent and irrelevant, but the judge did allow it at trial, saying it's up to the jury to decide.
We've been afraid to suggest that these charges are not true because that seems to be something we're just not allowed to do, as gay media.
But if these charges are not true, suggesting she was lying isn't a crime against gay people. The crime against gay people IS the lie.

Now, let's get honest: we've had a strange feeling about this from the get-go. There was no physical evidence of the injuries she claimed to suffer. The Kentucky Equality Federation, who is spearheading the case, has been questioned by gay allies as possibly not-totally-awesome-advocates.
We admit that, when linked to a facebook profile via a comment on a Towleroad story, we started digging around Cheyenne's online life (even going so far as to join a terrible place called myYearbook) to get more info on the story, which is when we started raising an eyebrow. Things seemed off here, but we knew that somebody's Facebook/myYearbook/MySpace behavior didn't exactly constitute evidence for journalists or lawyers (and perhaps, should not even be included in this post? Thoughts? This is a real question.)
We went through all the proper channels to get more information from Cheyenne. We contacted Cheyenne Williams (sidenote her email address actually includes the word "crywolf" which is SO WEIRD) and the Kentucky Equality Federation but got nothing in response.
What do you think? If the evidence says the girls aren't guilty, do we trust the judge? And if not, why not? When is it okay to question our own? We endeavor to suggest that in the case of Cheyenne Williams, the time is now.