This week we had the esteemed pleasure of acting as lesbian sexperts for Jezebel for their "How to Lose Your V-Card to a Lady" post which made us feel very Susie-Bright-consults-on-Bound-esque, except for free. If you haven't read it, you should, because it's very good and popular and so forth and well put-together. It's still in the skyline three days later, which means we've 'made it' as lesbians.
The only piece of advice we gave them that they didn't publish was probably bad/amazing advice (as follows):
Our first unanimous piece of advice is "drink." This may seem unwise, and perhaps the opposite of the advice we've been solicited to provide, but good grief, this stuff is nerve-wracking. Don't drink too much! You'll need to remember your first time. For example, some of us don't know when our first time was, and for that we must blame the drink.
Anyhow, this conveniently ties in to what we've been doing here these days…
Four weeks ago on NSFW Sunday we talked about what lesbians don't talk about when they talk about sex AND YOU ALL HAD A LOT OF FEELINGS.
A few days before the aforementioned post we'd started an 'anonymous google doc' wherein Autostraddle team members asked their own questions and gave their own answers so that we could 'determine' what people 'want to talk about.
Three weeks ago we talked wetness & orgasms, two weeks ago we talked about tops and bottoms and last week, positions (69, scissoring, etc). This week…
The Anonymous Sex Doc presents…
Do you feel like you know what you're doing when you have sex with girls?
* I was really confused when I was fifteen, but just went for it and that went ok. So I figure if I did it then I can do it now. If you don't just go for it then no one would ever have sexy time. Everyone is a little different so just ask people what they like.
* Not really. I just kind of went for it from the start. I mean, I know what *I* like, presumably other girls would be similar? And if not, they'll tell me?
* Not really? But I guess I feel that way about most things in my life. no one has complained yet, so I feel like that's the important thing.
* Sure. Though I always try to listen to the person with whom I'm having sex to make sure that I "know" what I'm doing. People are different. Communication is key.
* The first time I had sex my girlfriend didn't know I was a virgin so I acted "as if" and it worked.
* Definitely. But having sex with a new person would still take a while to work out the kinks, probably.
* Yes, I have the same parts and am a pro at masturbating. It was a hell of a lot easier than trying to figure out how to give a boy a hand job. My bad on the chafing. Although I will note here that I find it annoying that a lot of women don't know what they are doing WITH THEIR OWN BODIES. Because they think they are fat, or smell/taste weird or whatever they are so uptight they really are kind of checked out of what they are feeling physically. You have to bring a little sexual self awareness to the table.
* Sometimes yes and sometimes no.
* Yes, because I explored my own body first. it's not really that different, i mean, things are usually in the same place. then you adjust your style to find out what she likes.
* Yes constantly i am afraid that i am doing the wrong thing all the time.
* I always knows what I'm doing with everyone. /ego
* The more girls I sleep with, the more confident I am, but I still feel like I have a long way to go. I'll keep practicing, no problem.
* Yup. Once you get used to their specific terrain, the same principles apply. Communicating helps.
* Not really, but I'm working on it!
* Yes I feel like I know what doing. I'm fairly easy so I've had a lot of teachers / practice.
What was your first time like?

MY FIRST TIME:
About.com has tips on "first time lesbian sex" and Betty Dodson helps a Newbie Lesbian Needs Oral Sex Pointers. Nerve's "My First Time" series has featured one lesbian, a 16-year-old female from Milwaukee, WI: "When I was sixteen, I had a boyfriend who was eighteen and a best friend that I wanted to fuck who was seventeen." Or read the new book I Kissed a Girl: A Virgin Lesbian Anthology is about other people's first time."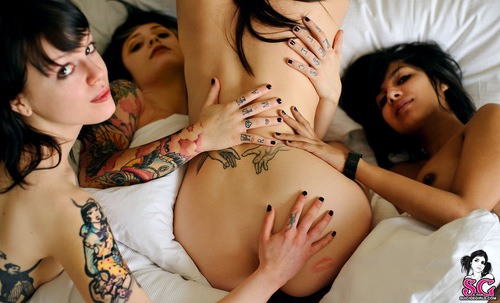 ETC:
Porn: Things You Learn From Porn: a delightful list from randomsexfacts.
Uncovered: Jordan Matter's Uncovered is a book of portraits and personal statements from over 80 brave women, who posed bare-breasted for the project in public locations across New York City.
How to Have Cybersex in 1999: Oh, those were the days to remember.
Lady Gaga: Camille Paglia has, surprisingly enough, written something I totally disagree with. This time, it's about how Lady Gaga signals "the death of sex":An erotic breaker of taboos or an asexual copycat? Camille Paglia, America's foremost cultural critic, demolishes an icon.
BRAS: A brief history of the bra at Vice Magazine.
Sugarbutch: On Making Sex Last: Cheerleading & Open Relationships:.Do you really want to know? We sleep around. We're both big sluts. The commitment, to me, means that we are each other's biggest cheerleaders. We don't believe in possessing each other. I am always on the sidelines yelling, 'Go you!'"
Sexy Tumblr Alert: forms y details is for all ye capable of handling a lot of black & white photos of girls kissing. I mean there are a lot of girls kissing happening on this tumblr for real.