It's our very second Autostraddle Anonymous Sex Toy Review!
Today we are reviewing two things from Good Vibrations, like the Beach Boys Song "Good Vibrations." We have a crush on a lot of sex toy stores but we def have a crush on Good Vibrations, mostly because they've got an entire Gender Expression & Play department!
JimmyJane's Form 2 Clitoral Massager
($135 – buy at Good Vibrations)
Gift for: yourself, your long-distance lover, your internet girlfriend
Description: "Experience sensation in stereo with the rechargeable Form 2 from Jimmyjane! This waterproof toy has two vibrating "earswp_poststhat operate independently from each other, offering twice the intensity of other vibes and the possibility for perfect external positioning. You can even pinch the prongs together for a more fervent feel. The intuitive controls include five different intensity levels and four pulsing patterns. This tremendous travel vibe is good to go with the push of a lock button. Even if you forget the convenient charging base, you'll still have up to seven hours of pleasurable play with the long-life lithium battery."
Even Gizmodo likes this sucker b/c it's supposed to be like, the most high-tech vibrator of all time or something and it's from the "Ecorotic" collection, which means "all-natural and organic products, as well as longer lasting items that have less environmental impact, such as toys made from superior materials and rechargeable vibes."
The Form 2 has five power levels and five vibration modes and is made out of 100% silicone & stainless steel and is totally waterproof. Looks like a decapitated bunny or like a salt-and-pepper shaker you might buy at Pinkberry or a Steve Jobs Joint. This is probably the cutest vibrator I've ever seen. Here's a comparison: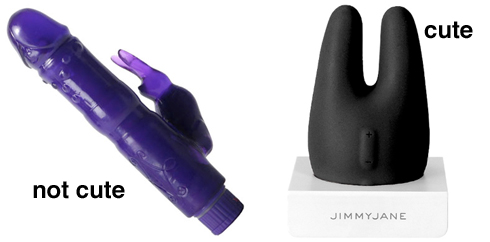 I'm in a long-distance relationship this season so my favorite thing about this is that I can hold a phone in one hand and then nest the Form 2 in my palm, nudging the mega-aerodynamic buttons with my thumb whenever necessary, which feels easier than navigating a giant dildo thing. Sometimes I accidentally pressed the wrong button and ended up assaulting my labia, but it's all a learning experience. It gets SUPER INTENSE which is a blessing at the time and a curse a few hours later.
There are little ears that strum either side of your clit but can also rotate, pulse, or thrum. I enjoy just pressing buttons at random, it's like having sex almost, you never know what's gonna happen! There's a learning curve but when you master it, it feels like having a tiny expensive friend always flicking their tongue against your private parts.
+
CLUB VIBE:
($49 at Good Vibrations)
Gift for: Girls that won't have sex without music on, your girlfriend who needs to get off as often as possible, yourself, your friend, really anyone, etc.
Description: "Get off while you get down! This innovative new bullet vibe from OhMiBod literally lets you "feel the rhythm.wp_postsPick your mode to experience pleasure… in private or in public! Set the controller to manual mode and cycle through seven different pulsing patterns. Plug into any iPhone, iPod or MP3 player and buzz to the beat in music mode — turn up the volume to increase the intensity. Ambient mode turns anything audible into veritable vibrations. Let the sound of your lover's voice wash over you in waves of ecstasy. Slip vibe into the pocket of included panties and slip out to a nightclub. Feel the throbbing tempo through your thong as you dance to the DJ. Regardless if you're at rave or your residence, the Club Vibe will rock your world! "
Truly, The Club Vibe is really just for solo use. It works though! It actually does pulsate to the beat of Alejandro, although that amounts to more or less constant thrumming. If that's not funny enough, picture the both of us holding the tiny bullet with our fingertips, one ear bud in one ear each, laughing and dancing (horizontally) to Lady Gaga. I wanted to use it (no music necessary) a little later in the evening, but it was too damn small. Bonus: it's nice to have a headphone splitter around. If I was going to hide a bullet in my underwear in the club, as intended, I don't think I would really care if it followed the beat or not.
HOWEVER the reviewers on the Good Vibrations website open you up to a whole new world of possibilities, "I love to wear mine while I'm doing housework, or watching TV. It doesn't slip out of place, and is easily hidden from any little ones or surprise guests that may come over" or, this one that might hit close to home — "If you are in a long distance relationship and Skype with your lovah you NEED TO ORDER ONE RIGHT NOW."
Happy Sunday, chicklettes!