A ton of sex toys are shaped like or nod toward body parts — dildos are an obvious parallel, but vulvas and tongues and even fingers all have a presence.
But sometimes, you want something that doesn't look like a body part. (At least, not a human body part.) For those times, check out these non-representative sex toys, featuring ice cream cones, octopi, emoji and more.
Ice Cream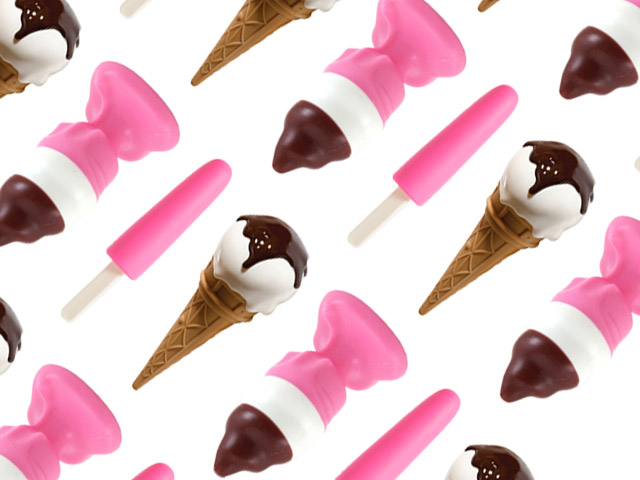 The iScream dildo is a soft silicone popsicle-shaped dildo on a plastic stick. It's 6″ long, 1.75″ in diameter, and easy to clean between uses or partners. Put it in the freezer for temperature — or more realistic food — play. And for something similar, check out the Pure Pop from Hole Punch, a 7″ long, bright tri-color silicone popsicle on a urethane plastic stick with a display stand.
In the same line, the iScream Vanilla is a vibrator shaped like a chocolate-drizzled vanilla ice cream cone. The 10 vibration speeds are a mix of rumbly and buzzy, steady and patterned, but let's be real: the aesthetic (almost) makes them irrelevant. The iScream Vanilla is made of silicone and ABS plastic, USB rechargeable, and waterproof.
The Ass Cram Cone is a Neopolitan-colored silicone butt plug available in three densities from small-batch sex-toy maker Hole Punch. At 5″ long and 2″ diameter at its widest, it's huge but also gorgeous.
Futuristic Architecture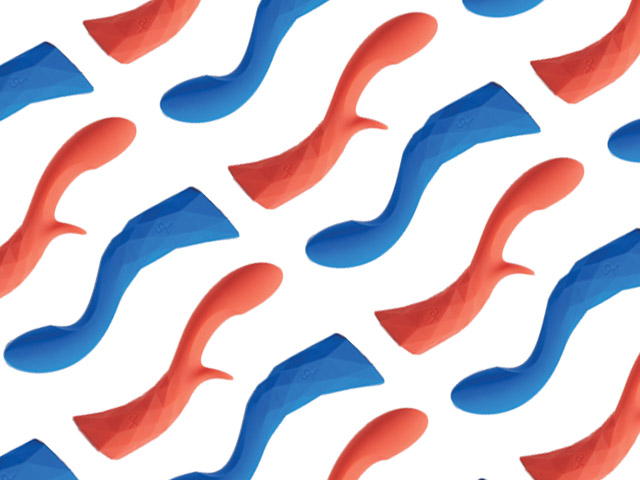 L'Amourose Prism V is a geometric silicone vibrator with 12 intensities, and 5 vibration patterns. It's rumbly, waterproof, can target a g-spot, and can be used internally or externally. If you've ever looked at a building with a great design sensibility and wanted to put it down your pants, this could be the vibrator for you.
L'Amourose Prism VII is also a geometric silicone vibrator with 12 intensities and a few vibration patterns. It's rumbly, waterproof, and has a curved end to target a g-spot along with a small nub to simultaneously target a clit.
Sea Creatures
The whale-shaped Yoru vibrator is part of the Iroha Plus line of animal-themed vibrators (there's also a bird and a hedgehog!). It's squishy silicone with a squeezable mouth and different edges and angles. It's also USB rechargeable with a battery life of about an hour.
The tentacle-shaped Octopussy glass dildo has an curve to target a g-spot or prostate, smooth ribs and nubs for texture during penetration, and a looped handle to make it easy to hold even when your hands are covered in lube. It's Pyrex, so you can boil it to sterilize (just make sure to avoid intense temperature changes).
Rubber duck? Vibrator? The I Rub My Duckie answers, why not both? It floats, it's quiet, it's latex-free PVC.
Less interested in what lives in the ocean and more into the ocean itself? The Ocean mini silicone rabbit-style vibrator has a shaft for a g-spot and a nub for a clit, 12 vibration patterns, and runs on two not-included AAA batteries. It's also waterproof, because duh.
Unicorns
Wishing the unicorn thing going around went one step further? The Unicorn Horn Dildo, handmade by Geeky Sex Toys, is pearly medical-grade silicone, 7.5″ long and 5.5″ in circumference, and has a swirling taper and a suction cup base for however you want to bring your unicorn dreams to life.
The Tokidoki Unicorn Wand by Tokidoki and Lovehoney is a six-speed electric vibrator that urges you to "release your hidden rainbow energy." It has six speeds, a scroll control, and a silicone unicorn head that creates pinpoint or broader sensations and is removable and easy to clean. The Tokidoki vibrator line also includes a selection of bullet vibes if something smaller is more your speed.
A Diamond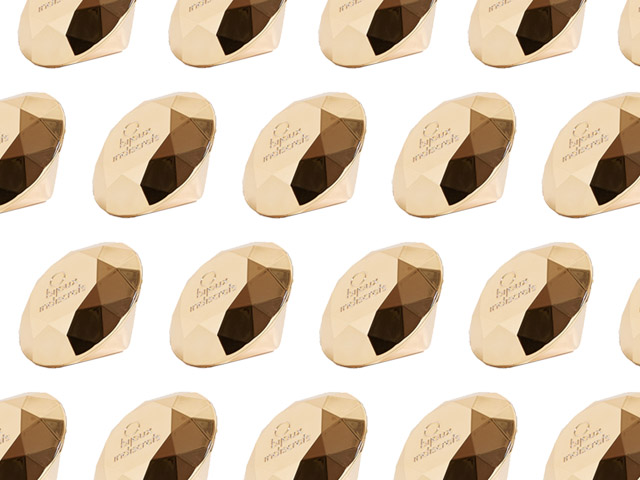 Because you are one.
Bijoux Indiscret's Twenty One Vibrating Diamond is a USB-rechargeable waterproof diamond with multiple vibration intensities and patterns.
Emoji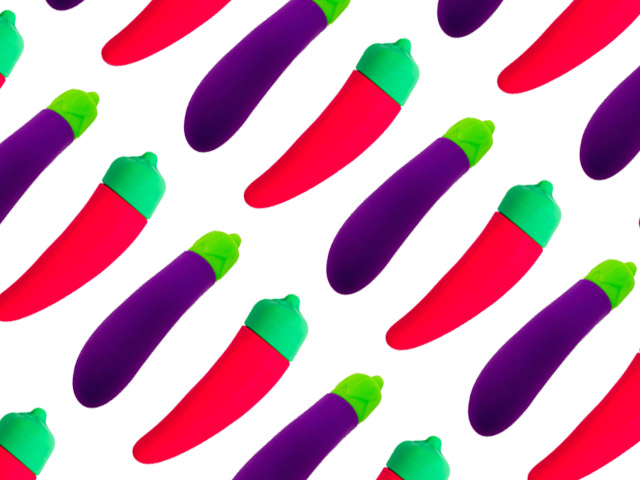 Why not masturbate with the emoji that everyone loves to sext? I'm holding my breath for a rocket ship emojibator personally, but until then check out these two:
The Emojibator Eggplant Vibrator from Pixelrise is a small silky silicone external vibrator with 10 settings. It runs on four (included) LR44 watch batteries. And so does its sequel, the Emojibator Chili Pepper Vibrator.