Welcome to No Filter, known worldwide as a moderately good time for a fairly significant group of human beings, including hopefully Stef, who used to write this column about queer celebrity instagram!!!
This week was a monumental week because of the Emmys, and also a sad week because one of Trace Lysette's plants died. :-(
---
https://www.instagram.com/p/B2sXI49gUwl/
Feel free to click through and ponder the meaning behind this particular instagram post from Janelle Monáe — the only post on her account currently — which includes but is not limited to a suggestive bathing suit situation with Eiza Gonzalez (they appeared in "Welcome to Marwen" together), a bottle of spring water, some seasonal emojis, a circled armpit and a party photo. What's going on?
Al(aina) has a theory: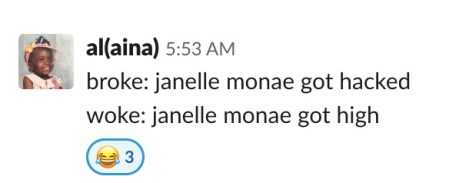 ---
The Emmys really brought out hot queer women and non-binary people in suits — at the ceremony and also at other events hosted by television networks this past week. Unfortunately Cherry Jones doesn't have an instagram.
She'll thank me next year.
If you have any questions regarding Jen's bra, please trust that the answers are waiting for you at the end of the slideshow.
This situation would look great over a white shirt with a giant collar worn by Bette Porter.
CONSIDER THE NIGHT TURNED
You can purchase Jacqueline's suit for your very own at Wildfang dot com!
Trace Lysette isn't wearing a suit but I think we can all agree that what she IS wearing is notable and also … a pantsuit, right? Technically?
---
This is my new favorite superhero movie
---
Though our lives are very humble
What we have, we have to share
There is wine here to revive you
There is bread to make you strong
There's a bed to rest 'til morning
Rest from pain, and rest from wrong
---
I can't wait for their hair to partner bond and start its own line of partner-bonded hair products. Everybody can toss their hair around in the sunset.
---
You know what I realized this week is that both The L Word and Transparent have a "traveling to a women's event as a group and singing along to "Closer to Fine" in the car" scene and wow, IDK, sometimes I really love us.
---
This is the kind of leaning in messaging I can really lean into
---
Hoping to see this slogan on Pride merchandise coming your way next June!!