Welcome back to No Filter, the meaningless tabloid journalism that is my bread and butter in this cold, cruel world. This week, I went all the way to Los Angeles in search of a coffee date with Kristen Stewart (and, I mean, also to attend a wedding). Instead, I was met with only cold Del Taco and despair. If anybody runs into her at Mohawk Bend, could you please tell her to get an Instagram account? It's really messing up my work flow.
---

Lea DeLaria is a steady source of Instagram-related fulfillment.
---
Well, this is pretty gay.
---

Jamie Clayton met Pee Wee's dinosaurs. Those dudes still give me nightmares.
---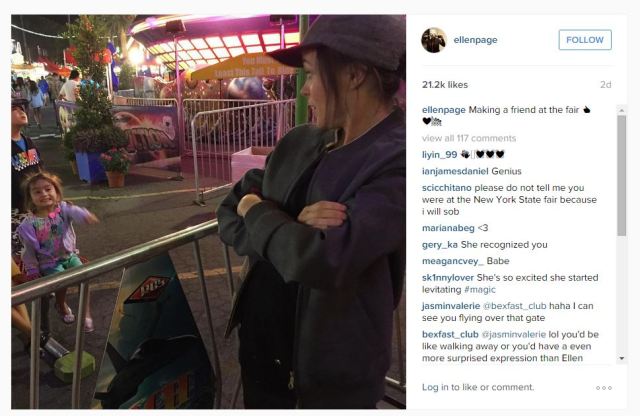 Ellen Page is irresistible to women of all sizes.
---

Sure, you could click through and look at all of Laverne Cox's intensely gorgeous bathing suit pictures from this past week, but this one has a special place in my heart because of course.
---
Jenny Owen Youngs is realizing her full potential.
---
These people need electrolytes for all the extreme sports they're doing, I guess.
---
Samira Wiley has been posting about a zillion photos per day, and lucky for you they're almost exclusively adorable selfies. This one's with Lauren Morelli's dog Duncan. Hi Duncan.
---
https://instagram.com/p/7T4XkXJqFw/
I know we report on the OITNB cast like, a lot, but this week a bunch of them went to the US Open and Danielle Brooks did what I'd do and spent the whole time staring at Dascha Polanco.
---
Join us next week, when Leisha Hailey builds us a gardening shed and puts up some shelves in my garage.