Welcome back to No Filter, where dreams come true. This week, Tegan and Sara went on vacation and their cat-sitter sent them a lot of pictures of Holiday and the other guy (Bee?) being amazing all over the place. Additionally, I decided it might be time to start branching out into the Instagram feeds of a couple of celebrities we haven't really paid attention to before! Do you have any ideas for queer celebrity weirdos you'd like to see featured here? Gotta diversify our portfolio, you know? That means if you're reading this and you're Kristen Stewart and/or Evan Rachel Wood, you'd really be doing me a favor by signing up for an Instagram account this very instant.
https://twitter.com/evanrachelwood/status/648669710230286336
That's not the same thing, dude.
Anyway, Instagram. Here we go!
---
https://instagram.com/p/8HW7c7GFbx/
Tegan and Sara went to a wine tasting and took the time to accurately gauge their feelings about wine.
---

Usually everybody looks ridiculous on these contraptions, but leave it to Samira Wiley to make this thing look goddamn adorable.
---

In thumbnail form I thought this was Megan Rapinoe getting ready to skydive out of an airplane but I guess it's just more sports.
---

It's fine, everything's fine, I haven't died of cute or anything. Everything is completely under control.
---

It was really cool of Fred Armisen to hold up the shirt Carrie Brownstein bought for me.
---
https://instagram.com/p/7-o0IksZQa/
Ruby Rose wrote you a love letter but you must decipher it out of the twists and turns of her hair. Good luck, soldier.
---

I'm really into how invested Samuel L Jackson is in spending time with the OITNB cast.
---
https://instagram.com/p/8HTdhhRdi_/
Janet Mock always knows the most important place to be.
---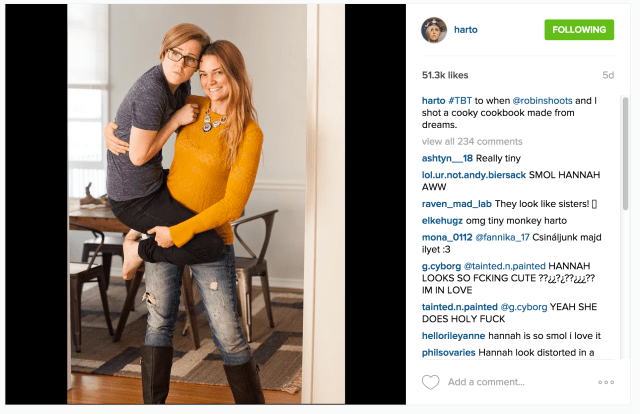 I thought we could all stand to revisit this picture of A-Camp's own Robin Roemer hoisting Hannah Hart around.
---
https://instagram.com/p/8MxfHGH_nc/
Janelle Monae, inspiring as ever.
---

Guys, I just love Laverne Cox's Beyoncé fandom so much. Why doesn't Beyoncé pay more attention to Laverne Cox? How can we fix this?
---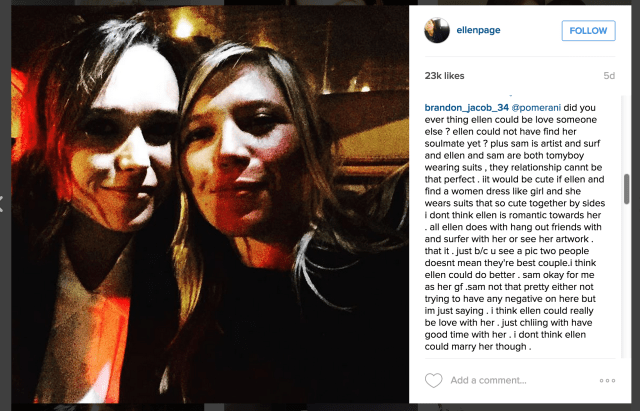 BRANDON_JACOBS_34 IS STILL AT IT YOU GUYS. Why does he oppose this union so much? Do you think Ellen dumped him for Samantha or what?
---
Join us next week, when Laverne Cox finally lends Rachel her lip gloss and Brandon_Jacobs_34 has an opinion about it.