Welcome to our second weekly intallment of No Filter. Each week, we'll compile a collection of Instagram posts from the most important queer (or queer-ish) celebrities we can think of, and we'll dissect said images over tea (or lemonade if you prefer). Will this be the week that Kristen and Alicia start a totally gross joint account and post simultaneous softly-lit pictures of each other from across the breakfast nook? Well, no, but there's always next week.
---
Firstly, we need to address something which did not happen this week and did not happen on Instagram but is nonetheless very important to our community: recent revelations regarding Gillian Anderson and Cate Blanchett's sexual histories. The following photograph was taken at a time when the Internet was not what it is today, a time before ubiquitous camera phones and social media updates — a simpler time. Learning that both of these heroic ladies have spoken out about having past relationships with women validates every feeling I've ever had about them, which leads us to Exhibit A:
If there is even a ghost of a possibility that Galadriel and Agent Scully made out even once, the entire vapid fluff team at Autostraddle dot com are going to explode.
Anyway. Instagram!
---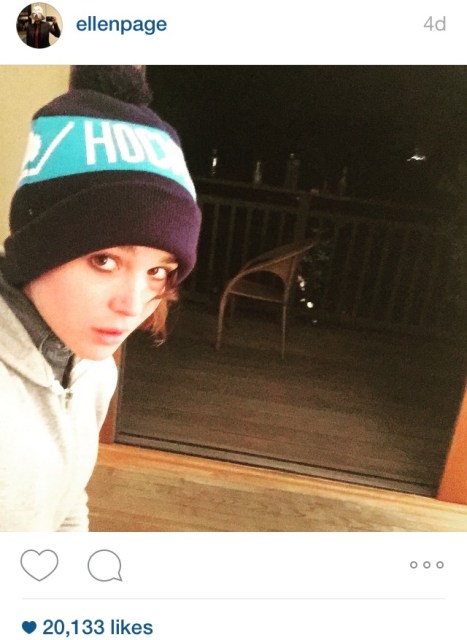 They are just so painfully Canadian sometimes.
---

They've been singing "Pinot Noir" in their own heads ad nauseam for about a month now, like the resplendent Laverne Cox.
---
https://instagram.com/p/2hjJNfQqeM/
They collect snacks. Hi Kreayshawn. We see you.
---
https://instagram.com/p/2jC8rawzJ2/
They honor their heroes – dream date Miley Cyrus posted this clip from her backyard session with Melanie Safka, my dad's favourite singer. Miley made headlines a couple of years back doing a cover of Safka's "Look What They've Done To My Song," but I'd be down for a clip of the two performing "Brand New Key" or even "I Don't Eat Animals."
---

While we're at it, how fucking cute is Laura Jane Grace playing "True Trans Soul Rebel" with Miley? If you told me seven years ago that one day Miley would be singing backup on an Against Me! song, I don't think I'd have believed you. Miley thinks Laura Jane Grace is a badass – she's just like us.
---
https://instagram.com/p/2WtB3oF48y/
They have heart-eyes feelings about Danielle Brooks (Nneka Onuorah, speaking for us all).
---
https://instagram.com/p/2QpFvoDvCu/
They're useless when it comes to feeding themselves. Taylor Swift, do you belong in this column? We're putting you here. Welcome.
---
Join us next week, and every week for the rest of our natural lives.