Hello. Good morning. This week I noticed something VERRRY suspect going down in Sara Dinkin's Instagram stories: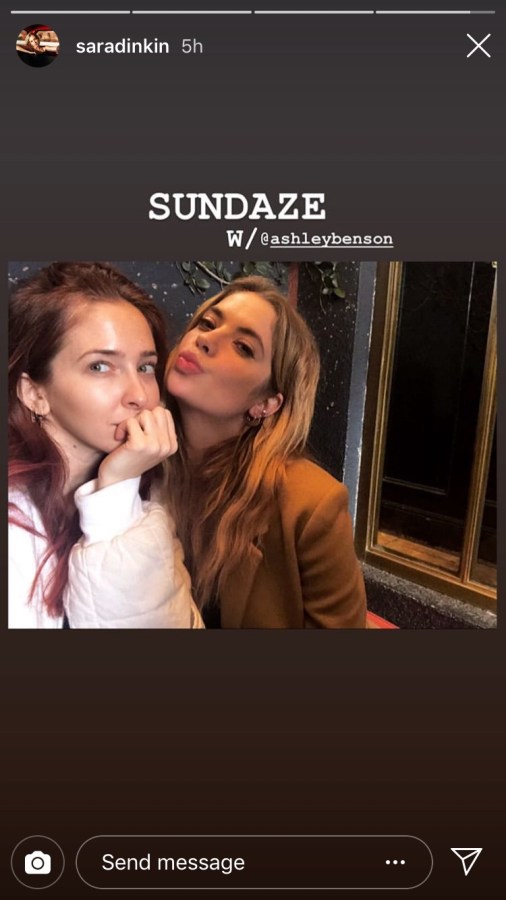 This conclusive evidence proves once and for all that everybody we talk about in this column are in real life hanging out together, talking about being in this column, probably while eating expensive sushi.
---
Is it too late to go back in and recast King Princess in the Men in Black reboot? Seriously, can we just paste her over Liam Neeson?
---
I am choosing to interpret this photo as a declaration that Ashley Benson is so rich she hires a second person to handle dispensing her toilet paper while she poops diamonds.
---
Stephanie Beatriz's mousetrap Mac 'n' Cheese looks positively enchanting.
---
Brittani and Bandit look so tender together that I am willing to forgive the fact that Brittani is dressed like she's hunting wabbits.
---
https://www.instagram.com/p/Bt7k0v9Hbbf/
Kehlani has been pregnant since 2016 and she's pretty over it at this point.
---
I'm ready to let Jasika Nicole pop the hood open and take a look at my gears – oh god I can't even make this terrible joke without cringing.
Jasika looks nice.
---
I have LITERALLY NO IDEA how Teddy Geiger got through Valentine's Day week without posting approximately six thousand thirst traps, but fortunately for you Emily Hampshire promptly released this anthology.
---
This tea told Hayley Kiyoko a joke in French.
---
No, YOU photoshopped yourself into the driver's seat in this picture.
---
You're so cool. You're so cool. You're so cool.