Welcome back to No Filter, where we dissect every single aspect of a celebrity's Instagram photos to learn more about how they're just like us! This week, Ellen Page is busy being the best person, Amber Rose is channeling Left Eye and Carrie Brownstein is channeling me in seventh grade.
In our weekly (OK, probably more like hourly) observation of Evan Rachel Wood (who does not have an Instagram), this happened:
https://twitter.com/evanrachelwood/status/634654169454899202?ref_src=twsrc%5Etfw
---

Ellen Page is crushing it this week, confronting Ted Cruz and hanging with Miss Major. Because of that, she gets a bonus post: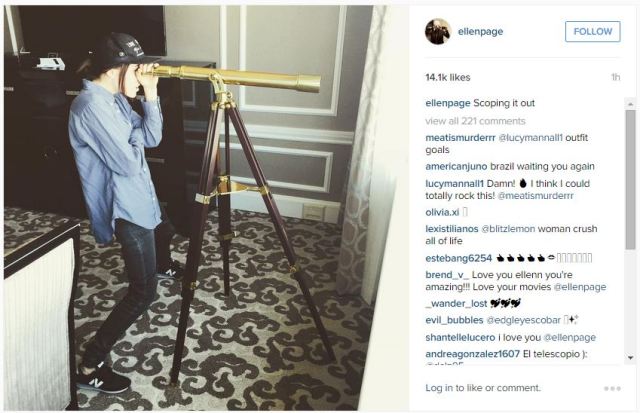 I was gonna say this is a picture of Ellen Page longingly gazing into your bedroom window, but that's super creepy. Ellen Page is discovering brand new nebulas in space and naming them after you. Maybe she should point that thing up at the sky.
---

Take a look at these adorable people adoring each other.
---
https://instagram.com/p/60i9ECjvAM/
YEAH TAYLOR WE GET IT, YOU HAVE A LOT OF FRIENDS. Is she running for class president or what? This kid is the Tracy Flick of pop music.
---

Lauren Morelli has her priorities in order.
---

Has anybody ever looked cuter in a hoodie with the hood up? No, nobody ever has; you can go about your business now.
---
https://instagram.com/p/6koSZ5GFWs/
If Sara gave Holiday her own Instagram, she'd presumably post less pictures of her cat, and probably Riese would appreciate it if I posted less pictures of cats in this column, but have you seen that cat?!
---

Live from the set of Portlandia: all my dreams coming true.
---

This was posted almost a week ago and I'm still trying to wrap my head around baby DeAnne Smith with ruffled overalls and… are those butterfly barettes?!?!??!?!
---
https://instagram.com/p/6pE4yVsZVM/
Ruby Rose doesn't look even a little bit like a walrus.
---
https://instagram.com/p/6shWG8EqyD/
I thought we could all use some Amber Rose this week.
---

Stella Maxwell waxing poetic with the newly out non-heterosexual Lily-Rose Depp. Get it?!?!? Waxing?!?!? I'll show myself out.
---
Join us next week, when Ellen Page will telescope straight into your heart.