Welcome to world's greatest Pop Culture Fix, a weekly love affair where we catch you up on all the relevant pop culture news of the day!
---
Top Stories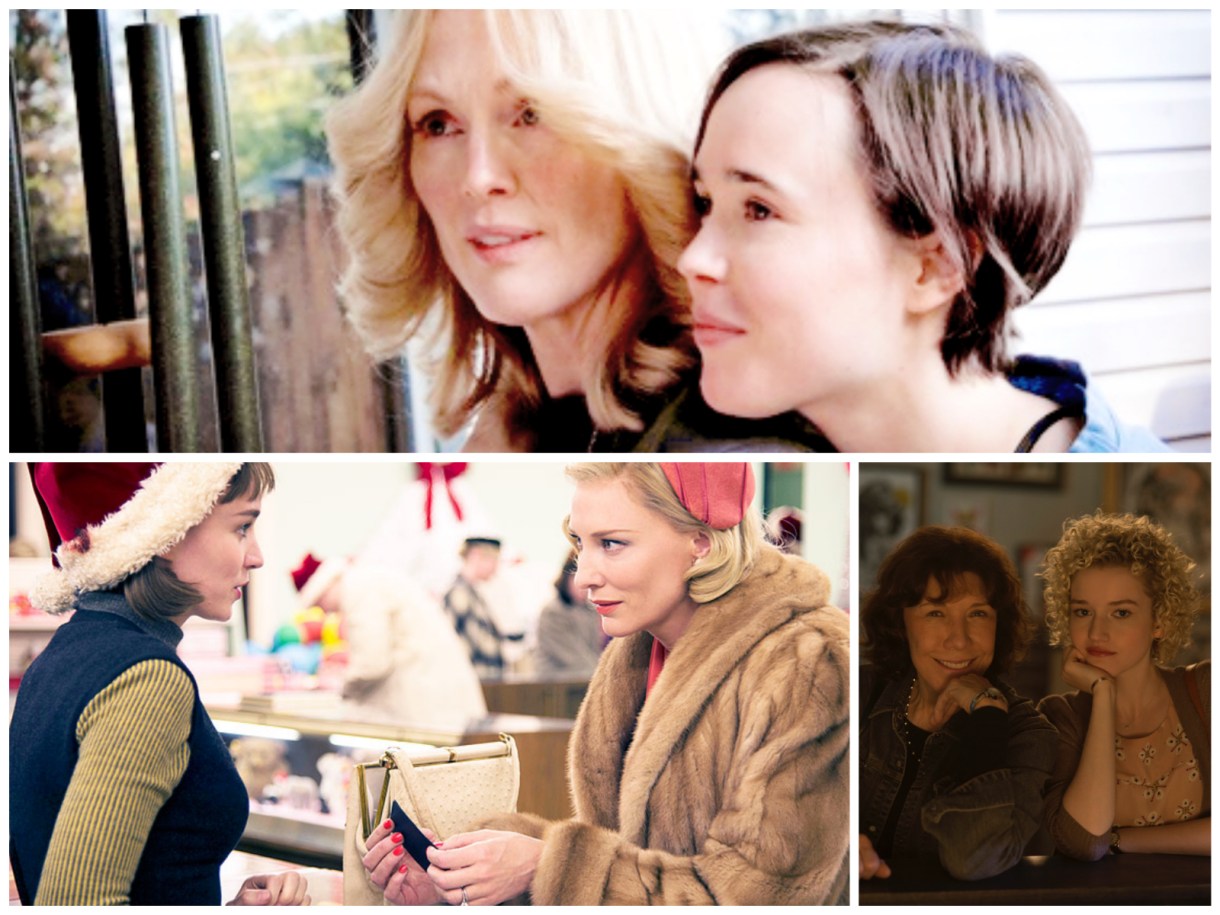 + Indiewire notes that three potential Oscar contenders — Grandma, Carol and Freeheld — all feature May/December lesbian relationships. (The same article also mis-genders Elle Fanning's character in About Ray, etc.)
Carol (November 20th), directed by Todd Haynes — based on "The Price of Salt," stars Cate Blanchett (age 46) as a divorcing socialite who gets involved with department store clerk played by Rooney Mara (age 30).
Grandma – Lily Tomlin (75) plays "an acerbic lesbian intellectual" who breaks up with a "worshipful woman" played by Judy Greer (40).
Freeheld – Julienne Moore (54) will play New Jersey police officer Laurel Hester and her domestic partner will be played by Ellen Page (28). Freeheld is based on a true story involving a couple with a 19-year age difference.
This excerpt seems particularly relevant to our collective interests:
"Grandma" starts off with an epigram courtesy of lesbian poet Eileen Myles, who has had a relationship with writer Leopoldine Core, 36 years her junior: "Time passes. That's for sure."
Weitz was especially pleased by Myles' reaction to "Grandma": "She said that by the end of the movie, she felt it was like Elle was a gunslinger walking off into the sunset. Like Shane or something."
Weitz also recalled telling Tomlin, "This is a lead in a movie with a 70-something woman and there is no bed-death scene. And, by the way, she has a hell of a lot of living and vitality left." YES. Also relevant to your interests: 10 Lesbian Couples That Don't Mind The Age Gap.
+ Apparently some students at Duke are refusing to read Fun Home because they are ignorant assholes. I mean "for moral reasons."
Several incoming freshmen decided not to read "Fun Home" because its sexual images and themes conflicted with their personal and religious beliefs. Freshman Brian Grasso posted in the Class of 2019 Facebook page July 26 that he would not read the book "because of the graphic visual depictions of sexuality," igniting conversation among students… "I feel as if I would have to compromise my personal Christian moral beliefs to read it," Grasso wrote in the post.
+ A school in New South Wales' decision to air a documentary about growing up with lesbian parents — directed by an ex-stdudent — was met with protest from many parents. The school then decided to offer children the option of sitting out the screening in the library, where I can only hope there are no copies of Fun Home.
---
The Teevee Shows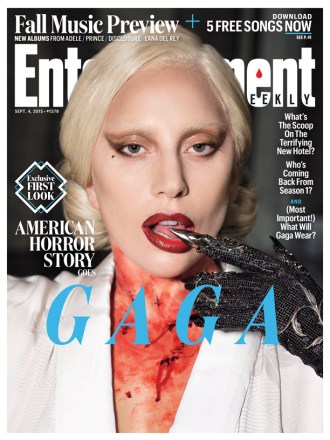 + Entertainment Weekly's got Lady Gaga on the cover in anticipation of her debut in the new season of American Horror Story, Hotel. Gaga will play a bisexual blood-sucking countess involved in a love triangle with "similarly blood-hungry Donovan (Matt Bomer) and the newly turned male model Tristan (Finn Wittrock)." Angela Bassett will also be playing a queer character — Ramona Royale, "an actress/former lover of The Countess's seeking revenge." Out actress Sarah Paulson says of the season, "There's something about this season that's got real heat to it. It's pulsating. Every season has a different tone or a color. And I think this year for sure would be blood red." Previously, Angela Bassett told AfterEllen of her character, "I would say she is fluid. From what I gather, from what I've read, Elizabeth is so charming, enticing, persuasive. I'm just attracted to her. It's something that's attractive about her that makes me a little bit more open to this idea."
+ Hey-ya Hey-ya, the lesbians are back! (On Masters of Sex) and they're gonna have a baby!
+ GLAAD is really excited about the PBS show First Person, because First Person is amazing, and I'm not just saying that because of my bone-deep eternal love for First Person host Kristin Russo.
+ Candace Cameron Bure will be joining The View, where she can share her anti-gay, anti-feminist and pro-Chik-fil-a opinions with a rapt audience every weekday morning indefinitely! Also Joy Behar is coming back, ideally she will serve as Candace Cameron's foil on aforementioned issues.
+ Heather Hogan would like to help Pretty Little Liars quit the transphobia, like the "he. she. it" tweet they blasted into the world earlier this week. Seriously y'all: honestly, neither of us like writing screeds about why this or that show messed up. I can't even hear the word "problematic" without wanting to spend the rest of my life hidden underneath a rock reading books printed on papyrus. We want the shows we love to love us back. I don't want lesbians to sleep with men and I don't want a transgender woman to seduce her brother and treat four innocent girls like dolls in a profoundly screwed-up bunker from hell. When shit like this happens, it's tragic and exhausting.
+ TV directors are overwhelmingly white and male. SURPRISE!
+ Margaret Cho will play Dr. Ken's sister on the new sitcom Dr. Ken (which, by the way, looks kinda terrible?)
+ I know you probably have zero interest in hearing Ilene Chaiken talk, but the thing is that she's talking about SEASON TWO OF EMPIRE WHICH COMES BACK SO SOOOOON!!!!
https://youtu.be/NQxP8zRcp4Q
+ We are getting somewhere with Issa Rae's pilot!
+ A.J Langer (Rayanne from My So-Called Life) is now a countess and spends most of her time running a castle. Also she has fibromyalgia, like me! That's not in the article, I just wanted you to know.
+ I feel like if this happens, there has to be a lesbian lead character: Shondaland is developing a drama project about a group of Catholic nuns fighting off the closure of their convent.
---
Music
+ Taylor Swift continues her all-star tour, this time with an appearance by Our Lordess Ellen DeGeneres, following a duet with Alanis Morissette. Last night she played with St. Vincent and Beck!
+ Ruby Rose has been a DJ since way before she was on that Netflix show.
+ MTV has announced the musical performances for their big show on Sunday. DON'T WORRY, Macklemore will be there. Also Kanye West will be receiving the Vanguard Award.
---
Moving Pictures
+ Jane Lynch and Jennifer Coolidge are on board for a new Christopher Guest flick, Mascots.
+ The cast and crew of the female Ghostbusters will not apologize for being female to all those fans who don't realize that females are the absolute greatest and should be in charge of everything. SO THERE.