Welcome back to No Filter, a weekly collection of Instagram posts by queers of note, tirelessly sifted through by yours truly. In an ideal world, we would mix it up every week and have different stories to tell, but if we're getting real I want to know what Samira Wiley is up to every week, and I think you do too. That said, if anybody has suggestions for more nonbinary or trans women, particularly people of color, that we could follow for this column I would love you forever.
Also this week in Evan Rachel Wood Watch, our lady of Dubsmash posted this super cute video of herself with Alia Shawkat and Angela Trimbur lip syncing Miley Cyrus, so let's not act like the internet hasn't been generous. I just need this one thing.
https://twitter.com/evanrachelwood/status/694365077655302144
---

We're going to take the time to appreciate Samira and Lauren looking incredible on the red carpet, while lamenting the perfect photo Samira posted and then deleted of herself luxuriating over a pile of fast food french fries post-award show. I like these two. I like their award show traditions.
---

Heather Hogan, this one's for you.
---

This is what your girlfriend Lena Waithe looks like when you guys just kick back and relax on a Sunday afternoon.
---

Dana is ALIVE and hugging Shane and Bette is curiously undeterred by this visit from the undead.
---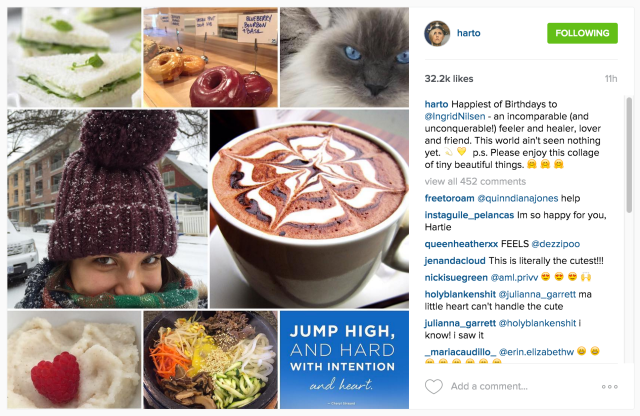 One day I dream of a love so true that my person will celebrate my birth by posting pictures of cats, sandwiches and donuts. This tribute to Ingrid Nilsen from Hannah Hart is very sweet.
---
https://www.instagram.com/p/BBNzGeCrmis/
Keep it classy, Angel Haze.
---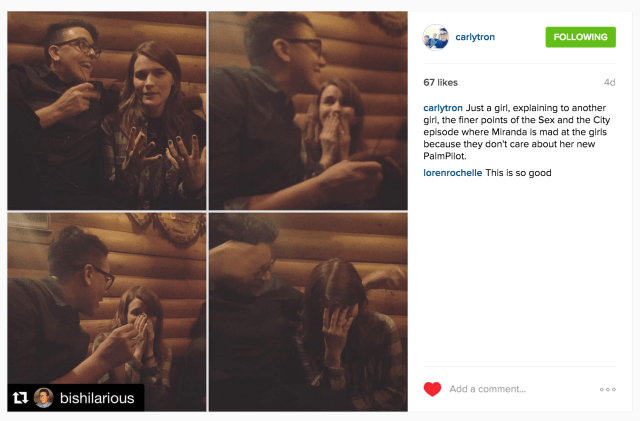 Jenny Owen Youngs' hands perfectly capture how it feels to hear a story about Sex and the City from Carly.
---
https://www.instagram.com/p/BBStOiFQqTk/
I don't know, you guys, we haven't checked in with Kreayshawn in a while – maybe it's been too long (this is a video, worth watching).
---

Jenny Shimizu discovered the true spirit of Christmas.
---

Really into making new friends with this person at A-Camp, looks like we have a lot in common.
---
Join us next week, when Kreayshawn uses her time machine to figure out whose hair Jenny Shimizu found in the snow, among other mysteries.