Carmen's Team Pick:
Anything dedicated to pizza is a good use of time.
The New York Times published its Dining & Wine "Pizza Issue" on April 17, but I've been saving it for a day like today. The special section features reviews of various pizzerias in New York (and you know there's nothing better than those, so don't even start), recipes for calzones and pizza pies you can make easily yourself, and the most beautiful collections of pizza photography the world has ever seen. It's like a pizza museum on your computer screen. The pizza quotes are abundant, and with each click I began to drool just a little more.
For instance, Pete Wells ate a montanara pizza, with a deep-fried crust, and lived to tell about it: 
…fried pizza outshines the others, and not just because it is coated with oil. Frying can add a dimension to dough that is otherwise unremarkable.
I am the kind of pizza eater who sees the outer curl of crust as incriminating evidence to be destroyed, and the way I destroy it is by eating it. At Don Antonio by Starita and at Forcella, I finished the crust on the montanara, but left the crusts of the traditional pizzas on the plate, losing interest after a bite or two. Both places have authentic Neapolitan pedigrees, and produce crusts with the spring and lightness that are hallmarks of that style. But they don't have the full flavor of the long-risen doughs that some American pizzerias like Co. are exploring.
…Eric Asimov is there to tell you how to get properly drunk while taking a pizza into account:
First, we must get over thinking of pizza as just a fast food. Of course, too many pizzas are made of poor industrial ingredients, rushed in a sodden cardboard box to your door. What goes with those pizzas? A burning sensation on the roof of your mouth.
But good pizza, that's an entirely different issue. Fine ingredients like pure flour, San Marzano tomatoes, buffalo mozzarella, sea salt, fresh basil and great olive oil can result in near perfection. A good pizza margherita, made just with those ingredients, is a platonic ideal, elegant in its simplicity. Why not with Champagne?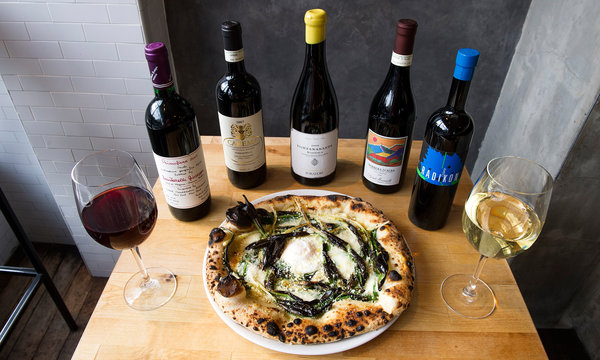 …and Frank Bruni waxes philosophical about artisan pies and Melissa Clark weighs the calzone benefits versus the pizza benefits:
Pizza gives it all up as soon as it lands on the table; serve a calzone to a group and let them anticipate the moment when they find out what's inside.
The surprises continue even after the big reveal. A calzone unveils itself slowly, bite by bite, especially if you've layered the fillings with several elements, like sautéed broccoli rabe, olives and three kinds of cheese.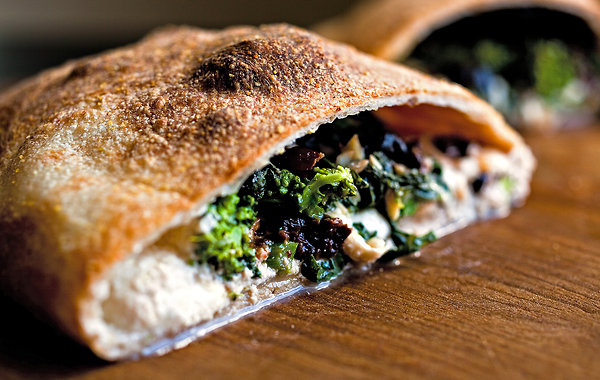 For a pizza aficionado and someone who sometimes gets too into looking at images of food I can't afford / make at this point in my life, the "Pizza Issue" was the gift of a lifetime. Consider it bookmarked. For life.
Munch on.