Created by a queer lady duo that has been working together for nearly 15 years, Rods and Cones follows two recent art school grads who are deeply in debt. After being rudely interrupted by a pair of lovable comedians, Carole Murphy and Mitzi Fitzsimmons, whose Hot Mom act simply kills, they decide to join them in a comedy contest with a cash prize called Over the Shoulder Comedy Boulders Festival.
Creators Tara Jepsen and Beth Lisick clearly have a laid back chemistry both on and off screen that they've been cultivating since 1999. They've performed at Dixon Place, UCB Theatre, SF MOMA and screened their films at OUTfest, Frameline, and the Mix Film Festival of Sexual Diversity in São Paulo, Brazil. They've been working with the characters of Carole and Mitzi for 12 years and in February of 2013 decided the sisters needed to move from stage to screen. They started a Kickstarter with the promise it would be the only one they would do. "We wanted to make something that could potentially be sold as a show, or advertise our talents as writers and actors to a professional (and deeply unprofessional) audience," Jepsen explains. "We would take ourselves SERIOUSLY, which I think we can agree is a wonderful contrast to being COMEDIANS!!!!! IS THE CLOWN CRYING, CLARICE?"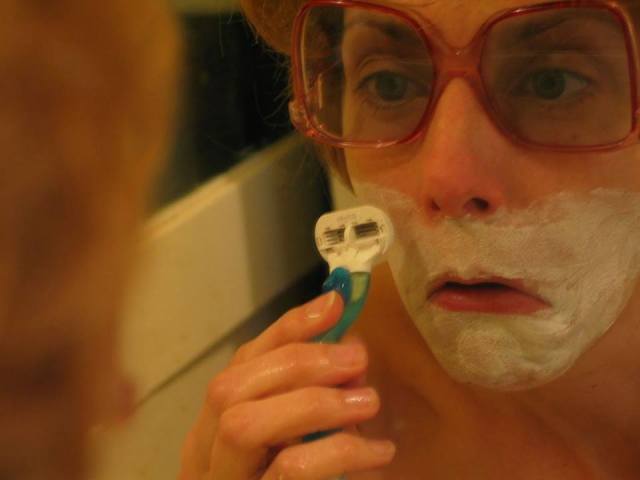 These two aren't the only compelling participants in R&C's cast of queer actors and crew. Erin Markey and Jibz Cameron play opposite Lisick and Jepsen as George and Bess, protagonists who aim to turn their performance art into a more lucrative comedy routine. The roles were written specifically for these two actors and longtime friends of the filmmakers.
Additional crew includes Michelle Lawler as Director of Photography. "We love her as a general person," Jepsen says of Lawler, "but we also loved her documentary Forever's Gonna Start Tonight, about the legendary San Francisco performer Vicki Marlane."
Kristina Davies (video and motion graphics editor for diverse projects from Vice to Nirvana to Spike Jonze) was brought on after two young and ill-equipped editors didn't work out, and first-time director Laurel Frank came on board after Sarah Gertrude Shapiro left to focus on Lifetime series Un-Real. "We were aware of her incredible sense of humor and years of experience as a prop master in filmmaking," Jepsen says in choosing Frank for the job.
The premise the first five minute episode falls into that uncomfortable humor category, which can be a tough way to rope in the audience. But add that to the trailer (included below), which clearly ups the comedic ante with just a taste of heightened antics, and it was enough to make me excited to continue this buddy comedy journey. Scenes of practicing what I can only assume is something akin to acro-yoga and seeing Carole and Mitzi topless while still in those horrific wigs add further intrigue as to what's coming our way in future episodes.
This imminently relateable comedy is the first original webseries to premiere on Wifey.tv, a video network by and for women that aims to bring "stuff that viscerally represents women's unique and complex POVs," to the forefront. The site had previously published one of Lisick and Jepsen's short films, Tick Tock for Ding Dongs and was eager to begin offering original content. Episode One will be available starting September 5th and that same day Los Angeles's Cinefamily will also host a premier party. With cast and crew in attendance you can, "Enjoy watching four women, whose ages add up to more than 150, as they get to know each other, blow each other, and show each other their bizarre emotional landscapes, great jokes, and weird bodies."
The lesbian comedy golden age continues.
Premiere party takes place:
7:30 p.m. Friday September 5th
Cinefamily
611 N Fairfax Ave
Los Angeles, CA 90036