We know by now that one positive way to promote change is by making conscious purchases. We did it with a certain chicken fast food chain and now we can do it with arts and crafts. I know it seems surprising, but there are arts and crafts stores out there that value their employees! Surprising, right?!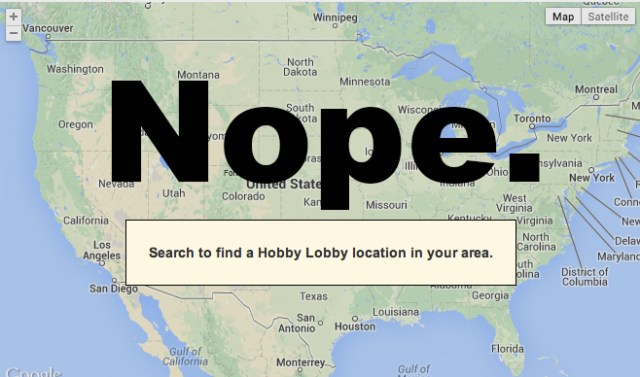 The thing about Hobby Lobby is that they sell literally nothing you can't buy in every craft store ever. The Hobby Lobby in Fort Collins is legitimately across the street from a Michaels, two blocks from Jo-Ann and down the road from a handful of local indie craft spots. You don't need Hobby Lobby. Even if you live in a town where there is only a Hobby Lobby (I don't completely believe such a place exists because local craft spots are everywhere), most places sell online, even the indies.
This resource list to buying craft supplies from places that value their employees isn't as comprehensive as it could be, but it's a start. You can help us fill in the amazing local indie places from your town by letting me know in the comments! Together, we can ensure that no feminist need ever set foot inside those prejudiced, orange doors Monday through Saturday ever again.
---
Large Chain Stores
These chain stores offer a valuable alternative to Hobby Lobby, and have never taken anti-women or anti-queer stances as far as I can tell. This isn't to say they are perfect corporations, but they are widely-accessible alternatives if you are having trouble finding independently-owned craft stores in your area. I've also included some employee treatment knowledge so that you can make informed buying choices. If you've ever worked at any of these stores and can offer insight, let me know!
---
Jo-Ann is a big box craft chain with over 800 stores nationwide. They are in a ton of states throughout America, so they're typically as accessible as any other chain craft stores. They sell fabric, yarn and beads, as well as sewing, jewelry-making and baking supplies. You can purchase online, and they always have coupons you can use on your phone or print to help you save a few bucks. I can also say with random confidence that they throw awesome children's birthday parties.
How Employees Are Treated:
Jo-Ann employee salaries are around minimum wage, averaging about $7-$10/hr for a team member.
Jo-Ann offers benefits and a healthcare package for part-time team members, including some paid holidays.
Employee reviews on Indeed.com of Jo-Ann stores gave the company about an average rating, with some specifically saying it was the best or worst job they ever had. Employees reviewed said that the management and supervisors were well organized or terrible — locations varied widely, maybe signaling that retail store managers also vary widely. Positive reviews all said the work environment was the best part of the job, with one stating, "My co-workers are great. I like to believe that it is the workers that make my store such a great place to work."
---
Michaels is another giant arts and craft chain store. Among a million other things, they sell yarn, artist supplies, floral supplies, jewelry-making supplies, bakeware, scrapbooking supplies and random $1 packs of blank notecards I can't stop buying. They're nationwide and even have some stores throughout Canada. Michaels also offers online purchases and has coupons you should be using.
How Employees Are Treated:
Michaels' salaries are about average (higher than Jo-Ann), and most cashiers make minimum wage.
Michaels offers benefits and a healthcare package for part-time employees.
Most employee reviews on Indeed.com of Michaels are very complimentary. Most employee reviews say things like "the most enjoyable part of the job is speaking with customers about their projects, weddings, and getting their artistic advice. Its a fun environment (sic)" and "Being a retail store it's a great place for people to start their first job. Management is great and will work with you if you have a crazy schedule because of school." The most common cons were that there weren't enough hours for temporary employees.
---
Artist and Craftsman Supply is filled with really nice people that can help you out in extremely random locations throughout America, and Riese recommends them highly. They specialize in art supplies, so you can find all the typical canvas, drawing, paints in addition to a small offering of sculpture supplies and craft supplies like yarn. Their All Things Considered area is the best for finding random things you totally need, like this sweet giraffe mask. You can purchase online through their website.
How Employees Are Treated:
Retail clerk pay rates are an average of $9/hr.
It is unclear whether or not all employees are offered a health care package, though full-time employee job offerings do come with a benefits package.
To be honest, Artist and Craftsman Supply received some pretty low employee satisfaction ratings from Glassdoor.com. One positive employee review said, "The majority of the individual store managers and employees are incredible people that genuinely want to help the customers have an amazing experience." Many employees don't like the higher management. Three people reviewed did not approve of the CEO, Larry Alderstein.
---
East Coasters, I am so jealous you get A.C. Moore. A.C. Moore sells bakeware, yarn and needle crafts, scrapbooking supplies, and floral among many other things. You can purchase their goods and wares online.
How Employees Are Treated:
A.C. Moore employees salaries are around $7-$9/hr for sales associates.
A.C. Moore offers benefits to part-time employees.
54 employee reviews on Indeed.com gave the company 3.5 stars out of 5. Positive reviews say, "The management was easy to talk with and problems were handled quickly and effectively." One neutral-ish review says, "Great place for job seekers looking for less than 30 hours a week at around minimum wage" which kind of says it all.
---
Pat Catan's is a family-owned crafting hot spot for Ohio, Indiana and Pennsylvania. They sell baking, floral, beading, scrapbooking and needle craft supplies among others.
How Employees Are Treated:
Pat Catan's employee pay rates average minimum wage, from $7-$8/hr.
Pat Catan's offers full-time employees benefits, though it is unclear if this extends to part-time employees.
Out of a total of one employee review on Indeed.com, we can surmise that Pat Catan's is a "Great place to work. Excellent Management. Team work is great. Co-workers are terrific. This is the best place by far to work." However, from the five employee reviews on Glassdoor, Pat Catan's only earns two out of five stars. Negative reviews include, "It was like pulling teeth at times in order to get more hours. Barely covers living expenses" and "Advancement is about impossible, the same managers have been there for 30 years, the store managers choose friends to promote before hard workers that deserve it."
---
Online Retailers
Amazon and eBay and Etsy have a surprising amount of craft supplies at low prices. If you're having trouble finding beads or a the most specific shade of Hunter Green felt, these are the three places I'd recommend, as you can find exactly what you want, always.
Factory Direct Craft, Oriental Trading and Save-On-Crafts are three gigantic online retailers that are wholly overwhelming if you are just browsing. You can find nearly any kind of craft supply in these three places. If you can't, I'm doubting it exists. To tackle these giants and get the most out of it, I recommend having something specific in mind, whether that be a finished product or a party theme, and going from there.
---
Awesome Local Indie Places by City
Support your local indie craft shop!
Independent art and craft shops are sanctuaries of making all the things. Supporting local businesses means you're paying directly back into your community and giving small businesses a boost. Many indie shops sell online and are not limited to region, but the experience and beauty of a local craft shop is something we should all revel in. Check out the ones we love below:
Baltimore
Burlington, VT
Chicago
Connecticut
Denver
Kansas City
Laguna Beach, CA
Lancaster, PA
Las Cruces, NM
Los Angeles
Michigan
New York City
Northampton
Philadelphia
Portland
San Antonio
San Francisco
Stevens Point, WI
Washington D.C.
West Lafayette, IN
Please note, these are just the ones we know about so far! Let us know your favorites in the comments so we can add it to the list!