In My Top 10 Television Characters, various members of Autostraddle's TV Team will be telling you about the TV characters nearest and dearest to our hearts, EVEN the ones that aren't lesbian / bisexual / or queer. Today, writer Drew Gregory reveals that she is in fact a Capricorn.
---
10. Lindsay Weir (Linda Cardellini, Freaks and Geeks)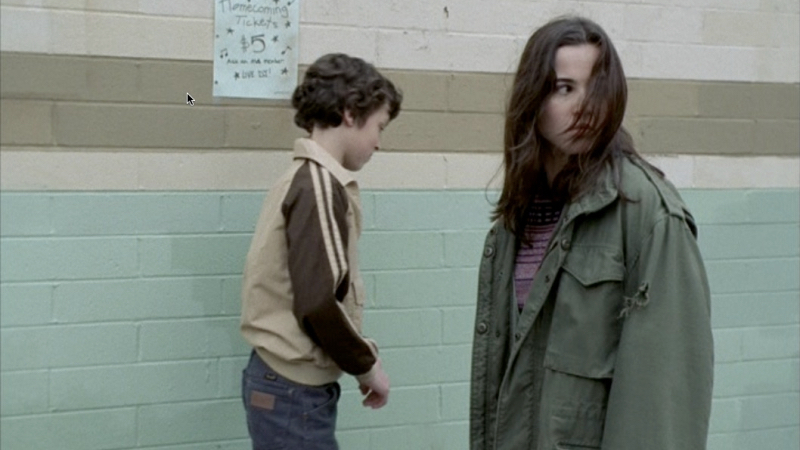 I'm officially against the whole born in the wrong body trans narrative. But when I was in 9th grade I really did feel like Lindsay Weir trapped in Sam Weir's body. Growing up I was what adults would call a "good kid." I studied hard, I followed the rules, I tried to be kind to others. But as I entered adolescence I found myself doubting the "good" I was told and felt drawn to those with more radical politics or just ways of existing — people I now know to be queer. I saw so much of myself in Lindsay's struggle to defy expectations but still be true to her values, the desire to hang with the cool people while wondering if they're even cool at all. I may have looked like Sam, but my big sister wasn't Lindsay. I was my own Lindsay. I protected myself. I even bought a similar jacket.
9. Nomi Marks (Jamie Clayton, Sense8)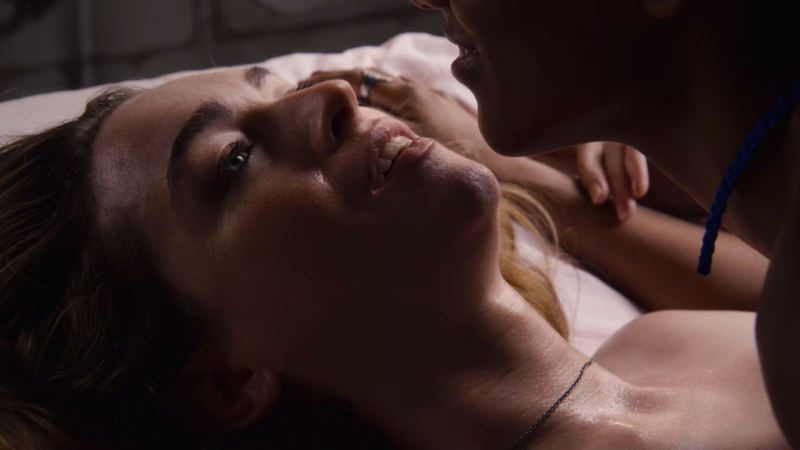 I don't have a lot in common in with Nomi Marks. But we are both trans and we are both gay and she feels like an actual human person and I do too. I could talk about how she's a cool hacker spiritually connected to people around the world. I could talk about how she's tender and caring towards everyone she meets. I could talk about how she fights back against the oppression she faces. But all of those reasons would be lies. Nomi Marks is on this list because she is a trans lesbian. No, because she is the trans lesbian. And I saw her on screen the year before I came out. And then I saw her on screen the month after I came out. And that was everything. It is everything. Sometimes it's that simple.
8. Angel Evangelista (Indya Moore, Pose)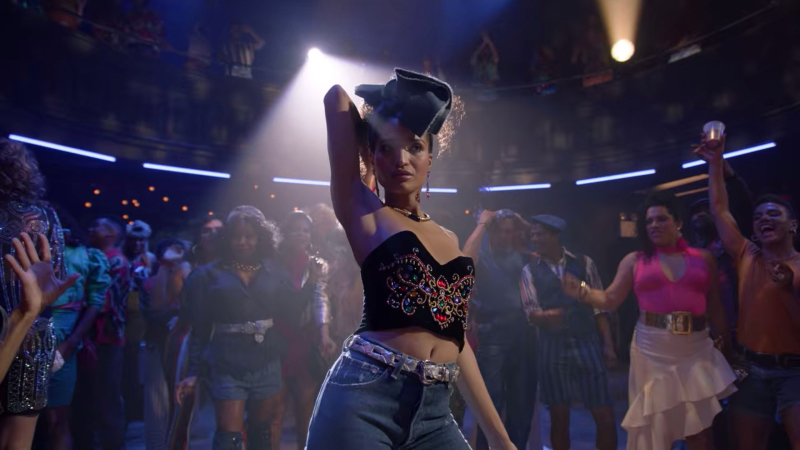 The cis obsession with trans death is an obsession with survival. Mainstream audiences love a suicide, a murder, a self-mutilation. They love to watch us cry. There is only an interest in our pain. And their message is clear: if we survive, then we are lucky. We can ask for nothing more, because we've already asked for so much. Fuck that. Angel Evangelista is a Black trans sex worker who is a well of endless want. She has dreams for the balls, dreams for her career, dreams for love. But the brilliance of Pose — and Indya Moore's performance — is the fulfillment of these dreams isn't presented in fantasy. Or, rather, there is a balance between fantasy and reality.
Angel doubts herself. She has moments where she internalizes the message not to ask for too much. She struggles. But with the support of her mother Blanca (more on her later) she thrives. Pose is on different level of trans representation than anything else on TV. It's a reminder on screen and in its existence that trans people should never put a cap on our dreams. And I hope Indya Moore fulfills all of their own. They deserve everything.
7. Eve Polastri (Sandra Oh, Killing Eve)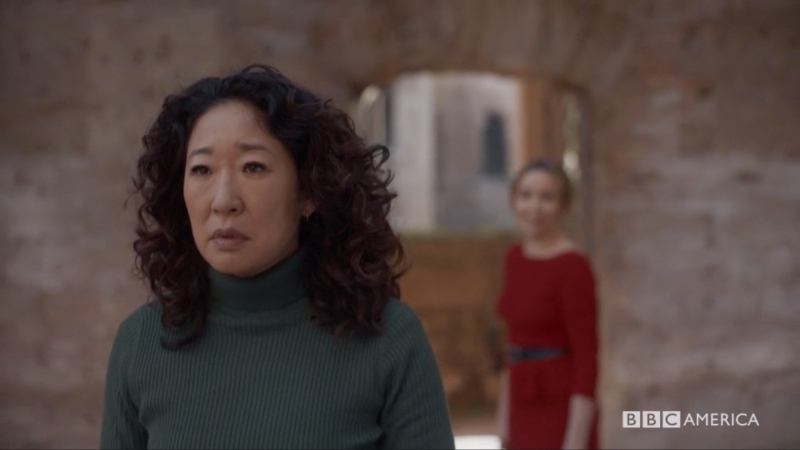 Everyone wants to talk about Villanelle! And, yes, I am charmed by the hot murderer in impeccably fitted clothes as much as the next queer. But what I love most about Killing Eve is seeing Villanelle through Eve's eyes. I love Eve's complicated love. I love falling into Eve's point of view and riding that roller coaster of lust and admiration and utter horror. It's why season three's choice to decenter Eve led to such a middling set of episodes. First of all, why would you ever decenter Sandra Oh?? Second, the shift in point of view removes the thrill of the series. It's like bisexual Breaking Bad. It's fun to watch a moral spiral. But while some people are sick and want to support their family, other people are just a sucker for a woman in a blazer. You can decide if I'm joking. Wait did I mention Sandra Oh's hair?? Sandra Oh's hair.
6. Rebecca Bunch (Rachel Bloom, Crazy Ex-Girlfriend)
As a trans woman and a lifelong cinephile, I've spent most of my life scurrying into the corners of my brain that confuse real life with fiction. If I'm just a character in a story then life hits just a little bit easier. I think one could call this dissociating? Rebecca Bunch finds her own escape in narrativizing, specifically in the form of elaborate genre-spanning musical numbers. It's how she convinces herself that it's okay to do wrong and it's how she corrects herself when the reality of that wrong-doing crashes through.
I'm not sure if I'd like Rebecca if I knew her in real life. I'm not sure I could forgive all the things she's done. But what a treat to spend time in her interiority and to watch her grow and be better and then be worse and then better again and then worse again and then better. I don't approve of everything Rebecca does, but I understand mental illness manifesting as an obsession with love. I've felt that simmering want to be cared for the way everyone deserves. I've experienced the struggle of trying to heal under the relentlessness of patriarchy. And I'll forever be grateful to Rachel Bloom and Rebecca Bunch for providing a soundtrack of theatre kid enthusiasm for some of my most challenging years.
5. Maeve Wiley (Emma Mackey, Sex Education)
There's a moment in the second season of Sex Education when Maeve Wiley is chastising her mother. After abandoning Maeve in the midst of struggles with addiction, her mother has returned claiming to be better — a baby half-sister for Maeve in tow. Trust is already tenuous and now she's neglected to share that she's out of work. She apologizes to Maeve, she pleads for forgiveness, she insists she's still sober. "I believe you," Maeve says. She stands up and adds, "Lie to me one more time and you're out." She softens these words with a gentle kiss on her mother's cheek. What Maeve is doing is parenting. It's tender and it's painful and it shouldn't be Maeve's job.
Bad girl with a heart of gold is something of a trope, but it's also something of a reality. Being a bitch, being cynical, being an outsider are all fairly tempting defense mechanisms against the harshness of the world — especially for an adolescent. But they have nothing to do with intelligence or kindness. Maeve has so much to offer and she deserves so much more than she's received. I love watching her learn that both of these things are true. I love watching how quickly she softens when she's given the love she should have always been given. The gay trans experience is growing up an Otis who wants to date a Maeve before realizing you're actually a Maeve who wants to date an Ola. Take that as an unofficial pitch for season three.
4. Peggy Olson (Elisabeth Moss, Mad Men)
Fiction likes to frame those who reach beyond expectations as brave. To be the first, to defy oppression, to succeed with improbable success takes courage. But these words — bravery, courage — have always struck me as dehumanizing. If a man wants something it's because he wants it. If a woman wants the same thing it's because she has guts. Did Peggy Olson have guts? I suppose. But across seven seasons Peggy's evolution from meek secretary to confident writer felt less like a choice and more like an inevitability. She's not trying to be the only woman writer at Sterling Cooper. She's just trying to be a writer.
It's impossible for me to think about Mad Men outside of the context of show creator Matthew Weiner's abuse. It's impossible to watch Peggy stand up to the men around her and not wonder how many of those lines were written by the women on staff as veiled responses to Weiner himself. It's impossible not to wonder who Peggy might've been outside of patriarchy and it's impossible not to wonder what television shows we could've watched from Emmy-winner Kater Gordon if she hadn't been fired after season three and left the industry altogether. There's no separating the art from the artist, the character from society both past and present. Peggy Olson exists as a Frankenstein's monster of feminism and patriarchy, possibility and despair, fantasy and the harshest reality. She is a product of her times.
3. Bette Porter (Jennifer Beals, The L Word)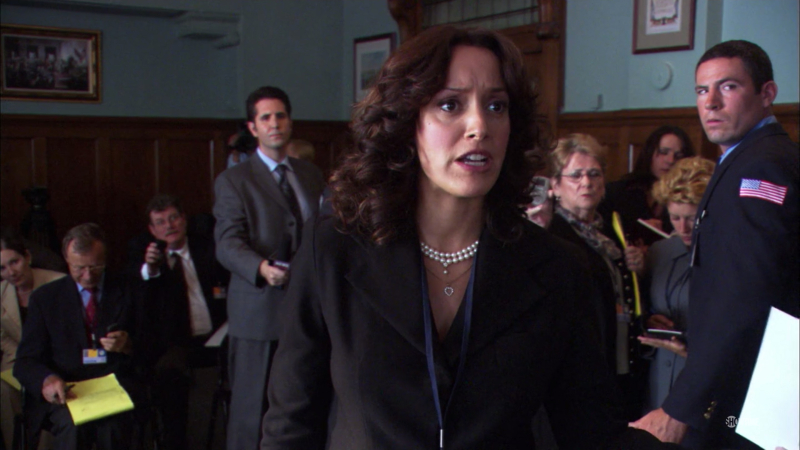 Some people think Bette Porter is a hot and powerful dream dyke who can melt your heart proselytizing about art or yelling about politics. Other people think Bette Porter is a hot and manipulative nightmare dyke who's controlling and selfish and has never met a woman she wouldn't cheat on. I say, why choose?
My relationship with The L Word is complicated. I question its influence as the community's reigning holy text while continuing to rewatch, discuss, and recommend it to any baby queer I meet. There remains a power to this shared cultural experience in a world where shared cultural experiences still remain largely straight and male. It was kept from me for years and certainly was never made with someone like me in mind and yet I can't resist its charm — and that includes Bette Porter. She is, for better or worse, everything I find attractive. Yes, the confidence. Yes, the suits. Yes, Jennifer Beals. But IF I'M BEING HONEST the moments that really get me are when she experiences Stendhal syndrome in Peggy Peabody's hotel room. And when she testifies to Senate committee. All I want is a power lesbian who gets overly emotional about art and can verbally destroy a senator. Is that so much to ask?
2. Blanca Evangelista (Mj Rodriguez, Pose)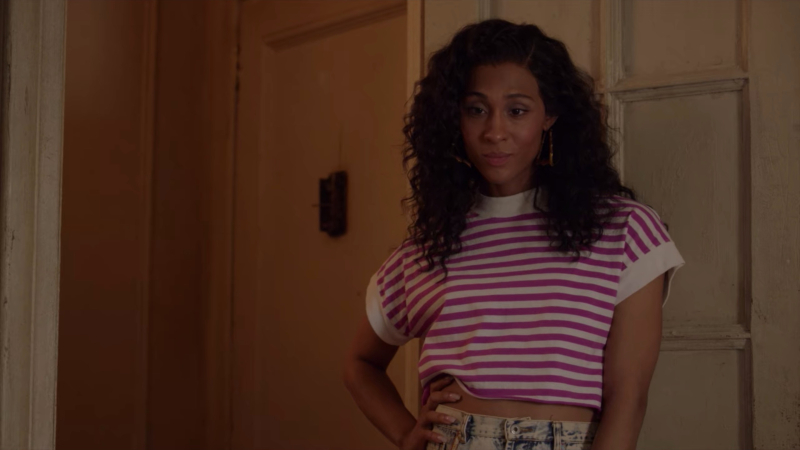 I loved Frank Capra movies as a kid. I even quoted Mr. Smith Goes to Washington in my college essay about fighting for queer acceptance at my high school. Lost causes are the only causes worth fighting for. In the second episode of Pose, Blanca Evangelista is at a gay bar. The mostly white, all cis, all male gays don't want her there. Blanca asks to speak to the manager. "Why do you always have to pick fights you can't win," her sometimes friend, former house sister Lulu asks. "Because these are the ones worth fighting," Blanca replies. She will spend the rest of the episode returning to the bar, getting harassed, and ultimately getting arrested. Blanca is naïve. She believes that she can create change through sheer will power. She believes that she can create a better world for herself and her children.
As the years passed, I became too politically aware for the Frank Capra movies I used to love. Too wise to see Jimmy Stewart's everyman as anything other than a liberal fantasy. But Blanca is a reminder that there's nothing wise about cynicism. She's a reminder that wanting better for yourself and your community and your world is not naïve but necessary. Mj Rodriguez has created a character unlike any other. She gives her a vulnerability and a tenderness that makes her fierce power all the stronger. Her voice is breathtaking, her words even moreso. Blanca is the mother everybody deserves. She is the Mother of the Year. Of every year. She gives me the strength to keep fighting for lost causes. And Angel might make fun of her "clockable" style, but with her sporty crop tops and light wash jeans I think she's a fashion icon.
1. Emma Hernandez (Mishel Prada, Vida)
I don't know what to say except that I understand Emma Hernandez. I understand her need for autonomy. I understand her desire to do right by her family. I understand her attempts at control. I understand her walls. I understand her trauma. I understand her vulnerability. I understand her mistakes. I understand how she loves. I understand how she wants. I understand how she disappoints and how she's disappointed. I understand her as a sister. And a daughter. I understand her trying.
If you've read this far I think it's pretty clear that I love a highly competent femme with a lot of personal problems. Maybe I'm projecting. No, I'm definitely projecting. I'm a Capricorn. I like to be in control. I've convinced myself that to be successful is to be loved, that every emotion can be solved like a puzzle, every conflict resolved with skill. It's an exhausting way to live. But I'm working on it. And I find comfort in characters who are also working on it — especially when that work is incomplete. And when I think of every single character in the history of television (!) the one I find the most comfort in is Emma. Tanya Saracho created a special character in a special show and Mishel Prada realized her with an endless well of complexity. She's not the kind of character we usually think of as a character. She's much too grounded for that. But throughout Vida's three seasons, Emma was fierce and guarded and funny and mean and hot and devastating and heartbreaking and terrible and wonderful and hateful and loving and hateful and loving. She changed so much while changing not at all. That's how people grow. That's how I'm trying to grow.
---
Honorable mentions: Tasha Jefferson (Orange is the New Black), Nicky Nichols (Orange is the New Black), Santana Lopez (Glee), Shea (Transparent), Villanelle (Killing Eve), Candy Ferocity (Pose), Elektra Abundance (Pose), Fleabag (Fleabag), Alice Pieszecki (The L Word), Donna Pinciotti (That 70s Show), Charley Bordelon (Queen Sugar), Nova Bordelon (Queen Sugar), Claire Fisher (Six Feet Under), Elena Alvarez (One Day at a Time), Topanga Lawrence (Boy Meets World)
Favorite character in the history of web series: Freckle (The Gay and Wondrous Life of Caleb Gallo)
Men? Oh men! Yeah I like a few of them: Eric Effiong (Sex Education), Ralph Angel Bordelon (Queen Sugar), Micah West (Queen Sugar), David Fisher (Six Feet Under), Chidi Anagonye (The Good Place), The Guy (High Maintenance), Rogelio De La Vega (Jane the Virgin), Pray Tell (Pose), every main character on Looking except Kevin and especially Richie
---
Where to stream gay TV:
89 Queer TV Shows to Stream on Netflix
32 Lesbian, Queer & Bisexual (LGBTQ+) TV Shows Streaming Free on Amazon Prime
62 TV Shows On Hulu with LGBTQ+ Characters