I saw Chasing Amy when it came out in 1997. Sitting through the nearly two-hour movie with my then-boyfriend questions like "Why would she sleep with a guy who can't fathom the mechanics of lesbian sexwp_postsand "How can you make a movie about bisexuals and not even use the word once?wp_postsran through my mind. When the credits rolled, we walked out of the theater quietly, only for me to explode as soon as we reached the car door. I lobbed more rhetorical questions from the passenger seat as my boyfriend stayed silent on our drive home.
Like the movie's lead, I was a lesbian who'd inconveniently fallen in love with my best guy friend. I was hoping for a movie that would complicate queer identity, and I trusted director Kevin Smith—who had made loving satires of the Mid-Atlantic culture I was so familiar with—to give it to me. I should have been Chasing Amy's core audience, but instead I left the film unsettled and angry.
Before Chasing Amy, I wavered between queer identities depending on the gender of my date or crush. I was a lesbian when my boyfriend and I unexpectedly fell for one another, and I fiercely held onto that identity despite others presuming I was now straight. Unlike the movie's male lead, Holden played by Ben Affleck, my boyfriend was happy to accept me as a lesbian who'd dated across the gender spectrum. I wanted that—and so much more—for Alyssa, the leading lady played by 90s sweetheart star, Joey Lauren Adams, but midway through the movie, it was clear that a happy ending wasn't ever in the cards for this queer character.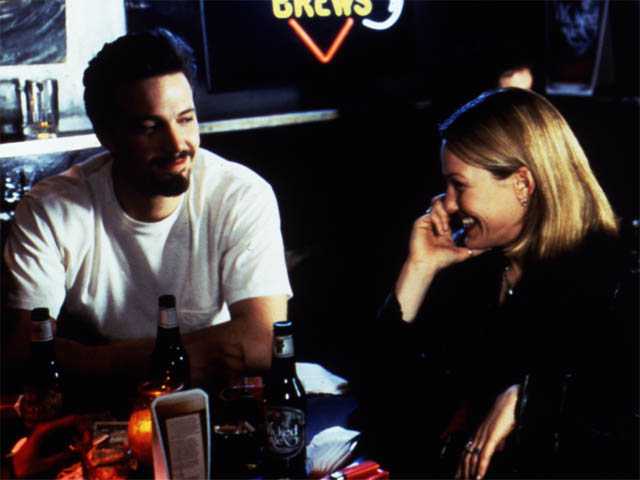 Few films have so effectively gotten under my skin as much as this one had. I was curious to see if I'd still hate it now that I've long stopped judging my queerness by my distance to gold star lesbian status. So I decided to mark the 25th anniversary of the film by rewatching it. Would it pack the same emotional punch now that I am nestled in the safety of my very gay marriage? I'd met my wife when I was a full-throated bisexual, and one of the things I love about her is her willingness to correct people when they assume that our marriage means I'm a lesbian. My annoyance at Chasing Amy helped me slough off my internalized biphobia, and I wondered if I would feel grateful now that I was older. My attempts to convince my wife, friends, or truly anyone, to watch this cismale fantasy about dating a lesbian were entirely unsuccessful so—I dug in alone.
Watching the movie again, I was surprised by how little of the plot I'd remembered. Holden and Alyssa are comic book creators who meet and bond over their suburban Jersey background and his fascination with her lesbianism. They become friends and eventually lovers, both to the disdain of his best dude pal and her lesbian girl squad, who look like half of the girls I dated in the 90s with their boy-band hair and earnest political statements. I'd also forgotten the scene-stealer that is Hooper X, played by Dwight Ewell, a mutual friend of Alyssa and Holden. He's a gay creator who deploys a Black Panther-esque persona to sell books while torturing his straight friends with queer reinterpretations of classic comic books.
All this queerness is marred by casual cissexism. The characters regularly conflate gender and genitalia and penetrative sex with heterosexuality. In my memory, Alyssa was the star of the film, but in reality, the story is driven almost entirely by Holden—and she's just a bad girl in a leather jacket who makes him feel powerless and unsure. Holden eventually learns that he's not the first man she slept with, and destroys their relationship in a fit of male fragility. In 1997, I was a sex-positive feminist who rolled my eyes at Holden's misogynistic attitude. I saw him as a stand-in for my fellow college students who claimed to be enlightened, but secretly didn't see queer relationships as equally meaningful. By the end of the movie, Alyssa has just been a vehicle for the personal growth of another cishet white man. He's learned to apologize, be less self-centered, and hopefully stop mansplaining sexual identity to his next partner, but her life is left virtually unchanged. Her new lover is dismissive of comics, and doesn't understand her in the ways that Holden did. The ending was bittersweet in 1997, because it made me consider the longevity of my own relationship. Watching it now, I felt angry that Alyssa wasn't given a better new girlfriend, and a chance to process her own feelings.
Like Alyssa, my 1997 romance ended in tears, but her story inspired me to fiercely claim my bisexuality, irrespective of who I was dating. It was watching Alyssa twist herself in knots trying to hold onto her lesbian identity that made me realize how ridiculous I was for doing the same thing. I was relieved when she ended up with a girl, but that hypocrisy felt disquieting. I was madly in love at the time, and I judged myself for reveling in a happy ending I didn't want for myself. I worried that rewatching Chasing Amy would make me regret the end of that relationship, but instead, it made me sad for Alyssa. She wastes time worrying about being a "bad lesbianwp_postsbut is still rejected by her queer community. In the 90s, some of my queer friends barely tolerated femmes, let alone bisexuals. Learning to embrace myself as a badass bi femme taught me courage and the power of authenticity. Alyssa is up against a barrage of sex-negative stereotypes but never enjoys the benefits of identifying as bi, or pan.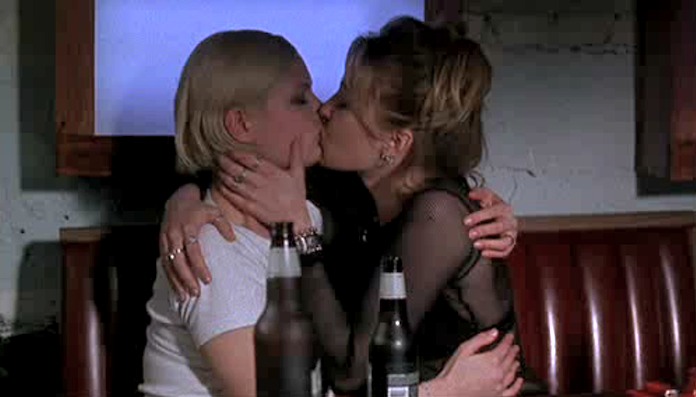 My rage at Chasing Amy might have helped me find my bisexuality, but by insisting that Alyssa was just a man-loving lesbian who needed cisboy dick, the movie erases hers. I remember wanting to scream at the screen, "Stop tripping you're just bisexual!wp_postsbut perhaps that rush of anger was really directed at myself. I worried that letting go of the word "lesbianwp_postsmeant erasing my queerness. But I'm the only arbitrator of my queerness that matters. Chasing Amy may have been the accidental catalyst for my journey to firmly coming out as a bi babe, but this rewatch just confirmed that it's still the bisexual movie that none of us actually needed or asked for—happy anniversary 'tho.