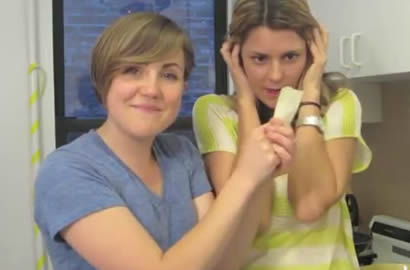 Hello! This week, everyone's imaginary cuddle buddy Hannah Hart was busy taking over the internet! Does everyone feel good about this? Yes? Ok! Moving on.
First of all, do you know Grace Helbig? She hosts Daily Grace and is one of my all-time favorite internet people. In addition of appearing on My Damn Channel Live, Hannah was on Grace's show not once but two times. This brings us to the obvious conclusion that Harto is slowly invading the entire internet. Not that I'm complaining.
This week Grace returned the favor and let Hannah use her kitchen to make "macaroni salad" and drink just so much vodka. Their collaboration is genius and begat the phrase "how do you make your stove go oven," which is something everyone should be proud of.
+
Also, do you remember that time I team picked You Deserve A Drink because I can predict the future? Look, it's relevant again! Hannah Hart and Mamrie Hart are so drunk and full of lesbian puns, you guys. It's everything you want it to be and more.