Welcome to Movie Night! Where we choose a movie based on any number of variables and feelings, create a themed menu to match, then spend the night eating these foods and watching these movies! It's an uncomplicated but promising plan.
This movie night is about spiritual journeys. You know, when you go somewhere completely different from where you are when you're kind of sad / heartbroken / lonely and you process your feelings by laying in bed or seeing new things or meeting new people in a new place. It's also about my feelings because everything is about my feelings, and because I'm on a particular spiritual journey right now. And even if this movie doesn't change your life (I swear it can if you let it) we can still order cheap Chinese take-out, light some candles and take off our pants!

THE MOVIE
THE DARJEELING LIMITED
[buy me ]
I saw The Darjeeling Limited for the first time when I was in high school. It was like watching a foreign film with no subtitles. At the end I was crying.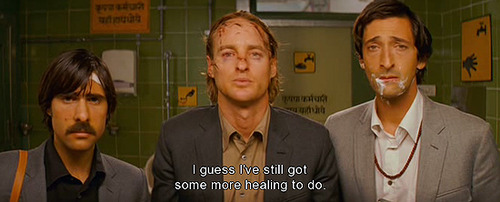 Francis: I guess I've still got some more healing to do.
Jack: Gettin' there, though.
Peter: Anyway, it's definitely going to add a lot of character to you.
Synopsis:
The Wes Anderson film, circa 2007, tells a story about three brothers: Francis, Peter, and Jack Whitman. After their father's death, they drift apart and struggle in their own personal lives without one another. When Francis summons them to a "spiritual journey" in India, they both decide to accept his offer and travel India with him by train. What they discover is far more than rich beauty and a new culture, however: it is love for themselves and one another. During their trip, the brothers will open up to each other, look out for each other, scream at each other, learn from each other, challenge one another, and mace one another in the face.
In prototypical Wes Anderson fashion, the story features white people (all with excessive money) looking for one another, sibling rivalry and rediscovery. You feel as though what you're about to experience will be beautiful from the very first moment the brothers see each other, and in the end you find a piece of yourself in each of them.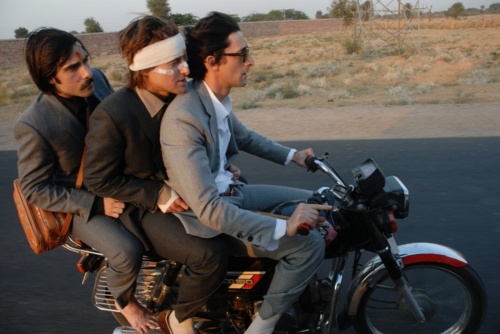 Rita: What's wrong with you?
Jack: Let me think about that. I'll tell you the next time I see you.
Now see, I can't act like I was sold at first. Truth be told, I didn't pick up the movie again until three years later, mostly because of this thing that happened. It was actually the strangest thing: I realized I was in love with a woman. Only it wasn't all peaches and cream for a while, and so there I was, watching movies with this girl who was my best friend and sweating and thinking, "good fucking lord what is wrong with me?"
I was picking up a movie at my college's library to watch with her, agonizing over what I should choose, (and over what I would say when we started it and during it and where I would place my hand and whether or not we'd use the electric blanket) and then I saw three words in the catalog: "The Darjeeling Limited." I rented it immediately, for no real reason other than I was hoping for an easy story to watch, which would've been the opposite of my story at the time.
But instead of an easy story, I found something better — something I understood. And that was ridiculous because the movie is so irrelevant to my own life. But somehow it resonated, the image of three men wearing suits and carrying luggage across India, trying to find themselves something new, coping with missed chances and fucked up hearts.
The story is about letting fate take over for a while. I wanted to be able to follow their lead; let go of my baggage, stop wallowing, break out of the sad part and get to the exhilarating part where I could see the entirety of the life ahead of me at all times. I wanted to realize the total insignificance of my pain and overcome all the heartache.
So I began watching the film every day, just to remind myself that one day I would feel like I had survived, or maybe one day it would've been worth it, or maybe one day it would simply click. I watched it instead of going to class, or listening to music, or doing my work. I began falling asleep to it at night. When I renewed it from the library for three months, the man who swiped my ID would say, "One of these days you're finally going to get around to watching this, huh?" Then I bought it for myself and I carried it everywhere. I did this because what I needed — when I was coming out and really scared and kind of sad and listening to records and watching The Darjeeling Limited on repeat while ordering, waiting for the delivery of, and eating Chinese takeout — was a journey.
I decided that going home for Thanksgiving that year would be my journey, and I came back to DC feeling content and finally able to sleep. I took the DVD out of my suitcase and left it on a shelf. I gave it up for a little while because like the Whitmans, I was okay now. I was ready to surrender control and focus on being peaceful, and I liked what I found. I let go of all the baggage and suddenly I was holding hands and laying in flowers and completely, totally, happy. I had let go of the Whitmans, but even in the bright bliss of first love, I knew I'd eventually need them again.
Now, almost a year later, the time has come for another spiritual journey. After looking up bus tickets through tears, I packed my suitcase for New Jersey — back home to the people who loved me and had loved me for the longest time.
I was reading old journal entries from before we had each other and lost each other, from the last time I felt this alone. I thought, "I know this person and how she feels." I wanted the Whitmans to remind me to stop trying to fix what broke, or cling to what I'd gained and then lost. I needed them to teach me how to be alone all over again.
Let's go have a drink and smoke a cigarette. – Francis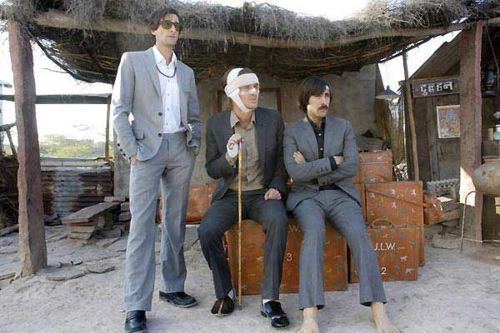 I tried on two outfits and some sunglasses, packed one shirt and The Darjeeling Limited. I knew I'd be coming back to DC with even less baggage.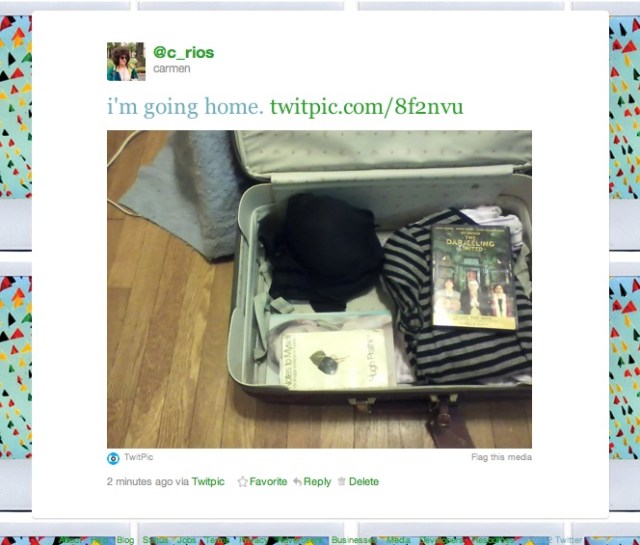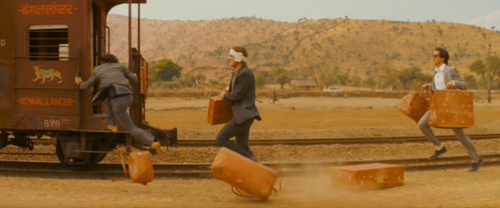 WATCHING THE MOVIE
Watching The Darjeeling Limited is the kind of thing you do with people you're comfortable with, mostly because the soundtrack is wonderful but sometimes conspicuously absent and part of the film's charm is created by gaps in dialogue. Also there's the need to focus entirely on the plot and listen closely to every word so you can make any sense of these people, coupled with the extreme discomfort of watching people act like you. My solution is to watch it alone.
I wonder if the three of us would've been friends in real life. Not as brothers, but as people. – Jack
Therefore, get ready for a night of good ol' TLC. Go ahead, take off your pants! Plug in your electric blanket and fluff up your back pillow and go find your cat (or your pup!) and pet 'em a little. Maybe pick up the rolling papers or the knitting needles. Dim the lights. Maybe turn them off completely? Go ahead and light some candles unless that creates an awkward feeling. Maybe even invest in a WoodWick so you can feel classy.
I kind of feel like this is a movie you watch in the bath with lotus flowers floating around, or in bed late at night while you smoke a cigarette out the window.
It's a spiritual journey, remember? You have to be ready to do whatever feels right.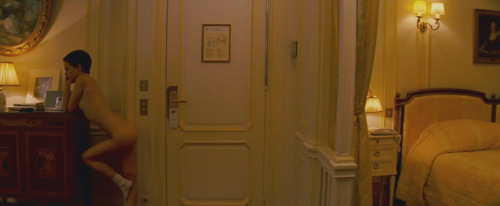 THE MENU
SPRING ROLLS
CHEESE WONTON
LO MEIN AND/OR FRIED RICE
+
When watching The Darjeeling Limited, there is another thing that comes to mind: the lunch special at your local Chinese take-out joint. I am a big believer in these, especially because often you can turn them into two meals instead of one. So I present to you my (sorry I'm a vegetarian) favorite things to order, and the good thing is that even you can afford to eat it all!
SPRING ROLLS
I will never understand how other people can control themselves around a tray of 20 spring rolls. To this day I have never tempted myself to eat more than two, except once my mom made these frozen ones for me and I totally ate 6 for lunch and then 2 for a snack. 
CHEESE WONTON
This comes in two kinds in my case: a thing called "Cheese Wonton" which I get excited about, and a thing called "Crabmeat Fried Wonton" that I eat all while looking away and thinking, "it's imitation crabmeat so it's not really breaking my vegetarianism, right?"
The bottom line is there is nothing more amazing than biting into one of these beauties, especially when they make it the super-crispy way with all that delicious deep-fry taste bubbling on the outside!
LO MEIN AND/OR FRIED RICE
This is an integral meal, y'all. Order it with your mix-in of choice, whether it's flesh or not. I like to get a lunch special that's half-and-half, actually, and that way I can eat lo mein for lunch and fried rice for dinner.
I always eat this part after I eat everything else since it's easier to reheat than anything crispy.
CAFFEINE
This movie can get a little long in-between "journey on the train" and "journey to become brothers." There are some lags. Drink an iced coffee, a Diet Coke, or even a Chai latte. But definitely make sure you're energized to make it through, because waking up to the title music on repeat can sometimes really grate on you. Plus, if you're picking up those rolling papers you're gonna want help not sinking into the sofa, especially after your big meal full of MSG.

IN CASE YOU'RE CURIOUS
There's a new Wes Anderson gem on the way: Moonrise Kingdom. The trailer hit the internet last month, and now you're going to watch it and think, "I just can't even."
The story is centered around a boy and girl who run away to be with each other, alone in their own world. It's kind of like if Tumblr turned into two heterosexual people and then catapulted into a place where childhood innocence reigns over the anxiety of being an adult and trying to fall in love without cutting your own heart out and losing track of where you belong. It also looks like it will make me restructure my entire wardrobe and integrate more classy outings into my agenda for about one to three months after I see it.
It's set to release in May — and I'll be reviewing it for Autostraddle! So get excited to go to the movies and see a story far removed from your own life that still somehow manages to tell your story. However, this time there will be popcorn. (And you'll have to wear pants.)
(Or a dress.)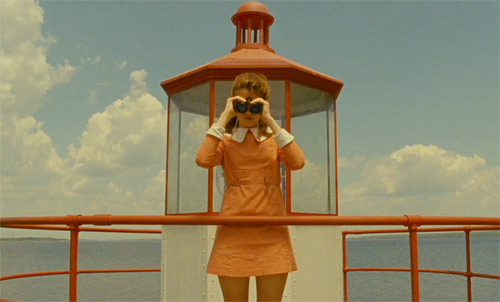 Do you have a lot of feelings about Wes Anderson or this movie in particular? Do you love Owen Wilson, too? I do. I hope you didn't have too many sad feelings, though, and I hope you feel better. And lastly:
God Bless You and keep you with Mary's benevolent guidance in the light of Christ's enduring grace. – Patricia's letter