Editor's note: Thank you for your patience with us as we got our coverage of Motherland: Fort Salem rolling. I've been off work for almost three weeks fighting COVID-19. The ramp up of my symptoms coincided with the rollout of the show, so I was unable to coordinate coverage on it. This conversation between me and Valerie Anne covers the first four episodes. Valerie Anne will be taking over coverage in Boobs on Your Tube this week, and probably publishing a few standalone pieces as she sees how season one progresses! — Heather Hogan, TV Editor
---
Heather: Motherland: Fort Salem! It's been almost a year since Freeform announced this alternate-timeline show about an academy of witches in Salem who have been tasked with keeping America safe ever since the leader of their coven made a pact with the U.S. government to form an elite branch of the military in exchange for no more being burned at the stake — and now here we are, finally, four episodes in! Valerie, you have a long history of interest in witches, both as a person who grew up 15 miles from Salem and as a person whose first real TV love was Buffy, right?
Valerie: Yes! I've always been fascinated with witches. And I did grow up 15 miles from Salem (and went to high school just across the town line from it), and I've always wondered if the two were related. (My city wasn't quite as witch-hyped as Hocus Pocus would have you believe Salem is.) I used to read Twitches and Secret Circle books, I loved Buffy and Charmed. Hocus Pocus and The Craft. All of 'em. So yeah, needless to say, I was pumped about this.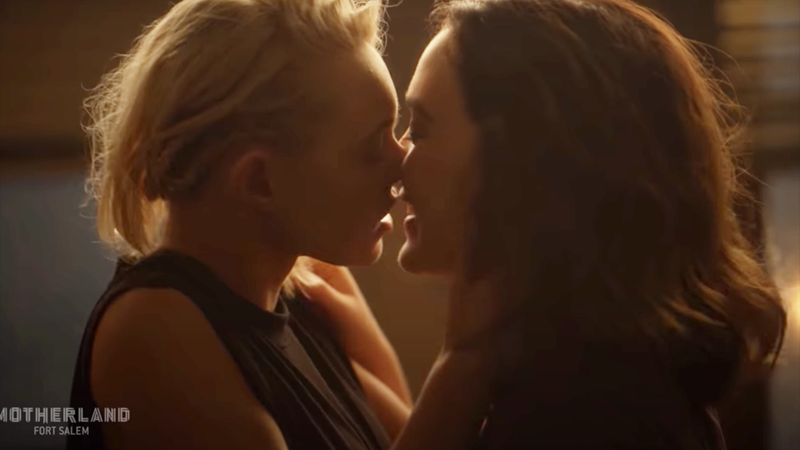 Heather: I think I had a lot more trepidation around this show than most queer gals who've been hype on it since Freeform teased it at the 2019 Network TV Upfronts. First of all, because my main experience with witches, outside of Harry Potter, is all the research I've done on the vilifying of alewives and midwives and lesbians by the Christian church, and how that throughline of persecution and oppression runs from medieval Europe to Salem to the modern day United States. And second of all, I'm really drawn to the kind of fictional matriarchy that's embodied in Themyscira, where you get a warrior as badass as Wonder Woman, and in fact an entire army of Wonder Women, who could absolutely win wars, but who prefer diplomacy and democracy and prioritize wisdom over power.
So, the idea of a matriarchal succession of witches as a hyper-nationalistic branch of the military — which is sort of the antithesis of the subversive witchery that makes up that history and fiction that is so important to me personally — kind of freaked me out. I have been pleasantly surprised that many of the characters on Motherland also aren't super sold on the system either. It's way more murky than I expected it to be, which is a good thing, in my opinion! Did you know right away you were going to love this, or did you have similar worries?
Valerie: My worries weren't as deep and complex and, frankly, fucking smart as yours, because you know way more about history and I mostly know fictionalized versions, but I was hesitant because typically military type things, or even things that are hyper-fighty, aren't my jam. Superhero movies even walk the line sometimes for me. I'm more into character than combat, and I just wasn't sure on which side of things this show would fall. I was a little afraid they were going to try to make a show "for guys" (even though wtf does that mean) but with women, instead of tailoring the whole experience to be believable experiences for individual female characters. Do you think they're doing a good job of a fictional matriarchy? I am enjoying that daughters take their mother's names and little things like that. I know it's no Themyscira, but do you like how they approached it?
Heather: Yeah, that's a good way to describe my fears too! That it would be a show "for guys," which I think for me means these sort of reductive gender stereotypes, flipped. So it's like all the toxic masculinity and abuses of power we're used to seeing in military narratives, but women in are the ones perpetuating it. (This was also my issue with Naomi Alderman's The Power, which was pretty universally beloved!) What I like about Motherland is those issues are there, right, and of course they are, but there's no clean line between right and wrong, and each of the main characters is bringing a different perspective on it because — as you said — each of their mothers have had different experiences with it. They've all got some inherited trauma and feelings about what's noble and evil about this set-up. Captain Marvel is one of my all-time favorite ever movies, but I do understand why people call it Air Force propaganda. I would not call Motherland Army propaganda.
It seems like the show decided to prioritize the characterizations and relationships of the three main characters — legacy recruit and general Hermione Granger, Abigail Bellweather; naive and eager Tally Craven, and angsty rebellious queer Raelle Collar — over the world-building. I'm really curious to hear what you think about that choice, Valerie, especially as someone who's a big fan of Wynonna Earp, which went that route early on and then filled in the world around the characters to great success.
Valerie: First of all, I find it VERY interesting to see you call Abigail a Hermione; I think Tally is much more a Hermione. A little shy at first, but actually the brightest witch of her age. Getting her pals out of trouble they can't help getting themselves into. School spirit for days. Didn't HAVE to go to magic school but wanted to. Abigail is more like "if Draco made better friends" in my opinion. Or…maybe…if Harry was raised by James. But I digress. As I mentioned earlier, character is more important to me than anything else, and the rest is what my friends and I call "totems shmotems." (Borne of Legends of Tomorrow's plotline where they were seeking out totems for reasons we didn't quite understand or care about because we were just there for the character interactions and general adventures.) That said, it's always nice when the world does fall into place around these characters, and I think Abigail, Tally and Raelle all have gaps in their world knowledge that helps us learn along with them. Do you feel like you have a good handle on the societal structure of this world? Do you care to?
Heather: You're right. When you put it like that, I agree! I don't actually feel like I have a good handle on the structure, but I think maybe it's because the writers don't have one yet either, or! The network would rather see character development than world/society-building, which I get. Motherland doesn't have the advantage of being a book series with all that world-building built in, so no shortcuts are available to them.
Valerie: Also, as you know, found family is basically a requirement for me and my TV shows these days, and I'm starting to get those reluctant sister vibes I love so much from our main trio. Do you think their bond will save us all, or do you think they're too different and bound to tear each other apart?
Heather: Oh yeah, absolutely, their bond will save us. My favorite thing about the show so far is seeing both the evolution of the characters and the actors. The main trio was a little stiff and awkward with each other at first, but as the episodes have progressed, the actors have become more comfortable with the pacing of the dialogue and with each other, and it makes the series feel a lot more settled to me. A lot more believable. It gives me something to lean into and root for. Now that you've got me hooked on Critical Role, I've developed a little more patience around found family bonds forming, because I believe my calm diligent viewing will grant me a major emotional payoff!
Were you surprised to see the unapologetic queerness right out of the gate, Valerie? Raelle and Scylla went from flirting to on-camera hands shoved down pants in about ten minutes, long before anything similar happened on-screen with a dude.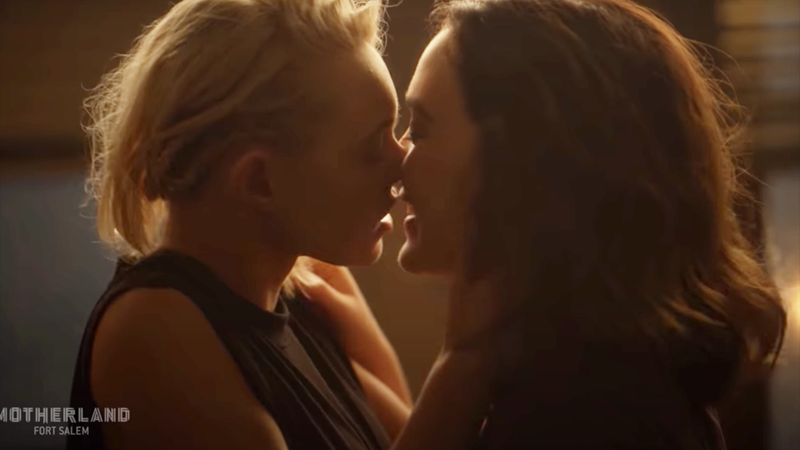 Valerie: I was super surprised. I guess part of me still thinks of #Freeform as ABC Family sometimes and I forget that in reality it's the same channel that houses The Bold Type and all its glorious queerness, and hell even Siren with its polyamorous relationship between a man, a woman, and a mermaid. But they didn't waste any time! If they hadn't established that Abigail liked sleeping with boys before they got to school, I probably would have assumed all the girls were at least a little queer… and honestly after the orgy dance I'm not convinced they're not. Does it still surprise you when things go all-out queer so quickly? Do you think that's a result of us starting writing about TV in a time when ankle touches were scandalous?
Heather: Alison and Emily's ankles touching in the Pretty Little Liars series finale while every straight couple had cinematic sex is EXACTLY what I was thinking. I will never not be bummed out about how that played out. So, yes, I was surprised! And delighted! I said, out loud, "Oh. Well!" I also love that we don't know exactly what the deal is with Scylla, both because I've got a great soft spot for queer villains, but also because I feel pretty confident the Spree aren't completely who we're being led to believe they are. I've read The Hunger Games, okay. I've read the Divergent series and Maze Runner. I live in the United States in 2020. I've got some questions! What's your read on her, Valerie?
Valerie: I didn't trust her for a while and it stressed me out but as the shiny newness of everything starts to wear off and we're starting to see things aren't quite as they seem, I'm starting to wonder if our girls aren't about to go the way of Adora in She-Ra and realize that the system of ideals they were raised to believe were Right and True might not be all that it's cracked up to be.
That said, Scylla does technically talk to a mass-murdering balloon (maybe? The details of how the Spree kills people falls squarely in the category of "totems shmotems" at this moment) and it stresses me out that she can (and does) change her appearance, BUT after this most recent episode, I'm starting to truly believe that she at least really cares about Raelle and even if she's playing everyone else, or has some long-game, I don't think she's using Raelle the way she maybe was when things started out. That said… Raelle is a girl on the edge and I don't think it would take much to get her to join the Spree. What do you think? Can we trust Scylla? Am I being charmed by her pretty, pretty eyes or is she more complicated than her setting-her-own-face-on-fire thing makes her seem?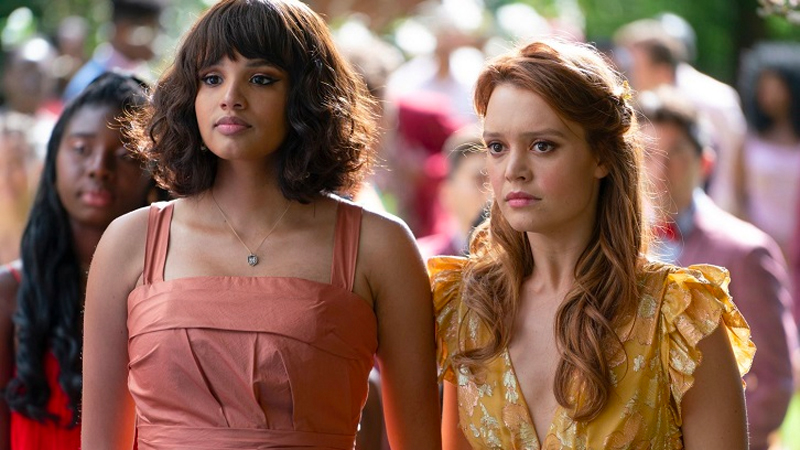 Heather: I don't know if we can trust her and I love that. (I don't love that whole face/fire thing, though! I didn't like it when it kicked off the pilot and I don't like it now! But I get it. Fire and stakes and all that. But I don't like it!) I think you and I both have watched and written about so much TV over the years, and you especially with sci-fi and fantasy, nothing really surprises us too much. I like not knowing! I like the rare feeling of being excited to find out what the actual deal is with a queer characters!