Jamie's Team Pick:
Did you know Rachel Maddow is publishing a book later this month? Well it's a true fact and the prologue has been released for you to devour.
Our current military industrial complex is a hot mess, to say nothing of the financial black hole that is our military budget. Addressing this cumbersome topic with charm, wit and words I've never read but welcome with open arms to my actually fairly extensive vocabulary (frowsy? I'll take it!)  is Drift: The Unmooring of American Military Power.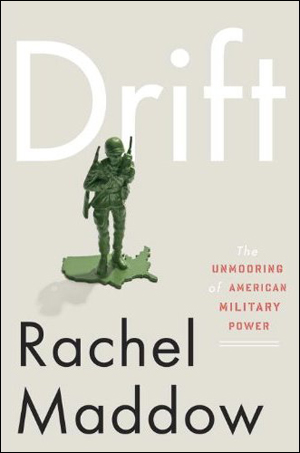 Firstly, the book is dedicated to Dick shoot my friend in the face Cheney. For whatever reason the man refuses to have a sit down with Maddow.
For this, she pleads in italics:


Maddow digs into how the wars in both Iraq and Afghanistan reflect on a deeper problem for America:
Our national security policy isn't much related to its stated justifications anymore. To whatever extent we do argue and debate what defense and intelligence policy ought to be, that debate, — our political process — doesn't actually determine what we do. We're not directing that policy anymore; it follows its own course. Which means we've effectively lost control of a big part of who we are as a country. And we've broken faith with some of the best advice the founders gave us.
But read on with hope, my friends for "This book is about how and why we've drifted. It isn't inevitable. And it's fixable."
Cheers to that!
For more about the upcoming book to be published at the end of March watch this interview with Slate.
And congratulations to Maddow on her recent win of the  John Steinbeck Award, an annual award given to artists who illustrate, "the spirit of Steinbeck's empathy, commitment to democratic values, and belief in the dignity of the common man."
---
Before you go!
It takes funding to keep this publication by and for queer women and trans people of all genders running every day. We will never put our site behind a paywall because we know how important it is to keep Autostraddle free. But that means we rely on the support of our A+ Members.
Still, 99.9% of our readers are not members.
A+ membership starts at just $4/month.
If you're able to, will you join A+ and keep Autostraddle here and working for everyone?
Join A+