Out playwright Kate Foster's show, Mermaids / Novel Love, has been running at The Players Theater in New York's Greenwich Village all May long and you have one final chance to catch it tomorrow night, June 1st! Billed as "two short plays. One totally awesome lesbro experience," Kate herself has cryptically revealed that one play is about a lesbian couple who have a mermaid in their bathroom and the other is about a lesbian writer and her lesbro.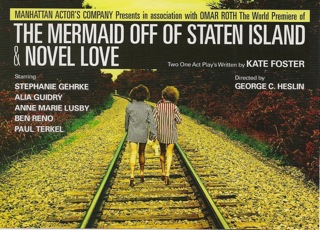 Intriguing, am I right or am I right? Mermaids in the bathroom sounds like a classic literary motif, although I can't think of any examples of it having been done before. Either way, I want to know what a lesbian couple does in such a situation. And it's about time that some visibility to lesbros. Every gay lady's gotta have one.
For $10 tickets, use the discount code AADA when you purchase them here!
---
Before you go!
It takes funding to keep this publication by and for queer women and trans people of all genders running every day. We will never put our site behind a paywall because we know how important it is to keep Autostraddle free. But that means we rely on the support of our A+ Members.
Still, 99.9% of our readers are not members.
A+ membership starts at just $4/month.
If you're able to, will you join A+ and keep Autostraddle here and working for everyone?
Join A+