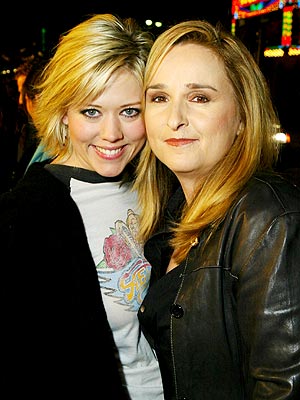 We generally stay away from gossip here, but this is The ETH we're talking about here and look — there is some seriously crazy shit going down with Melissa Etheridge and Tammy Lynn Michaels.
First, let's backtrack. News of Tammy & Melissa's break up hit the web back in April — we can thank Melissa for that.
Over the next two months, Tammy occasionally ripped open her heart and let the feelings pour freely on her blog, hollywood farmgirl, often scolding Melissa for leaving Tammy & the 5 year-old twins pretty much broke-ass broke.
Now, the dyke drama has taken a new turn: People Magazine says Melissa is in a committed relationship with a new woman, OK. But here's the thing: the woman is Nurse Jackie writer/producer, Linda Wallem, aka Melissa Etheridge's best friend of seven years. Right. So she's been around like all this time. In fact, Wallem acted as her "best man" at their 2003 wedding.
Let's pause for a WTF and some hollywood farmgirl processing of this news:
i moved out november 23rd 2009
she said it would help
i was convinced it would
too and i trusted there was
no one else
i didn't know
there was someone moving in
as i was moving out
three weeks later a box of new toys
was delivered and her assistant brought
it to my rental house as a mistake
i opened it and that's when i felt something was up
i called her
"i have your new dicks on my kitchen counter?"
one thing by one thing
i slowly felt things were not
as they were being represented
one never even said one was breaking up with me
one only says things in song and string
and then i listened to the album
and i understood
oh you don't want to work it out
oh you already have someone in the wings
oh you already have pined for another
oh you are done here
oh i have become another one of your exes
oh i have become an album many albums
starting with lucky which is why you can't find that tattoo on my body anymore
Linda Wallem (right) with Nurse Jackie star, Edie Falco
Tammy goes on to vent over People's "scoop" of Melissa and Linda as a "new couple" since according to Tammy, the relationship has been going on for nearly a year.
but i have had some time to let it digest, rip my stomach apart,
digest some more, and i think i'm in a better spot now.
sometimes reality takes a moment to settle in. you know, like if
you were standing in the pitch black, and suddenly you threw
on some intense 1500W bulbs around you?? you'd need to quint
and adjust and maybe be blind for a minute? okay. maybe vomit up
your stomach until you have a brand new lining, but hey, who
doesn't do that when their world turns upside down? :-)
so. you know. people magazine tries to get things right. they try to
clean things up for the famous folk- their sources are usually the publicist
for the celebrity. i'm here to clarify. well… i want to clarify without
dealing with getting sued for SLANDER (and paying someone), which would include
me saying that the two were involved while I was living there (it is still my house, by the way).
and i haven't gone just that far yet.
since april of 09? mmm…. one of my little sweet peas told me otherwise much
earlier than that, Pooper magazine.they should have shut the bedroom door.
So what did we learn? In a nutshell, this relationship has been going on for nearly a year and Tammy was blindsided when her assistant accidentally delivered Melissa's new dildos to Tammy's rental house…. really Papi?
Weirdly enough, she later goes on to actually praise Nurse Jackie in general, specifically Linda's writing/producing partner, Liz Brixus — who just so happens to also be Linda Wallem's ex.
While Tammy suggests that Melissa was seeing Linda Wallem behind her back, she also adds that she has since "found someone myself" and "most importantly to me: the kids are alright."
Speaking of the kids, Wallem apparently 'lives vicariously' through Melissa and Tammy's family — "I have to say, I live vicariously through them because I don't have kids, and they are the most amazing mothers, the most amazing family I know. The kids are just so loved and so magical. I always tease Melissa, 'You know, you have four kids now!' and she says, 'I know! I don't know how this happened!' She's like the sister I never had."
That quote actually doesn't make sense but hell, what does.
FYI, there's been an Etheridge / Nurse Jackie connection for a while now as her song "Nervous" played throughout the second season finale of the [f*ing amazing] Edie Falco series.
Riese's Special Comment:
Hi. As a the Very Important Editor in Chief, I was just reading this article so that I could press the "publish" button and I had so many feelings that now I am writing them right here. WHAT IS WRONG WITH YOU PEOPLE. Seriously. Breakups are PRIVATE. I used to think "dyke drama" was an unfair stereotype, but g-ddamn if there wasn't one thing I learned in 2010…
+

+

+


… it's that heartbreak makes grown women act like fucking asshats, even if they're public figures. It doesn't have to, though — some people are totally able to breakup without any public displays of overblown emotion. Nothing is ever accomplished by sharing the private, painful details of a dissolved relationship with the proletariats, whether that be magazine readers or facebook friends. Aren't you glad we AREN'T in high school anymore and don't HAVE to tell everybody everything? Relationships are complicated things and nobody knows what goes on really besides the two people involved. In conclusion, I'm on Team Tammy. WTF Eth. WTF. Okay back to Jess.
Ok

+
So, how do you feel about all of this? Are you busy deleting the Breakdown album off your iPod in disgust? Are you Team Tammy? Is Team Etheridge even an option at this point?