Welcome to the another installment of Make A Thing, where we make handmade gifts for people. Or ourselves. Who doesn't need something special in their life? Join in on the DIY fun and avoid the unnecessary consumerism of the world (and I promise you'll save a few dollars while you're at it).
Header by Rory Midhani
We survived Valentine's Day. We did it, champs. Now we're in the Winter doldrums. When Eliot said April was the cruelest month, he was lying. It's actually February. When will it ever be warm again? It's not fair. I'm sick of the cold and the dark. I need some cheering up over here.
That's why I decided to make myself a few bright pieces of art to hang over my desk so I could gleefully stare at them in preparation for warmer, sunnier days.
Watercolor + White Crayon Paintings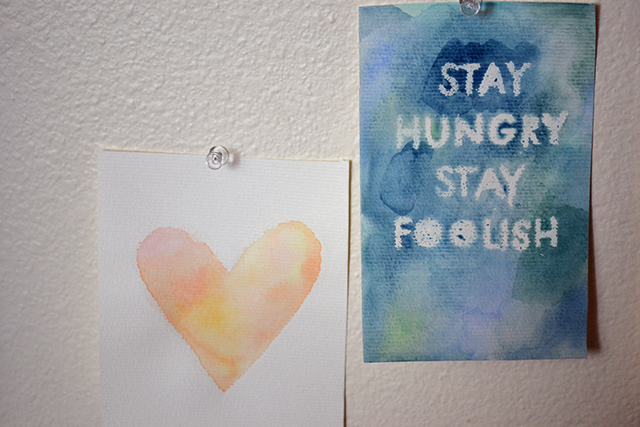 I'm really into watercolors right now, as you could probably tell, and decided to play around with a little trick I learned in elementary school called "White crayon busy time". It's so simple and aesthetically-pleasing and versatile. It's great for a quick project when you need a tiny happy poster (or perhaps a late Valentine, I'm not judging).
Supplies Needed: Watercolor paper, watercolor paints, paint brushes, white crayon (Crayola is best because it's not as greasy as the off-brand).
Level of Difficulty: Children do this shit, so can you.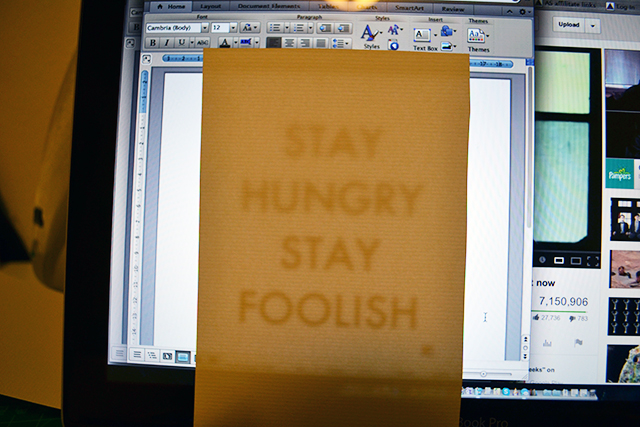 1. Cut your paper to size. Find a nice quotation or drawing you'd like to trace (or freehand it if you live on the edge), and use your computer screen as a light box. You can also print out your quotation or drawing and tape it and your watercolor paper to the window during the day. I used a Steve Jobs quotation because this is for my girlfriend and she's Apple-obsessed.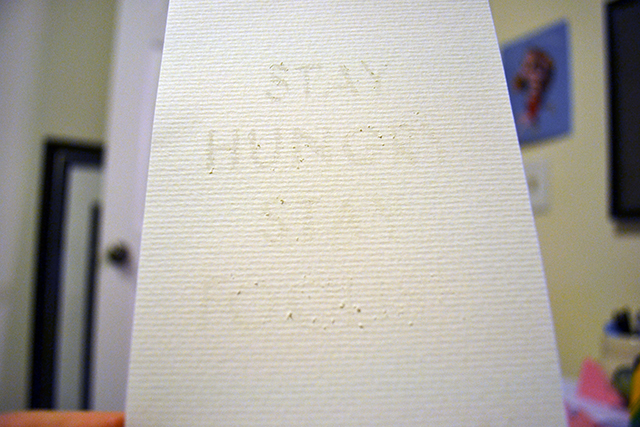 2. Trace your design in the white crayon. Trace it more times than you think you need to. You know what happens when you don't trace it enough times and your white lines aren't strong enough? This:
Don't let this happen, because it sucks.
3. Start adding your watercolors. You can wet your paper to make your colors blend better.
4. After you're satisfied, let your paper dry. It will curl up a lot. Press it under a heavy object overnight.
5. Alternatively, you can use the white crayon as a border for a design and paint inside instead of using it as negative space. Fill only inside of the design with water from a brush so the watercolors stay inside easier.
Experiment and make a few different styles. They're fast and simple to make. If you fuck up, they're still endearing because watercolors are super forgiving.
Any other crafting tricks for the dark days of late Winter I should know about?