I came out to my husband on Messenger of all places. We had been going through a pretty rough patch, and this is what it had come to. I had "come outwp_poststo myself about six months before. While I was accepting my identity as a bisexual, I realized I didn't feel even close to comfortable sharing this identity with my husband. This feeling — that I couldn't be my true self and be vulnerable in that way — made me question our whole relationship.
That day on Messenger, our relationship was on the rocks. I felt that if I couldn't be myself with the person who was supposed to be my partner in life then our relationship wasn't really based on love. You can't genuinely love someone you don't really know. We had been seeing a counselor and she had encouraged us to write letters to each other expressing our feelings and frustrations. This worked well for me, because my husband had the unfortunate habit of making a joke or being sourly sarcastic when something made him uncomfortable. In the past when I had told him something that was still a bit raw and unformed — a dream, a new interest, or a potential change in life direction — he was likely to make some fun of it. It was a nervous habit; telling jokes was his way of dealing with stress and uncertainty.
I couldn't go through him making jokes about this. So, one day at work I summoned up the courage to send him a "letter.wp_postsI figured I had nothing to lose. Either he would be unkind by not being serious in a serious moment, or he would be supportive and prove me wrong. I sent him an article which I thought explained bisexuality well. I accompanied that article with a short, simple message saying that although I didn't realize it fully until recently, I was indeed bisexual, that this was an undeniable part of my identity, and I could no longer comfortably hide this fact.
He never responded.
I waited a day and then sent him another message asking him if he had read my previous message. True to his style, he sent me a reply saying, yes he had received it, and thank you.
I left it at that. What do you say to "thank you?wp_postsI had thought the message would provoke an in-person conversation, but I didn't want to push any further. Things were already tense.
Weeks went by. Maybe a couple of months. We didn't talk about it. Things would happen where his acceptance seemed to be there — like when Orlando happened and I ordered a large rainbow flag; he helped me put it up. My son asked about what the rainbow was for. I explained that sometimes men love women and sometimes men love men, and women love women etc., and the rainbow celebrated all these different kinds of love. My husband was there and backed my explanation up. My five-year old son thought about it for about a second and said "And trees can love trees and everyone can love everyone! That's great!wp_postsSince he was currently in love with a girl at school he'd known since he was one, his mom who is a woman, and his dad who is a man, this made absolute sense to him from his desexualized understanding of love.
However outside, small moments of implied acceptance like this one I didn't bring it up as a discussion item and neither did he. It felt like an unspoken quiet in our fragile relationship. We still weren't talking about it directly.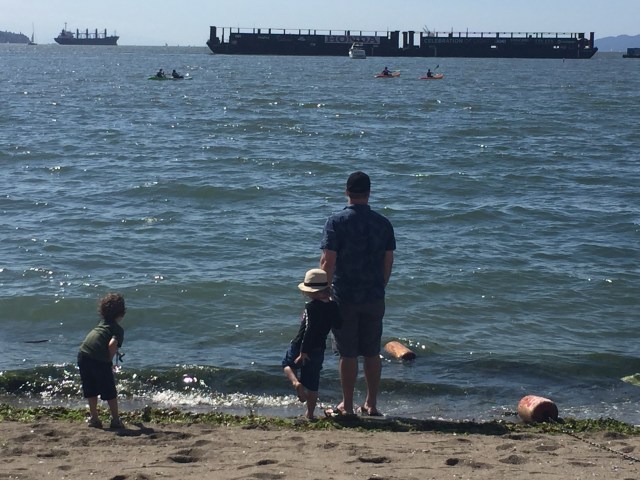 One month before the Pride Parade we went for a walk on the beach. Our son was at his grandparents' and we were getting some very rare "couple time.wp_postsIt was a beautiful sunny June afternoon. Couples were walking hand-in-hand along the boardwalk; families were playing in the sand; teenagers were picnicking and sunbathing. We were the only ones, it seemed, under a damp black cloud. I told him it felt like we were too broken to fix. We had been in counselling and discussion for months. I felt like there was still something holding me back from trying to make it work. Just as we were almost back to our car and headed home I finally exclaimed, "and we haven't even talked about me telling you I'm bisexual! Why haven't we talked about that? This seems like a pretty important thing to talk about!wp_postsHe explained that he had merely wanted to be respectful and was waiting for me to bring it up when I was comfortable. He added that he would very much like to talk about it if I liked anytime. He was waiting for me. I was waiting for him.
We didn't talk about it that day. We had to get back to pick up our little man. But the air felt clear after that. Something changed on that day; I felt the weight lifting. He had said more than "thank you.wp_postsWe went on a pre-planned trip to visit some friends in California and decided to make San Francisco our last stop. We stayed just outside the Castro district and spent most of our time in and around this area. I talked openly about how good it felt to be in a city that so fully embraced the gay community. I told my husband that I'd decided to go to the Pride Parade when we got home, which would be coming up just as we were returning from holiday. He asked if he and our son could join me.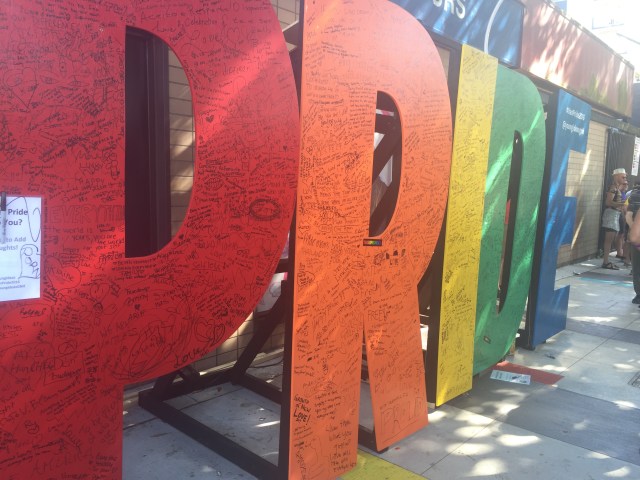 It was a scorching hot July 31 the day we went as a family to Pride. My husband had packed us a lunch and some water. We slathered on sunscreen. Miraculously we found a spot within reaching distance of the floats going by, right next to an alley for our son to run around in when he needed a break from the noise, and adjacent to a Safeway for regular snacks, refreshments and washroom breaks. My son was fascinated by the elaborate costumes, the music, and the dancing. He was slightly more impressed by the police and fire floats. He complained endlessly about the noise, squirmed when he needed sunscreen reapplied, ate sushi on the side of the road, and accepted compliments on his hipster hat. After a while he had settled in, and being his cute gregarious self, he managed to be weighed down substantially by the load of beaded necklaces he was given by parade participants.
My husband collected beaded necklaces, chatted with others watching the parade, and helped our son get the best views by putting him on his shoulders and sneaking him to the front.
I was relieved and felt liberated by my own and my family's acceptance of my sexuality — not that my son actually understands what that means at this point. It was a bonding experience. I got to attend the parade, and felt like I had genuinely deserved to be part of this community now that I was no longer hiding that part of myself.
At the same time, I felt invisible. Traveling with my husband and son in tow, I looked pretty straight. And, although I know that everyone is welcome at Pride, and it shouldn't matter what what you look like, I wanted to be just a little less visually straight that day. For that one day I didn't want to be perceived as an ally at the Parade. I wanted to be a card-carrying member of the gay community; to be a part of and visible in a community I had denied myself for so many years.
We watched the whole parade, spent some time on the beach with a friend and her son, and then walked up toward the center of the City to find some early dinner. My son was bragging about his large collection of multi-coloured beads, but had also begun to complain about wanting food. We walked past the Flygirl Productions girls-only event. It was an outdoor party with a DJ and a bar. I had never seen so many queer women congregated in one place before. It looked terribly fun; I had the urge to ditch my family for a drink (just one drink!). Instead, we kept on toward dinner.
Over dinner my husband and my son talked about how much fun they had and swapped stories about floats they had seen, beads that had been acquired, and the noise. My son innocently said something about letting the organizers know to make the parade a little quieter next year. My husband and I exchanged smiles and joked about how different the experience would have been without a five-year old along for the ride. My husband pointed out that our shared workplace wasn't represented at the parade and we plotted to coordinate their participation next year.
My son still talks about the Pride Parade and pictures of our day are included in our family summer picture album. My son will grow up attending the Parade, thinking it normal for girls to love girls and boys to love boys and for some people to love boys and girls.
We still haven't sat down and had a heart-to-heart about my sexuality, but now it seems like we don't need to; the details aren't important. My husband showed his support by joining me hand-in-hand at the Parade; a symbolic nod to loving the whole me — the true me. We're all looking forward to going next year and my son will be sporting ear muffs for the festivities.