A loving lesbian partnership has the approximately 20 women behind "One Million Moms" with their panties in a twist, only two months after the last time they threatened to do minuscule harm to JCPenney.
In the latest JCPenney catalogue, two lesbian partners, their children, and one of their mothers are featured in a two-page clothing spread that places the words "freedom of expression" right over the two lovebirds. They appear to be wearing wedding bands. Their daughters' grandmother also appears to be quite kind and giggly. Please brace yourself for the photographic material following this sentence.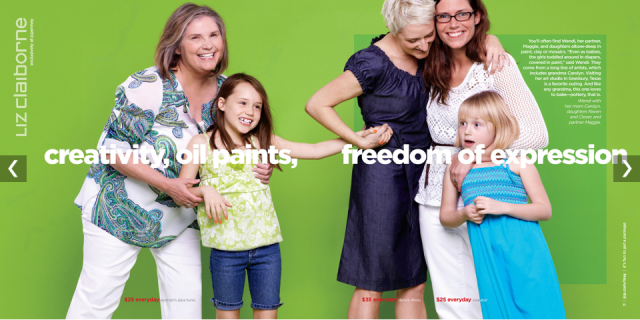 Also, I just really want everyone to hear how gay this is:
"You'll often find Wendi, her partner, Maggie, and daughters elbow-deep in paint, clay or mosaics," the ad reads. Further on it explains that Wendi's mother is an artist with a gallery in Granbury, Texas, and reiterates that the picture is of "Wendi with her mom Carolyn, daughters Raven and Clover, and partner Maggie."
As many of you will remember, in early March JCPenney decided to revamp their image by taking on a new spokeswoman, the effortlessly gay and adorable Ellen Degeneres. One Million Moms, or really a group of under 50,000 homophobes who say "family values" a lot, got extremely angry at the retail corporation on the Internet, and threatened to boycott the company's clothing and other items if they went through with their decision.
In the end, JCPenney refused to get rid of Ellen and kept her on so that Earth could keep spinning. It seemed likely after that incident that OMM would kind of go away forever, perhaps out of sheer embarrassment, but instead they are back and using typically stupid arguments to attack JCPenney for the recent spread. According to their website, they are "very busy" fighting gay happiness around the world, but have decided very graciously to focus on this non-issue nonetheless:
OMM has so many issues to cover we had no choice but to move on earlier in the year but have decided to revisit this issue and speak out again. It is obvious that JCP would rather take sides than remain neutral. JCP will hear from the other side so they need to hear from us as well.
Last time OMM contacted JC Penney store managers, we were brushed off. Some even experienced in person the store manager saying "Thank you" and walking off while their customer and our concerned members were in mid-sentence. OMM has been told that JCP corporate office told store managers to say "Thank you" and then walk away. If they want our business, then we will not be ignored!
You can read the full statement here, including their plans for action.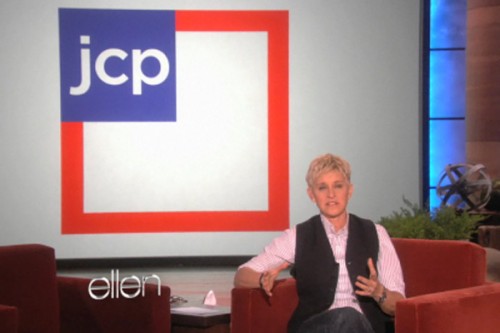 The language isn't surprising, but it's still not logically sound. Like people who claim that gay marriage is a "special right" and that any form of tolerance or affirmation for queer people creates efforts of "recruitment" and the "erasure of heterosexuality," One Million Moms clearly has no idea what they're even talking about. After all, portraying gay people in a catalogue does not "end neutrality" – it just reflects reality. Things like giving money to pro-gay marriage organizations end neutrality. (Also, it is worth mentioning how many women and men featured in the catalogue identified as straight or were featured alone with no note of their sexuality, but mysteriously aren't being singled out as pro-straight propaganda.) Similarly, being ignored when you are outnumbered is simply how it works in the realm of politics when you have a democracy – the majority will always win out. One Million Moms is failing to recognize that JCPenney doesn't hate straight people and their families, they just aren't particularly concerned about the gay panic of a few misinformed "activists." And OMM is quite welcome to take their pathetically low membership numbers elsewhere if they don't get it.
One Million Moms believes they are engaged in a "cultural war," and that JCPenney is actively cheerleading for the other team. Each battle OMM wages in this "war" is about making sure gay people are invisible and hidden, and making sure others comply with that wish. But OMM has already lost the war – because gay people do exist and it turns out, exist in quite larger numbers than extremely homophobic people who care about JCPenney more than the average American. Now we just have to see how long it is before a group of under 50,000 moms gets tired of entering lost battles.