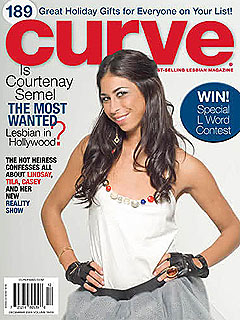 LOHAN, TILA, SEMEL: At least your crazy ex never did this: Courtenay Semel is going public on the December cover of Curve with the details of her "close" but not "hot" relationship with Lindsay Lohan. Due to Semel's self-proclaimed status as the "kind of Don Juan of lesbians," she says her hot romance with Lindsay Lohan was assumed although she insists the pair were only BFFs. She complains: "I can't even have a best friend because I guess I'm going to be linked with them next. I read Brittny Gastineau and I may be dating now, and Brittny is as straight as they come."
Semel also gives advice to Lindsay about how to NOT be totally obvious about being drunk: "I always said you'll never see me get a DUI, you'll never see me falling drunk out of a club, you'll never see me get arrested, you'll never see that side of me and unfortunately, it did happen. I did take responsibility for my actions. … But, at the same time, I think, you know, everyone scrutinizes, Lindsay for everything she went through, but they should thank her, because it shows you exactly what not to do."
In addition to a stint in rehab, her other bragging points include dating Tila Tequila. We expect a Papi-Shane-Courtenay standoff for this "Lesbian Don Juan." (@people)
SEX MAKEOUT TAPE: Also Carmen Electra has a lesbian sex tape, but it's so well done it couldn't possibly be anything besides a promo stunt for something or another. But also, Carmen Electra is bi, so maybe it is real. Also watch it now before it disappears.
MORE LINDSAY LOHAN: Okay this girl's gotta pick a passion and stick with it! She's just throwing ideas at the wall and seeing what sticks. Well don't worry Lindsay, we're here for you just like we were for Adam, except for totally different reasons.
Anyone want to take a stab and what this show is about?
ADAM LAMBERT: Glambert's debut album, For Your Entertainment, is streaming on MySpace in all it's glitterbomb glory. FYI, Lady Gaga wrote "Fever!" Also, check out our open plea to Lambert himself to get on the train to the lezzytown known as Autostraddle.
RFAMILY 4EVER: In Entertainment Tonight, Rosie & Kelli say that no matter what happens with their relationship it will be "business as usual" for their cruising vacation company R Family Vacations. (@entertainment weekly)
JILL BENNETT & CATHY DEBUONO: While on the Sweet Cruise, we went on set of the lesbian web-series We Have To Stop Now starring Jill Bennett & Cathy DeBuono. We also got the scoop on why the celesbian superstars are happier at SheWired than AfterEllen.
L WORD / PARIS HILTON: Looks like Paris Hilton is catching up on the final season of The L Word and is looking to reconnect with her former BFF for a night, Shane. Remember when rumors were swirling that she would appear in season 6?  When you curse IFC for the season-long WTF, just be thankful for that little miracle.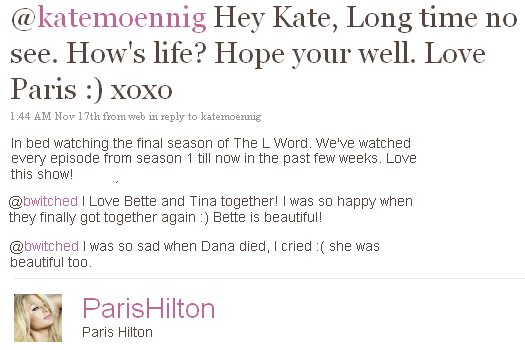 GLEE: Apparently, FOX executives weren't pleased about young Glee star Chris Colfer's open discussion of his sexuality to The Advocate this fall. (@popwired)
KRISTEN STEWART: Kristen Stewart, who is the hottest tomboy in the vampie movie, is profiled in the Sunday New York Times!
TV: Aaron Sorkin, who wrote The West Wing (one of the best shows ever in the history of life), is writing a new show: "It's going to be what turns out to be the third in the trilogy of TV shows that take place behind the scenes of a TV show, but this will be a different kind of TV show. That's all I can let out of the bag right now."
GAGA: Check out some vintage Gaga from back in 2005, when she was just Stefani Germonatta from the block: