Although some adult children living in cramped apartments/rooms seem to enjoy a wide breadth of storage space in their family homes, my mother is not a fan of having any of my shit in her apartment and therefore she has taken to mailing all of my worldly possessions from birth until the present, one by one. She sends these things in packages containing other, more exciting things, like matzoh ball soup mix. Also, sometimes she just sends me really random things she finds at garage sales. My Mom loves garage sales. Real talk: I also love garage sales.
17 Things My Mom Has Mailed Me This Year
1. "My Point… And I Do Have One" by Ellen DeGeneres
This was my favorite book for at least two months in 1995.
2. Samantha, My American Girl Doll
I had to pull this baby out of the deep recesses of my closet to photograph her for this list, because my girlfriend banished her from our bedroom due to her apparent "creepy" nature.
3. Letter From My Friend Who Babysat My Samantha Doll While We Were On Vacation
Apparently I took doll-care really seriously. And paid the doll-sitter in stationary.
4. Box of mixtapes I made circa 1991-1998
5. Enormous T-Shirts Commemorating Memorable Personal Life Events Of The Early 1990s
I wore really giant shirts despite being a really tiny person. I'm saving these for if I ever get pregnant.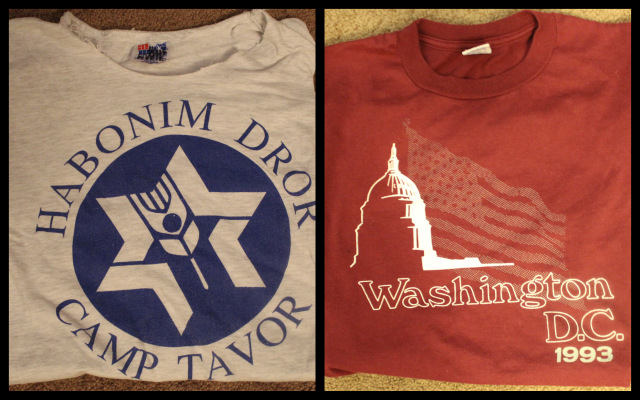 6. Possibly Homemade (???) 90's Style Candlesticks
7. "Dress Me Up David" refrigerator magnets, sans David
Totally unclear regarding what happened to David.
8. Letters From Mysterious Pen Pals
Seriously who are these people
I think this girl [below] was the daughter of a childhood friend of my mother's. I was addicted to pen pals so I kinda picked them up wherever I could find them.
9. Jewish Propaganda
The good news is that if I ever become a better Jew, I will have plenty of materials with which to celebrate said Jewdom.
10. This Baby Deer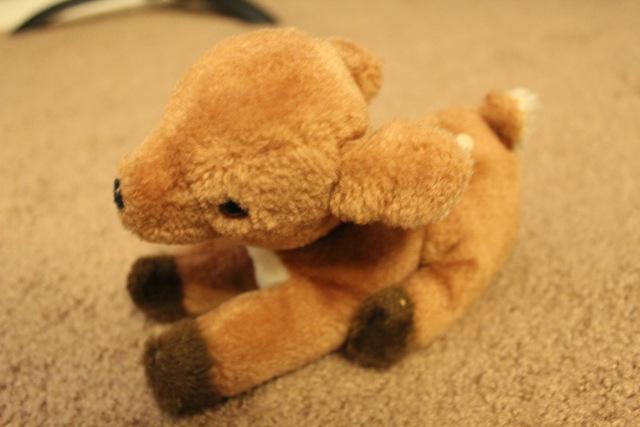 11. This Jewelry Box Circa 1988
You might be surprised to learn that I made most of these delightful accessories myself.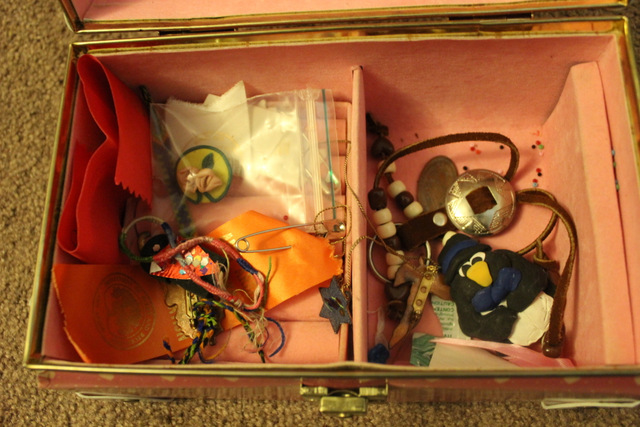 Clearly my true destiny was to be a jeweler.
12. Phil Collins' "You Can't Hurry Love" / "I Don't Care Anymore Single"
Classic.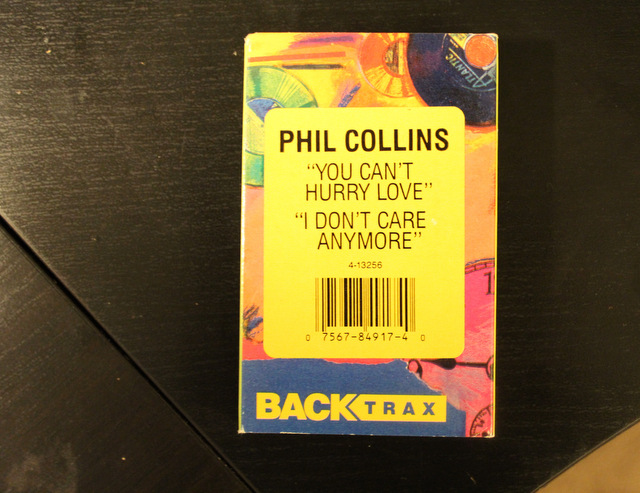 13. "The Ways of Fishes," discarded by the Interlochen Library with inscription from my gay BFF Ryan
The summer after he graduated high school, Ryan would send me variety-box packages similar to the ones my Mom sends now — two or three tiny beanie babies, random books, assorted food items, greeting cards. Now that she's started mailing me the things he mailed me, shit is getting meta.
14. My First-Ever Acceptance Letter, 1993
Spoiler Alert: they accepted everybody who submitted. IT'S A SCAM!
15. Lots Of Old Greeting Cards
16. Inexplicable Assortment of Stale Pistachios
This was not what I expected to find at the bottom of this package
17. This Thing
Actually this item has come in quite handy. I'm not sure what its intended purpose was, but you can store small items in the back, like dental floss, lighters and chapstick. Thanks Mom!