1. I love swinging on PCP
2. Scissoring: Does anybody really do it?
3. Sometimes when I'm alone in the cabin and people come in but don't acknowledge me, I like to pretend I'm dead. Is that normal?
4. I could really go for an orgasm.
5. Why do I feel feelings?
6. Does U-Haul do group discounts?
7.
8. My hips don't lie.
9. Can you take a look at this rash?
10. I want Cheetos plz.
11. Which one of you is the girl?
12. BIRDS! (Caw! Caw!)
13.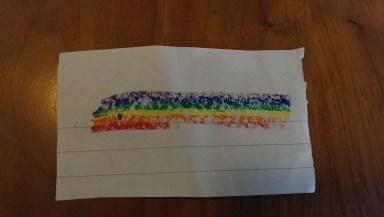 14. Where is Lindsey's motherfucking clip?
15. I wanna dance with somebody. I wanna feel the heat with somebody.
16. My crotch is buzzing. This is not a question. It is a comment. It is a concern.
17. Can the child within my heart rise above?
18. When I buy potatoes, should I feel bad for the ones I leave behind? Do you think they feel excluded?
19. Can you tell me how to use a dental dam?
20. Can I have a hug?
21. How do I lesbian seckz?
22. Where can I reserve a prom night hotel room?
23. Do you feel like your box has been sufficiently stuffed?
---
Before you go!
It takes funding to keep this publication by and for queer women and trans people of all genders running every day. We will never put our site behind a paywall because we know how important it is to keep Autostraddle free. But that means we rely on the support of our A+ Members.
Still, 99.9% of our readers are not members.
A+ membership starts at just $4/month.
If you're able to, will you join A+ and keep Autostraddle here and working for everyone?
Join A+