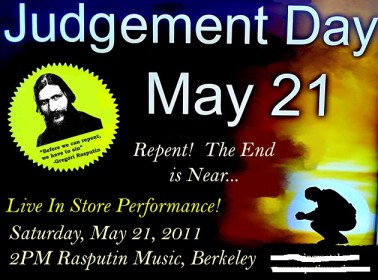 Wow, World. Good job with the news! No but this is funny — I live in Oakland, the HQ of this Rapture operation. I had NO IDEA that anybody else in the world knew anything about the billboard I've been biking past since I moved here. But apparently it's a thing! EVERYWHERE! Here's a selection of the 5,000,000 headlines of the 5,000,000 articles/posts published yesterday by upstanding news outlets all over the world:
1. Last Supper Meal Ideas Before the "Rapture" Hits
2. 17 Doomsday T-Shirts
3. If Apocalypse Comes, what happens to football
4. Apocalypse Owww
5. It's the End of the World As We Know it! What's On Your Bucket List?
6. Eight Drinks to Toast Armageddon
7. Stoner Jesus Reacts To The "Coming Rapture"
8. THE RAPTURE: WHY THE WORLD REALLY COULD END TOMORROW
9. May 21, 2011: What Will the Weather Be on Judgment Day?
10. Americans Ready Amid Fear the End is Near
11. 10 Things IT Groups Need to Know About the Rapture
12. Celebrities Respond to the Rapture
13. 5 Smartphone Apps You Need to Try Before the Rapture
14. So The Rapture Is Saturday — Luckily The Grey's Anatomy Finale Was Last Night
15. Celebrating Doomsday in Song
16. If Your Pets Are Left Behind at the Rapture
17. Rapture: Money Opportunities for Judgment Day
18. Is Harold Camping's Doomsday Affecting Your Travel Plans?
19. 4 Social Media Tools & Tips for the Rapture
20. Yes, It's Another Rapture Story
21. World to End Saturday — Now Russians Know It Too
20. My Last Column
23. Doomsday: It's the Gay's Fault