If you are paying attention to the phytoplankton in New York City, you might notice that, deep under the water, we're seeing the first signs of Spring. Or at least, that's what I keep telling myself. Then again, I just took a walk in the park and it was 19 degrees Fahrenheit, so what the fuck do I know. Ah, February. The month of bitter cold and occasional snow—and Valentine's Day, but I am absolutely not making you a red drink, I just won't do it. I'd rather focus on the phytoplankton and give you something that combines my favorite winter liquor (whiskey) with my favorite warm weather citrus (lemons). Enter the Whisky Sour.
Now keep in mind, a Sour is simply a cocktail that combines sour citrus (lemon or lime) with some sort of sugary-sweet thing (in this case, simple syrup). It's one of those three-ingredient cocktails and it requires no bitters whatsoever, so this is a perfect one to memorize and have on hand. Near about every bar can make it and serving sours to folks who come to your home is easy-peasy. It's basically the bread and butter of cocktails. You can have any kind of sour you like, so feel free to mix it up. Prefer Gin? Rum? Just sub the whiskey out. Prefer limes? Rock on with your bad self. OR! Go truly nutter butters and use BOTH lemons and limes. AT THE SAME GODDAMN TIME! Mellower sweet? Maple syrup instead of simple syrup. Crazier drink? Whip up a flavored simple syrup. Basically what I'm saying is know your basics, like a solid three-ingredient-sour, and then you can improvise right on top of that! Ready?
What You'll Need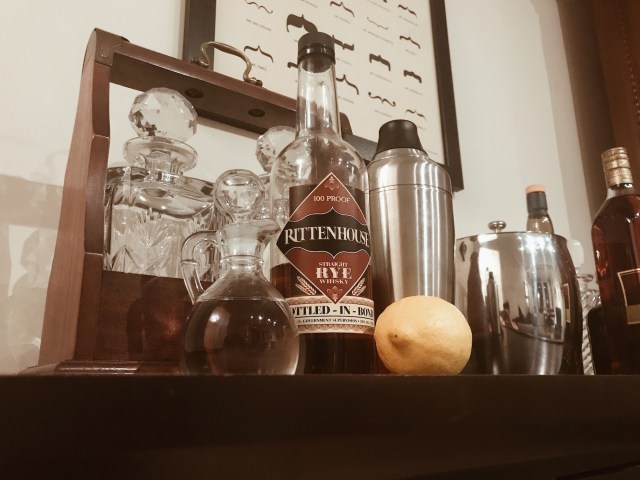 some kinda whiskey. I'm using Rittenhouse Rye. It's more traditional to make a whiskey sour with bourbon, but you guys, I just really like rye.

a lemon! You're gonna juice it AND ALSO use it for garnish

simple syrup. Yo, lookit the cute little salad dressing container I keep my simple syrup in (detail shot below)! I love cute bar ish.

a shaker! Whenever fruit juice is involved, that means shaken, not stirred. Also a strainer, but probably that goes without saying by now, you cocktail experts, you!

a rocks glass
First, if you don't happen to have simple syrup sitting on your bar, it's very easy to whip some up! It's a 1-to-1 ratio of sugar to water. Put that water in a pot and bring it to a simmer. Dump the sugar in and keep it simmering until all the sugar is dissolved. If you're using white sugar, it'll go much faster and be clear. If you're using demerara sugar, I find it to require a bit of stirring and time—also your syrup will come out a gorgeous rich brown, a little like maple syrup. Let that cool a hot minute.
In the meantime, juice your lemon! Now normally, I would say cut your lemon length-wise to maximize juice. But! We're gonna cut it width-wise, across it's little lemon belly, because we're also going to cut a coin out of it for garnish. You'll need about 1 oz. of lemon juice.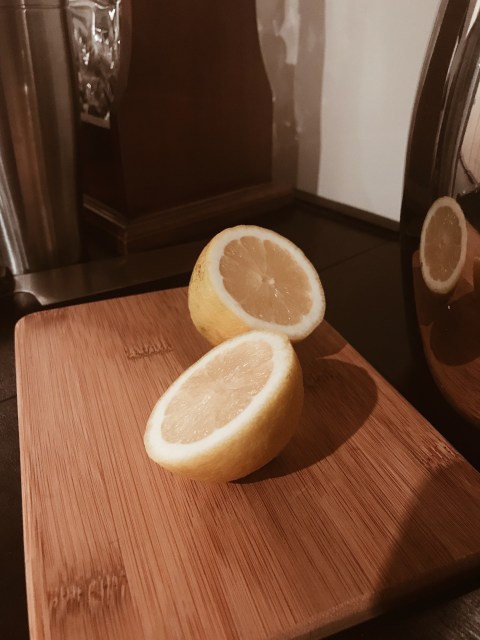 Fill your shaker half full with ice and throw 3 oz. rye whiskey into it. Follow it up with your 1 oz. of lemon juice and 0.25 oz of the simple syrup (I know, you made a whole batch for 0.25 oz., but that's why store the rest of the simple syrup for later!).
Shake your concoction vigorously, making sure nothing important is behind you, like priceless art or human people. Never forget the time that I sprayed my whole entire self with grednadine while doing the whisky workshop at A-Camp. Learn. From. My. Mistakes.
Strain the drink into a rocks glass. Cut a coin from the half of the lemon you didn't use and garnish it. Place in front of a David Bowie Cat print by Danielle V. Green, photograph it and then drink it.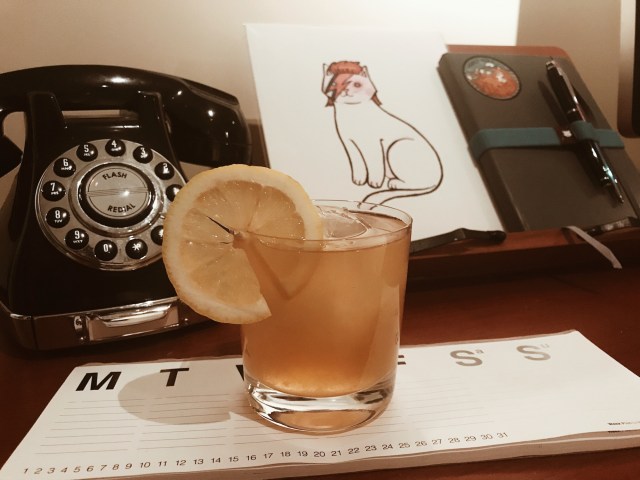 Just kidding, you don't have to photograph your drink. But if you do, share the insta please, we can all be sour together!