WHO IS LINDSAY LOHAN'S NEW GIRLFRIEND?
UPDATE 3:19 PM: Lindsay has denied the story to US Weekly, another one of the world's most reliable sources for news and information:
Lindsay Lohan doesn't have a new girlfriend.
When asked about a report that she's dating a 36-year-old photographer named Indrani, the actress, 23, tells UsMagazine.com, "No, no, no… In NO way am I dating her."
THERE IS HOPE FOR TEAM ROHAN. Anyhow, depending on which aspect of the rumor mill you want to believe, here's the original story:
According to The New York Post, a bastion of reliability and the most fact-checkity newspaper in the whole wide world, Lindsay Lohan has a new "lesbian lover" and her name is Indrani. Indrani is Indian, smokin' hot, and the co-star of upcoming Bravo-TV reality show "Exposure," which stars Indriani and her ex-boyfriend Markus Klinko, successful celebrity photographers.
HAHAH TOLD YOU it wasn't just Samantha Ronson. That's right, boys. You can't be a Lesbian Until Graduation when you don't even go to college.
On a scale of one to ten, this could tip toward definitely not true. On a scale of one to 100, g-damn does Lilo look good in that bikini. On a scale of one to definitely, if this is NOT true, then we are anticipating an onslaught of Lohan experts to correct us using strong language and lots of punctuation in the comments. BRING IT ON.
The New York Post, reports:
Lohan, 23, who previously dated deejay Samantha Ronson, has been secretly seeing Indrani, 36 — half of the respected lens duo of Markus Klinko and Indrani — since the women worked together on a photo shoot last fall.
Sources say Lohan and Indrani, also known as Julia I. Pal-Chaudhuri, have been on a series of dates in LA and recently spent the night at Lohan's hotel.
Indrani told The Post, "We have been spending a lot of time together. I have never had a relationship with a woman before, but Lindsay is just somebody who I find fascinating, gorgeous and extremely smart, as well as super-hot.
"Lindsay gets a lot of bad press, but she's a really strong, creative woman and is trying really hard to get her life in a good, positive place."
BAM! Told you she is totally totally fine and everyone should be nice to her.
Klinko said the pair are good for each other.
"Lindsay and Indrani have been seeing each other since we shot her last fall," he said. "I've seen them on dates, I have seen them making out . . . Indrani is a good influence on Lindsay. She is the opposite of a party girl — a Princeton graduate, she's into art and is a philanthropist — not what you'd expect the typical girl for Lindsay to go out with.
"When they are together, they talk about art and the deeper meaning in life."
Mmm-hmm. I often find the meaning of life somewhere in my cervix as well. In any event, Indriani's bio is pretty effin' amazing — born in Calcutta, Indriani has been modeling since she was 15 and in '97 founded a charitable school with her father in India. She's the co-founder and fundraiser for SEEschool, a non-profit which provides free education, micro-financing, libraries and a homeopathic dispensary for 300+ women and children in India.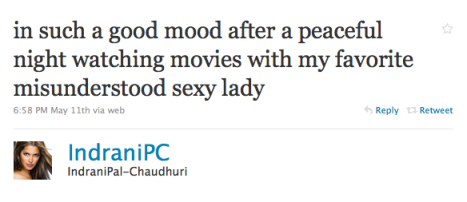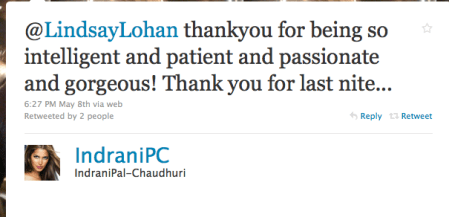 Markus Klinko & Indrani's Bravo-TV show Double Exposure, set to premiere on June 15th, will feature a different celebrity photoshoot each episode. Maybe "be lesbian lovers" was the Top Model Challenge? Hopefully it went down less awkwardly than this one though: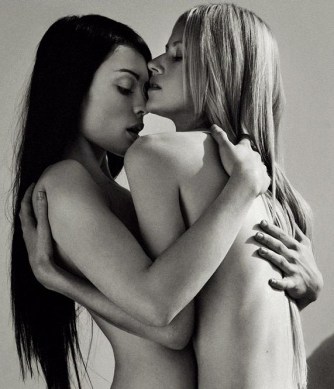 Anyhoo, everyone knows that Bravo is super gay, so this makes perfect sense. And in this case, the male photographer isn't exactly gay himself, so someone's gotta be:
From album covers for David Bowie and Beyoncé, to prize-winning photographs of celebrities like Kate Winslet and Will Smith, Markus and Indrani have shot virtually every contemporary boldface name and countless other iconic images for fashion campaigns and magazines. Add in a dash of historic friction – the duo dated for eight years before deciding to part ways, and now must balance a working relationship with their past history, making for an interesting day in the office... Viewers will get an inside look at what it takes to pull together high-glam shoots for icons such as Naomi Campbell, Lady Gaga and Lindsay Lohan – and see how it's never a dull day in the life of this celebrity photography team.
You can catch them in this Access Hollywood interview talking about their work. along with their stylist. The most important part is at the end, when the interviewer asks Indrani about her shoot with Lady Gaga, and Indrani says Gaga is sexy and she would make out with her.
When Indrani mentions how sexy Lindsay Lohan is, the interviewer asks, "oh, so you'd make out with her [Lindsay Lohan] too?" and everyone laughs a lot, gives each other funny eyes, the interviewer teases, "I think I know why you two broke up," [Indrani and her boyfriend]. Then everyone laughs even more, and then Indrani says "it's complicated." BAM!
Lindsay Lohan is currently abroad, looking pretty sexy on her way to Cannes and at Cannes: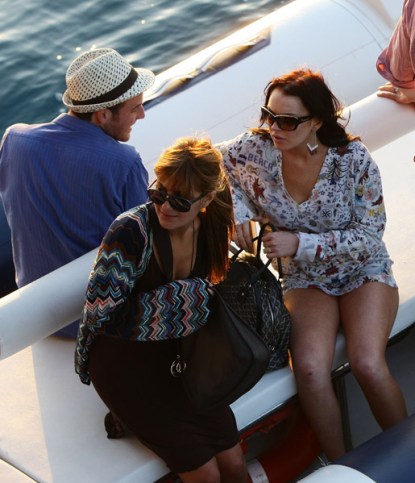 Lindsay tells Hollywood TV that she's been "in compliance more than ever" with her upcoming court dates and not going drunk driving, and is excited about her new role as Linda Lovelace which she went to Cannes to announce:
Hollywood TV: Do you wanna comment anything on your Dad or is that —
Lindsay Lohan: I wish he would just shut up.
Indrani has good feelings about Lohan's upcoming role as well:
Also Markus Klinko's twitter is following only seven people, and one of them is Lindsay. Just sayin'.
Here's a preview for their new show on Bravo, where Markus & Indrani break Kelly Cutrone's rules by bringing personal problems to work:
Well, perhaps this is really our best piece of homosexy evidence yet: Lindsay Lohan's faithfulness to the three lifecycles of lesbian behavior: 1) Has a girlfriend, "is in love,"  2) is breaking up with a girlfriend and feels alternately "so in love" or "so alone," 3) Lindsay Lohan is a hot self-destructive mess. We're hoping that over the past few months, when not being terrorized by her psychotic father, she's had a little bit of "4" a well… you know, the part where you learn to love yourself so you can have other healthy relatiosnhips.
"You'll never share real love until you learn to love yourself, I should know." – RENT
If it is true, it's kinda a big deal — most out bisexual women in Hollywood tend to get one high-profile girlfriend and then keep on keepin' on with dudes henceforth (see: Angelina Jolie, Anne Heche). [Although Lindsay dated women before Samantha, Samantha was her first public serious relationship, the rest of them we're supposed to pretend never happened]
There's a few exceptions to this: Kristanna Loken (presently has a girlfriend, formerly dated Michelle Rodriguez (Michelle denies it, so whatevs)) and Tila Fucking Tequila (Courtenay Semel, Casey Johnson).
[Also, thanks to reader Anna for the tip, and to DJ Carlytron for three subsequent tips.]