by carolyn & riese
Header by Rory Midhani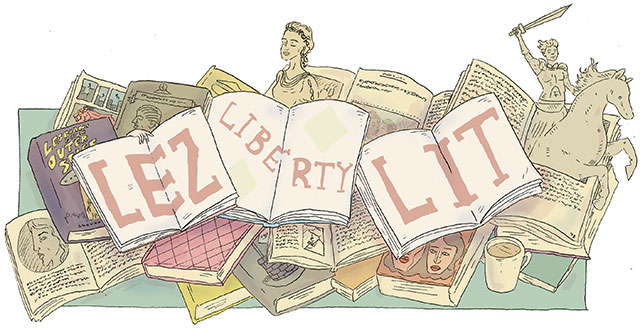 ---
Lit Links
Rachel Hurn writes about stalking lesbian poet Eileen Myles at the Paris Review:
"Eileen is a mess, Chelsea Girls is a mess, and I was a mess when I read it. My writing meaning nothing and everything: 'Wet words on soft limp paper. Holy Holy Holy.' I loved every one of Myles's sentences; I couldn't get enough. I could be like her, this fictional nonfiction character—this mild sort of fuckup—if I wanted to be. 'There would be such a future because something would happen to me. Soon. I was sure of that.'"
Harriet the Spy stands up well to a queer re-reading.
The California Department of Education has 32 "LGBT-themed" books on its latest list of recommended reading for students in grades K–12. Though similar lists have included gay content in the past, this year's is notable because of all the backlash its facing.
Related: this list of the 10 LGBT-themed novels every student should read includes Michelle Tea, James Baldwin, Jean Genet, Alice Walker, Alison Bechdel and more.
Amazon bought Goodreads and even though it's slightly upsetting it's important to look at the state of publishing before freaking out.
Ever wanted to see Rae Spoon and Ivan E. Coyote preform Gender Failure but it was sold out or you mixed up the dates or you live somewhere they haven't been to yet? Now you can watch the show online.
"Whom" is America's least-favorite pronoun, mostly because its users are both right but also pompous twerps. It's also been dying since 1826.
Word aversion (such as hating the word "moist") is part of human psychology, according to a growing body of literature and also Slate.
Writing programs should teach their students useful skills besides writing, like accounting, concentrating, grant writing and charm.
Discussing iconic women in literary L.A.
Sometimes the best insults are literary insults.
Just as the best graffiti is literary graffiti.
"Unnecessary" quotation marks, as used for unintentional comic effect.
Rae Spoon's First Spring Grass Fire has been nominated for the Expozine Alternative Press Awards.
At the Lesbrary, Anna reviewed Without Warning, a lesbian romance novel by K.G. MacGregor. Danika reviewed Licking the Spoon: A Memoir of Food, Family and Identity, by Candace Walsh. Kristi reviewed Hallowed Murder, a classic lesbian mystery by Ellen Hart.
At Lambda Literary, Victoria Brownsworth rounds up the best of spring lesbian mysteries, including titles by Robin Silverman, Charles Atkins, Mary Vermillion and more. Cathy Camper reviewed Calling Dr. Laura, a graphic memoir by NIcole J. Georges. Rachel Wexelbaum reviewed Body Geographic by Barrie Jean Borich. Courtney Gillette reviewed Nevada, a novel by Imogen Binnie.
Casey the Canadian Lesbrarian reviewed Emma Donoghue's Astray, a collection of interconnected short stories.
Don't forget to check out all the awesome book-related things we published recently: Gabby wrote about the new Sister Spit anthology and interviewed Michelle Tea. Rose wrote about mood in literature and a comic book about street harassment. Riese wrote about the National Magazine Award finalists. Vanessa interviewed poet and activist Andrea Gibson. Riese also wrote about 10 literary pinterests.
Events To Watch Out For:
April 6, Seattle: Sister Spit, starring Michelle Tea, Ali Liebegott, TextaQueen, Tamara Llosa-Sandor, Daniel LéVesque and DavEnd, will be at Richard Hugo House (1634 11th Ave), 8:00 p.m.
April 13, New York: Join Ryka Aoki, Imogen Binnie and Terrence Diamond for a panel discussion on the current state of new transgender fiction as part of the Rainbow Book Fair (Holiday Inn, 440 W 57th St), 1:00 to 2:15 p.m.
April 14, Pittsburgh: Author Imogen Binnie appears on tour for her new book, Nevada, along with poet Sohan Patel (5125 Penn Ave.), time TBA.
April 16, Toronto: Sister Spit, starring Michelle Tea, Ali Liebegott, TextaQueen, Tamara Llosa-Sandor, Daniel LéVesque and DavEnd, will be at the Gladstone (1214 Queen St. W), 7:00 p.m.
April 18, Chicago: Queer poet Andrea Gibson will be at the University of Chicago (5710 S. Woodlawn), 7:00 p.m. Call 773-702-1234 for details.
April 20, Chicago: Sister Spit, starring Michelle Tea, Ali Liebegott, TextaQueen, Tamara Llosa-Sandor, Daniel LéVesque and DavEnd, will be at The Hideout (1354 W Wabansia Ave.), 9:30 p.m.
April 23: Tonight is World Book Night.
April 24, Toronto: Author Imogen Binnie appears on tour for her new book, Nevada. Details TBA.
April 24, Columbia, Missouri: Poet Andrea Gibson will be at the University of Missouri. The Pride Parade is at noon. Her show is at 7 p.m. (Mark Twain Ballroom, Memorial Student Union, 518 Hitt St.). Call 573-882-2121 for details.
May 18, Scranton, Pennsylvania: Poet Andrea Gibson will be at the Vintage Center (326 Spruce Street), 7:00 p.m. Call 570.589.0271 for details.
Know of a queer event with literary merit? Send it to us!
What We've Been Reading:
Riese: Sigh, I don't even know where to begin with this book I picked up at Moe's. It's called Sexual Metamorphosis: An Anthology of Transsexual Memoirs and it's edited by Jonathan Ames, one of those nerve.com-ish self-deprecating bad-sex-exploits-telling funny insecure male writer guys. I used to read his stuff before I started hating men and would laugh sometimes. I'm pretty sure I've read him talking about having a trans* fetish at some point, which should've been an alarm re: this book, but regardless — the anthology is basically a collection of first-person narratives extracted from the memoirs and autobiographies of transgender people from 1886 until the present day. So, because I know one of the main criticisms of trans* narratives is that they're so frequently told by cis people, I was still excited to read this book despite my trepidation about Ames' background. In general as a human I'm kind ashamed of the ignorant and hurtful things I used to naively digest and believe about trans* folks, so whenever I see a used book written by a trans* person I pick it up, hoping to learn/understand better. And aside from the introduction, this book was by trans* people. And I did learn about so many people I hadn't heard of; like Caroline Cossey, Deirdre McCloskey, Christine Jorgensen and Jan Morris! But Ames' choice of excerpts was so problematic and almost a parody of itself: he literally extracted and published only the chapters and bits-of-chapters about getting dressed/putting on makeup, having surgery, being rejected by their partners, and having sex. I think I read at least ten detailed descriptions of surgery — and I'm not squeamish, but I wanted to know about their hearts and minds, not about surgery, and the first thing you learn about transgender media representation is that the media is overly fixated on The Surgery and The Sex and The Outfits, and so I felt annoyed/angered by the editor's fixation on these things. (Disclaimer: I'm a cisgender human, so please correct me if I'm wrong or misinformed about anything!) Anyhoo, I felt like Julia Serano would hate this book.
Carolyn: This week instead of reading books I cleaned out three boxes' worth of them from my apartment and then I spent a lot of time feeling vindicated about my current state of organization – and if that doesn't count as procrastination from my to-read pile I don't know what does. Anyway, then I read Selected Poems: The Vision Tree by Phyllis Webb, who I would describe as a less conflicted Canadian Eileen Myles. Webb pays a lot of attention to form, which is neat if you think about text a lot (relatedly, I also read Bonnie Mak's How the Page Matters), and quite a few of her poems seem to be about being in bed with ladies, and she uses an interesting combination of structure and playfulness.