Feature image via borjen.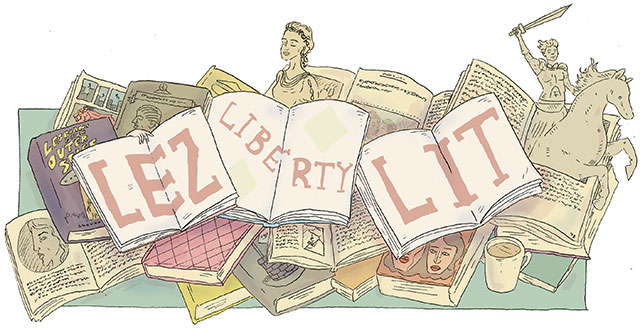 Things About Queer Books (And Other Books Relevant To Your Interests)
It's neat when "new" work by old dead authors is discovered; recently, someone at Yale found an unpublished story from Edith Wharton.
Having not just diverse writers, but also diverse editors and publishers, will help get diverse perspectives actually published.
Michelle Tea's Castle on the River Vistula, the third book in her Mermaid in Chelsea Creek series, comes out soon and McSweeney's has a preview:
"Sophie was surprised to find herself hesitant. She hadn't been above the waters in what felt like months, years, a lifetime. She had entered the creek in Chelsea one girl, and now, as she and Syrena prepared to swim into the mouth of the river, she was quite another girl entirely. Slowly she kicked her legs against the water, rising upward, the light growing brighter as she ascended, illuminating everything around her. She could see herself more clearly— her kicking, scuffed-up legs; her bare toes; the once-lovely linen jumper the Ogresses had fashioned for her, now in tatters. Her head tilted back and her eyes open, Sophie saw blue, a new blue, sharp and wide. Sophie saw the sky. At the sight of it she gasped, inhaling a mouthful of salty sea water. She broke the surface of the Baltic sputtering, her eyes tearing, her lungs heaving. Sunlight—sunlight!—caught the droplets that shook from her as she coughed, like bits of molten gold."
Rebecca Solnit, author of Men Explain Things To Me, writes at Lit Hub about Esquire's list of books that men should read, and how "the list is a reminder that the magazine is for men, and that if many young people now disavow the "binaries" of gender, they are revolting against much more established people building up gender like an Iron Curtain across humanity."
You might enjoy Voice: A Butch Stories Comic.
The 2015 National Book Award winners were announced.
Bad spelling is a monster.
You might not enjoy Winnie-the-Pooh's skull.
There are a lot more rock memoirs written by women these days.
Did Harry find a Horcrux in the fifth book?
Oxford's word of the year is the happy crying emoji.
You can now find out approximately how long it will take you to finish any book.
At Tin House, Claire Vaye Watkins discusses pandering and "how to write like a man," saying:
"Let us hear the stories we are telling ourselves about ourselves. Let us remember that we become the stories we tell. An illustration: I was talking with the writer Elissa Schappell about how much we are both anticipating Carrie Brownstein's new book. I asked Elissa what she made of this new trend of memoirs by badass women: Carrie Brownstein, Kim Gordon, Sally Mann, Amy Poehler. Was this trend the result of Patti Smith winning the National Book Award five years ago? Was the trend indicative of a new wave of feminism? Elissa interrupted me. "You keep using that word," she said. "Trend. It's not a trend. We are here now. We're not going anywhere. We are here now."

Let us embrace a do-it-yourself canon, wherein we each make our own canon filled with what we love to read, what speaks to us and challenges us and opens us up, wherein we can each determine our artistic lineages for ourselves, with curiosity and vigor, rather than trying to shoehorn ourselves into a canon ready made and gifted us by some white fucks at Oxford."
At the Rumpus, Tara Merrigan reviewed Carrie Brownstein's memoir, Hunger Makes Me A Modern Girl, calling it "a house-of-cards construction that allows Brownstein to shield her true feelings from the readers, at least superficially."
At Lambda Literary, July Westhale reviewed Dirty River: A Queer Femme of Color Dreaming Her Way Home by Leah Lakshmi Piepzna-Samarasinha. Anna Furtado reviewed Hurricane Days by Renée J. Lukas. H. Melt discussed the future of trans poetry.
At Autostraddle, Mey wrote about the complete history of trans characters in American comics. Melanie wrote about Rabbit Rabbit. Riese discussed tomboy fashion in YA novels she read in the 80s and 90s. I wrote about 1973's My Secret Garden.
Book Things To Do In Person
1 December: Submissions to the fourth volume of feminist Bikes in Space stories, with the theme of utopia/dystopia, are due! (Technically they were due November 1 but if you say you saw this on Autostraddle you will get a magical extension until December 1.)
1 December: Submissions for Topside's short speculative fiction anthology by trans writers are due.
1 December: Submissions for #Trans: An Anthology Collection about Transgender and Nonbinary Experience Online are due.
15 December: Submissions to Not That Bad: Dispatches From Rape Culture, co-edited by Roxane Gay and Ashley C. Ford, are open until 15 December.
Ongoing: For Books' Sake is looking for unpublished short stories from self-identifying women (especially women of color, queer women, women with disabilities and other marginalized voices) for its weekly Weekend Read. Submit any time.
Know of a queer event with literary merit? Send it to us! The Liberty Lit is bi-weekly.
---
Books! They are really great. You just won't believe how great they are. You may think that the Internet's great, but that's just peanuts compared to books. In Lez Liberty Lit, we talk about queer books and literary shit that's happening that you should probably care about.
The name "Liberty Lit" was inspired by the short-lived literary journal produced by Angela Chase at Liberty High School in 1994.