feature image by rebecca finley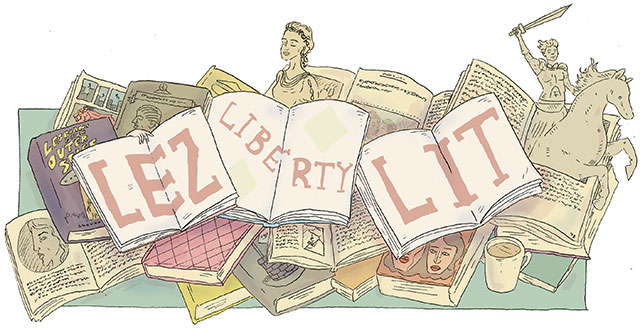 Malinda Lo wrote about #dontselfreject, a hashtag Rose Lemberg created to discuss how marginalized writers have a difficult time believing their stories matter, and about her experiences rejecting her own work:
"We live in a world chock full of stories — on TV, in books, advertising, movies, online, everywhere you look people are telling stories. However, the vast majority of those stories are about a certain kind of person: generally white, usually middle class or upper class, typically male, almost always abled, 99% of the time straight. If you live in that world and are not male, middle class, white, abled, and/or straight, you hardly ever see anyone like yourself in any media. As a writer, it can be incredibly hard to imagine telling a story that is fundamentally different than pretty much everything else you've read."
Relatedly, Nia King's new self-published Queer and Trans Artists of Color: Stories of Some of Our Lives is a collection of King's interviews with 15 artists: "King writes that she didn't think it was possible for people to make a living from their art, especially not queer brown people. '[It] seemed hard enough without the additional challenges of racism and homophobia working against you,' she notes."
Chimamanda Ngozi Adichie's new short story, "Olikoye," is available on Matter.
Many sci fi writers in the 70s and 80s explored bisexuality where mainstream writers did not. In her overview of bisexuality in science fiction, Cecillia Tan writes: "I was drawn to science fiction because while I didn't see space for myself to exist in contemporary stories, I could imagine a world that included people like me only by imagining other worlds. I wasn't the only one who felt that way: many writers also used the expansive canvas of worldbuilding and futurism that science fiction afforded them to explore sexuality 'outside the box,' and bisexuality in particular is a trope that has been explored variously in every era of the genre."
Roxane Gay discussed Bad Feminist and being a bad feminist, bodies, sexual assault and her next nonfiction book, Hunger, at Salon. She also categorized her 2014 reading list at the Butter.
Mary Oliver's memoir slash eulogy to her longterm partner is excerpted at Brainpickings and is the sweetest: "I took one look and fell, hook and tumble. M. took one look at me, and put on her dark glasses, along with an obvious dose of reserve. She denied this to her dying day, but it was true. Isn't it wonderful the way the world holds both the deeply serious, and the unexpectedly mirthful?"
The Millions' 2015 book preview is out and everything is beautiful and nothing hurts. (Gawker had one too.)
Haley Mlotek wrote about what saying Joan Didion is your favorite says about you: "The act of anointing Joan Didion as our favorite, our best, our everything, is the act that reveals what we're trying to say: that we're cool, that we're educated, that if we are not young and white and slender and well-dressed and disaffected and sad and committed to the art of writing as an arduous and soul-sucking process that must be endured yet Instagrammed simultaneously, then we will be, at least, as close as possible to those identifiers even if it kills us."
Read more YA with trans characters.
Also read more Muriel Spark.
There may or may not be such a thing as the great American novel.
If you want to donate books here is where to do it.
You, too, can interview a lady writer.
The Paris Review excerpted an old interview with Patricia Highsmith in which she discusses her general dissatisfaction and how artists are similar to criminals.
What if everyone were to stop saying "bae."
At the Lesbrary, Kalyanii reviewed Don't Bang The Barista by Leigh Matthews. Ashley wrote about the upcoming queer YA she's most excited about. Audrey reviewed Teaching the Cat to Sit by Michelle Theall. Amanda Clay reviewed Make Much of Me by Kayla Bashe.
Casey the Canadian Lesbrarian reviewed Kate Cayley's when this world comes to an end.
At Lambda Literary, Victoria Brownsworth reviewed Blackmail, My Love by Katie Gilmartin. Theodosia Henney reviewed You're Not Edith by Allison Gruber.
Recently on Autostraddle: Mey wrote about Agents of the Realm and shared an exclusive preview of Help Us! Great Warrior.
Know of a queer event with literary merit? Send it to us! The Liberty Lit is bi-weekly.
What We're Reading:
Carolyn: I read Like a Beggar, a recent collection of poetry by Ellen Bass that I actually read twice: first all at once and then slowly, poem by poem.
Riese: I am making great enormous generous strides towards completing Harry Potter and the Prisoner of Azkaban and am REALLY loving and almost done with Americanah by Chimamanda Ngozi Adichie. It's really good you should read it.
---
Books! They are really great. You just won't believe how great they are. You may think that the Internet's great, but that's just peanuts compared to books. In Lez Liberty Lit, we talk about literary shit that's happening that you should probably care about.
The name "Liberty Lit" was inspired by the short-lived literary journal produced by Angela Chase at Liberty High School in 1994.