Because you deserve to be the best dressed homo in the office. Read previous posts here.
Header by Rory Midhani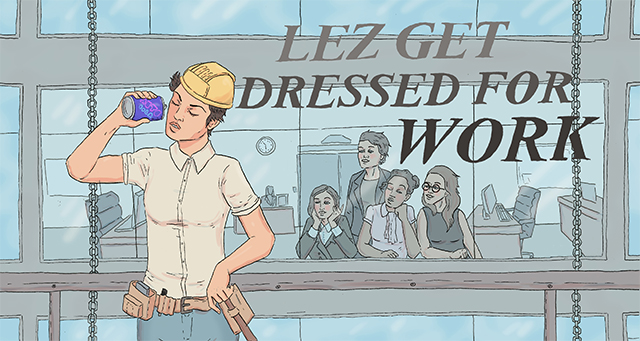 ---
Today I want to talk about how to dress for work when it's super fucking hot outside and you don't wear dresses. As I said when we talked about this issue for femmes, (literally going to just quote myself here, hope that's okay with you) having a job to go to in the summer is a special brand of hell. Between the heat outside, the air conditioning inside, the schlep to and from the office, and your sanity, dressing for work in the summer is real challenge. As a people who, in general, know their way around some layers, it can be jarring to suddenly have to make an outfit out of as little clothing as possible.
Plus, if you're masculine of center, your clothing options are already limited by the hyper-gendered nature of work clothes. I'm going to be pulling from both men's and women's clothes for this — if you're shopping online, make sure you measure yourself first, especially if you're ordering a "gender" of clothes you haven't tried on in person. Men's clothing doesn't fit the same as women's and vice versa, though it can definitely fit. My girlfriend has taught herself how to tailor men's shirts to fit her, which for her involves just making them shorter, because that last button is trouble, as men's hips are generally more narrow than women's. If you just make the shirt shorter though, it won't go over your hips and everything will be great.
Dressing for hot weather involves wearing less clothing for everyone, obviously. For more masculine clothing, it involves a certain amputation of your clothes' limbs: pants become shorts, long sleeves becomes tee shirts, etc. For optimum temperature regulation, you should also change what material you're wearing, and, importantly, your clothes should be a little looser. Nothin' like getting some ventilation in there.
Depending on wear you work, shorts may or may not be an option. I love the Gap's new "boyfriend" roll-up shorts (left, below), particularly because they are a lot longer in person than on the models shown (models have very long legs) and they feel very business casual to me when worn with other nice things. However, if you can't wear shorts to work, cropped dress pants are a very reasonable options. According to Rae of The Handsome Butch, "Showing some ankle cools you off, and looks stylish, so long as you don't wear socks. Wear boat shoes or other shoes that are forgiving when sockless." (I don't know if you know this but the images below are linked to the products. If the images aren't linked there will be a link in the caption. I just want you to be able to buy things you want.)
When it comes to picking a summer color, if you're particularly sweaty, you might want to do a sweat test. Wet your fingertips and push them into the inside of the fabric. If the moisture on the other side is super noticeable, it's probably not going to be an ideal thing to sweat in. Darker colors tend to pass the sweat test more, though they are harder to wear in the summer months. So, to comfortably wear a color you can sweat confidently in, you'll also have to pick a summer-friendy material.
According to Rae, the best material you can bestow upon your hot sweaty workin' bod is linen, which is lightweight and breathes well. "Also," she says, "Seersucker — which is more of a texture than a fabric — when made out of cotton breathes extremely well. Seersucker is also a good option because it doesn't need to be ironed, unlike linen. Acrylic is a good option as well."
As for your top half, Uniqlo has an amazing line of linen menswear right now. A short sleeve linen button front shirt is maybe what your summer work attire is missing.  Rae gave me permission to advise you to wear a tie with this outfit (Uniqlo is also currently conveniently selling linen ties, go look at them), and adds that you can even leave your top button undone and loosen your collar. Remember: everyone is a little bit more casual in the summer, verging on sloppier. Looking comfortable in what you are wearing, even if it's casual, will make you look better than someone super dressed up who is clearly suffering from heat and sweat.
Uniqlo is also currently selling linen vests and blazers, so if you work somewhere that's air conditioned to be a walk-in freezer, you can bring your layers with you and put them on upon arrival. I highly recommend not getting fully dressed until you absolutely have to be when it's hot out.
Okay bois, what are your hot weather work attire secrets? Don't keep them to yourself. Also while I have you here, can you guys start sending me pictures of yourselves in your favorite work outfits? I really think that's what's missing from the internet right now. Thanks have a great weekend, don't think about work too much!