trans*scribe illustration ©rosa middleton, 2013
I have peed on sacred ground and no deity has struck my hot trans* ass down. I have peed in the American West. I have peed in the truckstops and the rest areas. I have peed in the foothills. I have not been misgendered! (Take that, Winston Churchill.)
I have also walked arm in arm with my girlfriend at a midwestern Christian college. The worst that happened was bubbly undergraduates asking if we wanted some coupons. This past year of my transition, 2012, has been one of road travel with many miles revisited across numerous American states.
My first road trip occurred in the summer, when my girlfriend and I moved her brother to college. It was also when we visited my mom to tell her in person of my transition. Needless to say, it wasn't quite a carefree emotional vacation. Yet there were light moments. On our drive between these two events, we stop to get some snacks. As we wait, a hitch-hiker engages me in conversation:
"Are you guys sisters?"
–No.
"Mother and daughter?"
I look askance. "No. We're partners."
After 7 years together, that word still strikes me oddly. It's the best word we've got since we have no interest in marriage. Before transition, "girlfriend" bestowed more heteronormativity than I was comfortable with. At least "partner" introduced queer connotations. Now, though, I'm loving "girlfriend" because of the obvious queerness. It's a linguistic stake in the ground declaring us a girl-girl couple.
Our stoned friend continues, "business partners? Travel buddies?" My partner finally turns around and states: "girlfriends." "Whoa! That is so cool!" he goes on and on. We take our food and go back to the car. Two hours later, we're back in Chicago having dinner with good friends and recounting our day.
Anxiety Checklist
I'm no newbie to the road, having driven 44 states and 6 provinces — more than most people I know. As a genderqueer non-binary male, I bore the cross of whatever locals and cops assumed about me. Those assumptions are gone now, replaced by new ones. So after my first successful trip with my girlfriend, it was obviously time to take my show on the road solo, right?
Not the least of my concerns was driving my friend Xene's unfamiliar Prius from Seattle to Omaha through possibly inclement November weather. Yet, my larger concern was driving solo as a woman. My overactive imagination wrote the scenarios of the damsel in distress as if my extensive experience had been nullified. Additionally, it wrote the narrative of the trans* victim trope. I'd be lying if I said that my sheer excitement was not perfectly balanced by sheer fright.
Unlike summer, I was on my own. Outside of Seattle, I had no idea what to expect. There aren't many positive narratives about road-tripping trans* women outside the comparative safety of the urban archipelagos.
A definitive, six-question "What Rogue are you?" internet quiz identified me as a highwayman. That's cool and fitting. Unlike Noyes' Highwayman, I made it back fine. Like him, though, I may have engaged in crimes. Exhaustingly, peeing while trans seems a radical political act these days and possibly an outlaw act depending on the jurisdiction.
Correct documents notwithstanding, I was still transporting my penis across state lines. I couldn't help but have a few concerns. For example, I'm callous and lazy; I refuse to tuck. I don't go out of my way to highlight my non-standard equipment. However, I can't be arsed with providing the cis world the misguided satisfaction that I'm ashamed of my anatomy. It's turned into a point of pride as well as a bizarre, TMI-based, political statement. It's taken me many years to finally realize that I fucking love my body, all of it.
Yet it's a defiance I embody while comfortably ensconced in queer-friendly Seattle. Reality is different outside the archipelago, where political statement can become tempered by survival concerns. What could go wrong?
Naturally, these concerns would play out in the many restrooms along the route. Spiro! Amirite ladies!? I can't be the only transwoman who feels a little vulnerable every time she stands up exposed to those two, centimeter-wide gaps, stage right and stage left, on either side of the stall door. Intellectually, I understand I see more outward than people see inward. Yet in the unfamiliar hinterland, informed scientific knowledge takes a backseat to survival paranoia.
Armed with equal parts excitement and fright, callousness and caution, I leave Seattle's warm, queer embrace. I feel a little like Bernadette in Priscilla, piloting my vehicle into uncertain territory. All I'm certain of is that I have timelines and I must proceed as the way opens.
As with all proper road trips, this one gives me time to think. Thoughts become beautifully disjunct as the placelessness, unfamiliarity, and discovery distort time in strange ways. The following thoughts cross my mental field of vision. They aren't fully formed, much less resolved. They're starting points for future travels, literal and figurative.
Interstate 90 East; Mile 37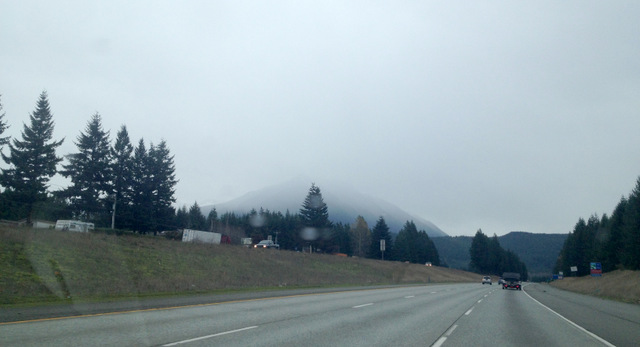 Truck Nutz! On the west side of the Cascades? Well played, Washington! As it'll turn out, these are the only pair of danglers I'll see. It's cold, after all; I suspect most have fully retracted toward the gas tank until April at least. I revisit my fantasies about welding a vagina dentata to the front of my Jeep: Truck Teeth!
Eastern Washington
At a rest area, a car parks next to mine. Two women about my age get out of the car. Having known fanfic, I can't help but ship them. Of course they are a couple. The subtext will not allow anything less! There's far too much heteronormativity out here anyway.
Despite my imagination, something real happens in a single second. As I sit in my car, fiddling with my iPod, I look up at the driver. As she looks back toward her car, our eyes lock through the windshield for the briefest moment. I'm shook by her subtle expression as she glances my way and non-verbally communicates something wonderful. A warmth washes over her eyes and she flashes the subtlest of smiles. I stop. I probably flash a smile. I feel complete reassurance. I feel admiration. I feel acceptance.
I've never experienced this before transition but I've been sensing it ever since. When read as a woman by another woman, especially in unfriendly or unfamiliar spaces, I get this knowing look like some secret handshake. It's a feeling of solidarity maybe? I don't know exactly but it is completely affirming. Even now, writing about it months later, I'm deeply moved. I tear up every single time I remember it.
Thank you, unknown traveler, you have no idea how much this means to me.
South of Butte, north of Pocatello
The previous night I visited my librarian friend, Regan. We discussed Montana's "live and let live" ethic and Butte's "toughness". As this was my first visit since, we talked about transition as well. Toughness. I cringe when people call me brave. My evolution and becoming has been absurdly, laughably easy compared to others. Still, I appreciate the sentiment.
The road from Butte is the most treacherous, with ice and blowing snow. With resolve, I pilot myself the best I can, through obstacles and hazards. Perhaps I'm finally starting to internalize my own agency and accomplishments. Sometimes I even believe some of my hype.
Pocatello, Idaho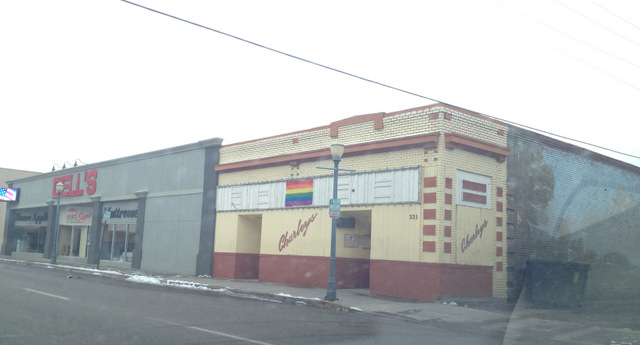 One thing I love doing on solo trips is pulling off the interstates around larger towns and driving through their centers. In all these towns, I'm struck with the social landscape's overwhelming heteronormativity. I get enough polite looks from trucker dudes, but I'm missing glances from lady-loving ladies. I've been getting these more often at home and I really love them. So, this trip reminds me just how much of a fabulously amazing queer bubble Seattle is. I no longer take this for granted. On the way out of Pocatello, I do manage to stumble across the gay bar. Queerness exists in the heartland, imagine that. We're everywhere.
Salt Lake City, Utah
I had two missions here. Foremost was visiting my friend, Greg, now a university librarian. As it turns out, his partner has written on legal issues of trans* discrimination in bathrooms. These are the coincidences in my life. I've chosen correctly to visit friends along the route – the perfect balance to many miles spent alone.
Before seeing my charming friend, however, I planned to pee at Temple Square. Yes, it's sophomoric. However, given my mischievous agnosticism and the LDS's relationship to TBLG folks, I wanted to leave this symbolic mark. If nothing else was accomplished during this trip, it was imperative, as a queer trans* woman, to urinate at Temple Square and bear witness to the stunning lack of consequences, divine or otherwise. Peeing While Trans* is a theologically symbolic act, too.
Reader! Next time you visit the amazing North Visitor Center, think: a trans* woman urinated here! The time of the Great Mundane Micturition has passed! We are still here. And I am still peeing. I'm thinking of taking this superpower back on the road, hiring myself to ranchers to mark territory.
Wyoming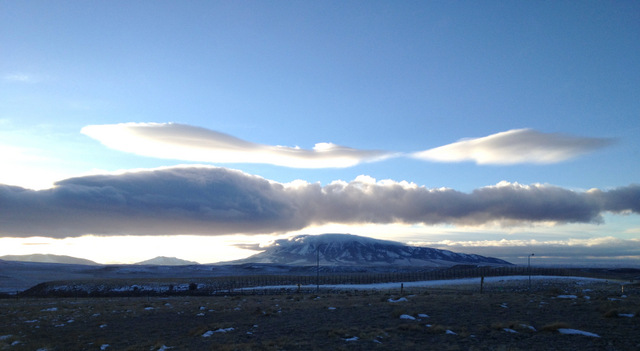 Wyoming is the Equality State. Women here achieved suffrage way back in 1870. Additionally, a number of notable political firsts for women have occurred here. For the moment, I take Wyoming's claim to equality at face value and head into Laramie to have dinner with Kaijsa, yet another librarian friend.
The previous evening, my friend, Cheryl, messaged me: "Safe travels, cowgirl!" Such tiny little words, finally in the correct gender, make me so profusely happy I could squeal.
Sydney, Nebraska
At the motel, the young dude checking me in is checking me out. I think. He's chatting me up with sheepish laughs and cutesy jokes giving him away. My deeply internalized self-doubt interjects. Exactly 63 reasons other than I'm an unaccompanied chick come to mind. Such ridiculous back-bench arguments occur in my mind's parliamentary chamber.
I'm quite certain my boobs have been speaking for me. Among several passports granting me passage through the heartland, my boobs are among them. My back-bench voices still try to shout down claims that the face in the mirror is a woman. My front-bench boobs counter those attempts with aplomb. Steadfast against compromise, rising from obscurity, they are fierce diplomats. I can really fill out a pair of A-cups, let me tell you, yet they are larger than life. They take after my tedious extroversion. Regardless how I feel about my face, I flash myself a bit of cleavage and snap back to affirmative reality.
Even I am mesmerized by the ideological power of my own boobs.
North Platte, Nebraska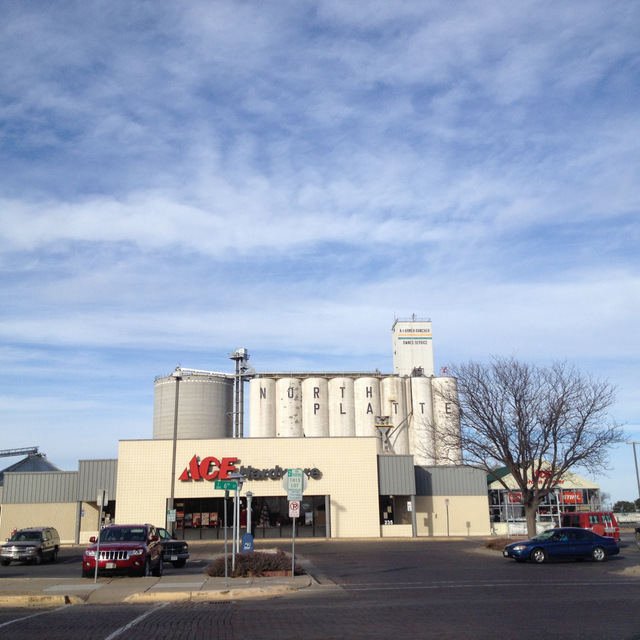 After some exploration in town, I drive out the long way on the business loop. There's a cop some distance behind me. I know they're going to follow me to the interstate because that's where their work is. Still, it makes me nervous to be around cops when I'm a long way from home.
By this fourth day on the road, I cannot ignore that my vanilla whiteness bestows me an unchecked passport through the heartland. It's been the elephant riding with me. I'm a middle-aged white woman in overwhelmingly white America. My whiteness and age combine, lending me a certain invisibility that works systemically in my favor. This is partly why I don't see myself or this endeavor as exceptionally brave. I'm still trying to figure out what I can do with this passport to help open the world for those who don't have similar privileges.
In the end, unsurprisingly, a whole lot of intersectional issues followed me out of the city and hitchhiked cross-country. I'm being an urban snob but I suspect most people figure that trans* people exist… somewhere else. I have stronger suspicion that most people I ran across in the interior wouldn't ever expect to see a trans* person in their part of the country. This invisibility leaves me unchallenged.
Omaha!
I have arrived! My confidence now can propel me to the Atlantic. Xene takes me out for dinner and a tour of Omaha that includes a dive bar… serving strawberry champagne… on tap. This is one classy city.
The following day the whole family and I go to the zoo, have lunch, and visit a playground. While I have no desire for kids of my own, I'm happy and honored to be any visible, positive combination of queer and trans and woman in my friends' and their kids' lives. I'm actually fairly excited about becoming crazy Aunt Amy.
Xene first introduced me to her 3 year old daughter (Hi Cleo!! *waves frantically*) a while ago, before transition. She mentions telling Cleo that she'd see me again because I was coming. At one point, her daughter asked, "So Amy is a girl now?" Her daughter accepted this without too much effort, Xene tells me. Kids are usually more amazing about these things than adults, I've been finding.
Remarkably, as my parent friends keep telling me, kids show amazing, nonchalant acceptance of the fact that people can change genders. It strikes me now that this familiarity may actually be why bigots are afraid to have queer/trans folks around children. Kids accept us as people and will grow into accepting adults.
This trip bookended the final administrative dealings of my transition. A week later, I received my shiny new passport, replete with hilariously unflattering photo. I am now a fully legally credentialed woman. I'm still learning, over-stepping, and growing, of course. But as far my (re)appearance into the world, I have arrived.
I am Amy autonomously, who drives across the cross-country because it seems like a scary and fun thing to do. But mostly, the road is wide open and I must keep moving forward.
---
 
Amy Dobrowolsky lives in Seattle with her lovely librarian lady and their two lady cats. Let the stereotypes commence! When she is not driving, wrenching on her Jeep, or building art cars, she is an insufferable academic working toward becoming Dr. Amy. She blogs academically at urbanarchives.wordpress.com and tweets inanely as @AmyBoldItalic because Emphasize All The Things!!