Last week, just as we were delighting ourselves with news of Roxane Gay's engagement, Lena Waithe was making her own waves by announcing that she'd secretly wed her longtime partner, fellow Hollywood producer Alana Mayo — demonstrating both that black queer joy is real and that 2019 is ending as a full on lesbian love fest!
"We snuck and did it," Waithe told John Legend (who was guest hosting The Ellen Degeneres Show on Friday).  "You know, I didn't make any announcements."
"We went to San Francisco," she continued. "We went to the courthouse, got married right in front of Harvey Milk's bust. It was her idea, as all good things are."
The weight of the decision to be married there isn't lost on us. The 1978 murder of Harvey Milk in San Francisco's City Hall became a generational rallying cry for gay rights. In 2004, San Francisco mayor Gavin Newsom began issuing marriage licenses to same-sex couples at that same location, making it the very first place in the United States to perform a legal same-sex marriage. To be married there, committing yourself to your partner and declaring your love right at the center of all that swirling history? It's hard to even imagine.
If you've followed Autostraddle's coverage before, then you maybe heard us jokingly refer to Lena Waithe as our collective imaginary celebrity girlfriend, as she's better known around these parts. We may have to retire the moniker and pour one out for our homie, but for Lena and Alana it's definitely worth it.
It would be almost impossible to describe how singular — how stunningly, breathtakingly one-of-a-kind — it is to witness the love between two black women flourish on a public stage like this one. Black love itself is an act of revolution. Finding beauty and gentleness and care in the very same blackness that institutional power has taught you loathe about yourself is brave. When harnessed, it's earth shattering. To love a black woman and be loved by a black woman is sacred; I couldn't be more ecstatic that Lena and Alana get to share that together.
After the news of their nuptials went public, the couple spent the weekend partying at the premiere of Lena Waithe's new film Queen & Slim (totally not the point here, but damn I can't wait to see that movie) and sharing all their giddy, sexy, playfulness with their followers on Instagram.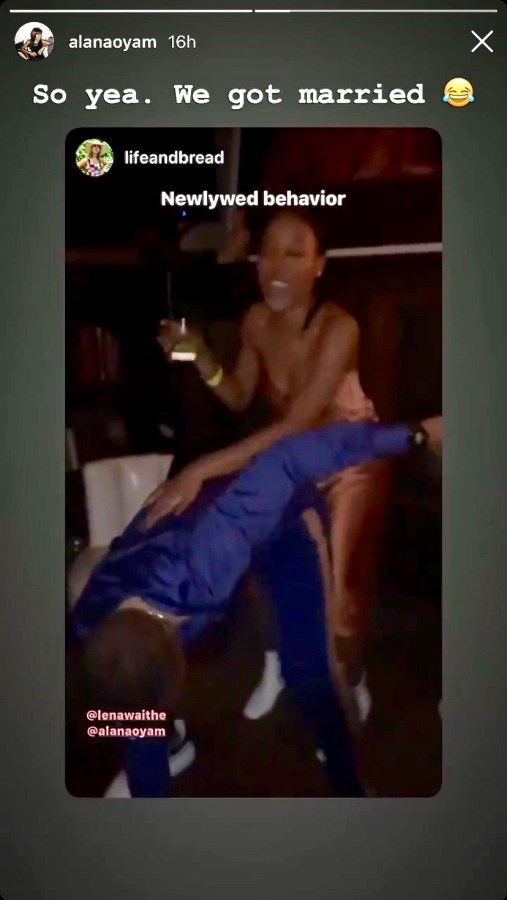 Our warmest congratulations and love to Lena Waithe and Alana Mayo! We're wishing you many years of dancing and happiness ahead.