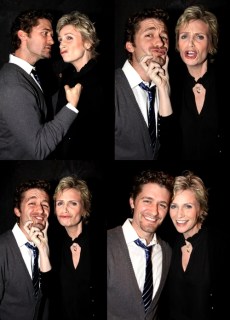 GLEE: Ryan Murphy on the future of GLEE and his conviction that The Lynch can do no wrong Obvs – "Sue will never take a backseat on the show ever because Jane is so fantastic and we write so heavily toward her… people love her. If you thought she was bad in the first 13, she's doubly wicked and funny in the [rest]." Kristen Chenoweth coming back, 10 Madonna songs:
"I just think you had to fall in love with the characters," he added. "It's a very universal idea that everybody feels like an outsider, I think that's what the show's about. Everybody feels that way no matter how popular or famous or rich you are."
Murphy told The Wrap that next season, he'll be doing "an average of eight to 10" songs per episode. (@thewrap)
GAGA: Lady Gaga is MTV News's Woman of the Year! We just want you to know that when we finally finish all our year-end lists, that we started them like three weeks ago so we're not copying: "Gaga's work shows a sense of performance-art and theater that, these days, is arguably rivaled among major artists only by that of Kanye West, which is why their ultimately cancelled "Fame Kills" co-headlining tour made sense artistically (although many were baffled by it). She makes every public appearance into an event." (@mtv)
JESSICA CLARK: Smokin' hot model Jessica Clark has some tips for gifts for the lesbian in your life. Probs you have lots of lesbians in your life, unless you live with polar bears or straight people. HAPPY FRIDAY (@ourscenetv)
MEREDITH BAXTER: Meredith Baxter is gonna write an autobiography. Riese finds this very exciting because she loves reading memoirs or auto-bios by people who went to her boarding school, like Marya Hornbacher's Wasted, which we also recommend, and which is probs a bit more depressing than Meredith's book, which I bet will be super good and have lots of Michael J Fox gossip in it. (@cnn)
RIHANNA: The new video for Rihanna's track, "Hard," hit the web late yesterday afternoon. The message she's sending comes through loud and clear: She's hard. As in tough. But as we all know, there's more to this story. (@jezebel)
LOHAN: Lindsay Lohan has had a busy week! At Voyeur with Kevin Connolly on December 16th, where Courtenay Semel was inside, talking smack about Tila Tequila and Casey Johnson (she gives them "five more days") but not commenting about whether she'd seen LiLo there. On December 17th she was at Brian Wilson's Hollywood Hills shindig with Leonardo DiCaprio and other famous people.
ELLEN VON UNWERTH: Ellen Von Unwerth (our second-favorite photographer) shoots Lady Gaga (our favorite person) and Cyndi Lauper (our favorite ally) for M.A.C. Viva Glam (our favorite makeup). Like everything Ellen touches, this is sure to be golden: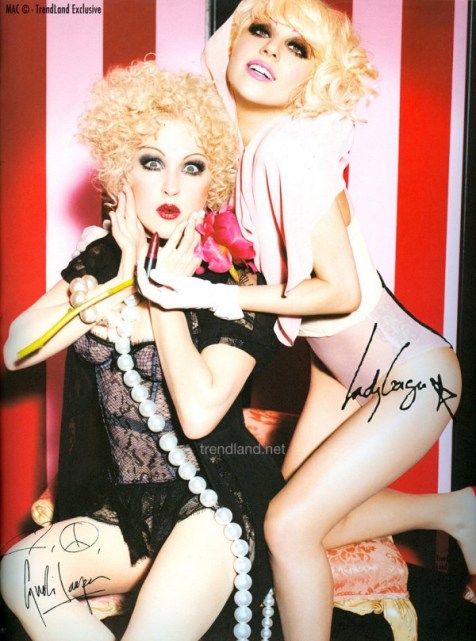 '09 AWARDS: Best TV Lines of 2009, contributed by hundreds of people on Twitter. (@latimes) BONUS: Many of the quoted shows are Televisionary regulars.
VOGUE: Vogue Lets You Choose Best-Dressed Women of the Decade and I hope you all pick Lady Gaga. (@vogue)
AVATAR: Fox banks on James Cameron's $380 million Avatar (@washingtonpost), Men snapping up Avatar tickets in pre-sale; women, not so much (@nydailynews)
CLASSIC MOVIES: BBC's crib sheets on how to pretend you've seen 10 classic films, including Autostraddle favorite Alien:
In a line: Ultimate parasite hitches a lift on a space freighter.
Plot summary: Intergalactic miners are wakened from their hypersleep by a distress signal from a planet they pass. They investigate and find a mummified craft with egg-like structures. One of the miners gets a crab-cum-hand thing attached to his face. It disappears as mysteriously as it attached itself but later, something suddenly bursts through the host's gut after a meal. It proceeds to eliminate everyone on board with the help of an android crew member.

Buzzword bingo: Hypersleep, parasite, molecular acid, cryogenics.
Key line: "It's a robot. Ash is a goddamn robot."
Key scene: Ripley has managed to escape to the shuttle but has forgotten Jonesy the cat. She just has to go back and get it.
TINA FEY: Steve Carell & Tina Fey are attached to star in Mail-Order Groom, a film conceived by 30 Rock writers. (@latimes)
JERSEY SHORE: Teacher who punched Jersey Shore girl apologizes. (@nypost)