KEVIN SPACEY:
It is "common knowledge" that he's a big homo despite never declaring himself so — not that the 1997 misleading Esquire headline teased that "Kevin Spacey Has A Secret" did him any favors to keep a low-profile. Unlike John Travolta, Kevin Spacey never tried to actively cover his tracks with a heterosexual image. Spacey never married and procreated with some young Hollywood ingenue — he took his mom to the Academy Awards the night he won for American Beauty. Is that good enough to earn him the right to privacy and respect from those who just want to hear the words come out of his mouth?
When Daily Beast writer Kevin Sessums offers to go off the record for an honest conversation about his sexuality, Spacey is uncharacteristically totally game to keep that shit ON the record and proceeds to argue pretty successfully for his right to stay in the "glass closet."  When the interviewer challenges with: "we gay men have always proudly claimed you as a member of our tribe, and yet you don't proudly claim us back," Spacey opens up more than you'd think:
"People have different reasons for the way they live their lives. You cannot put everyone's reasons in the same box. It's just a line I've never crossed and never will. … I don't live a lie. You have to understand that people who choose not to discuss their personal lives are not living a lie. That is a presumption that people jump to. Look, at the end of the day people have to respect people's differences. I am different than some people would like me to be. I just don't buy into that the personal can be political. I just think that's horseshit. No one's personal life is in the public interest. It's gossip, bottom line. End of story…"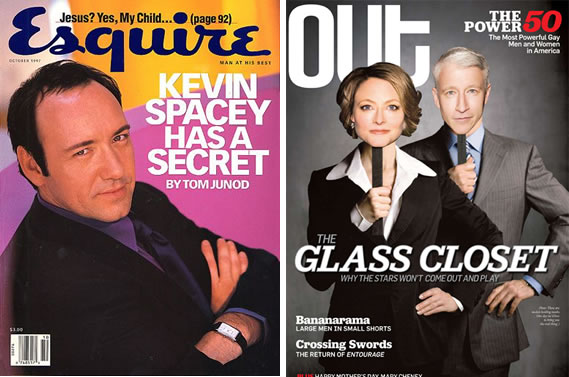 Later in the interview Sessums brings up how powerful it would be to see Spacey do an "It Gets Better" video, and Spacey agrees and says he'd "absolutely" do it.
Sidenote, have you seen The Ref? Greatest.Christmas.Movie.Ever.  (@dailybeast)
JOHN TRAVOLTA:
Speaking of gay A-list actors, news of Carrie Fisher's John Travolta outing has gone mainstream and is a officially free-for-all for talk show pundits. Now you have hard evidence to show your uncle at Christmas dinner!
.


ROSIE O'DONNELL: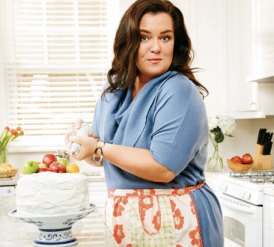 Have you heard that Rosie O'Donnell is going back to daytime TV next September on the Oprah Winfrey Network? It seems the show will be in the single topic Oprah format, rather than The Rosie O'Donnell Show mold of yesteryear:
"This show won't be as celebrity focused; guests won't be promoting their movies for eight minutes. The show will be about real people and real issues. I'll focus on a single topic for one hour, things people deal with every day. Raising children. The education system in America. Autism. Relationships, health, weight, depression—and happy stuff, too, of course. I envision the show being full of love and laughter."
(@omagazine)
ADAM LAMBERT:
You've already seen his E! True Hollywood Story, but this brand new interview with CNN Asia allows for more introspection on his part. He reveals that he still isn't sure whether he wants to be a spokesperson for the gay community and goes deeper into the AMA performance backlash than I've seen before. He also talks about the concept of fame and how he handles it.