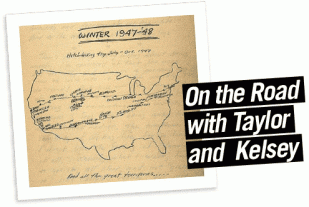 In lieu of recapping for you the most uneventful leg of our journey, we offer you what road trip wisdom we gleaned during the beginning of our epic coast to coast extravaganza. Our last installment left off with us going out-of-our-minds-crazy in Pennsylvania and then eventually hitting the road. And when we finally did, we started learning some invaluable Life Lessons, some the hard way, which is the way where you don't watch a tutorial on YouTube.
After escaping the state of Pennsylvania, we set off for Charlotte, NC, home of a thing Kelsey is related to. We chose the rest of our route primarily based on where people would let us into their houses or sleep with us. Or ideally a combination of these two factors. Here's what we've learned so far:
Road-side Yoga:
Open your hips, a woman with soft hair once told us. So we did. But seriously, your ass is going to hurt really, really bad after 8-13 hours on the road every day. So hop out of the car at  the next (not rapey) rest stop and confuse the rednecks and eurotrash with a little highway-side yoga. You'll look weird, but at least it isn't Tai Chi.
Kelsey's fave pose: Downward-facing dog, with one leg extended in the air. Roll your hip open and bend the knee of the lifted leg in that way that looks awkward.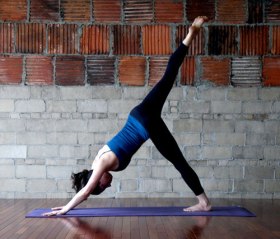 Taylor's fave pose: Chair pose/thunderbolt, which everyone except me hates.
Accessories:
+ Smartphone w/Google Navigation or GPS system. (I didn't think we'd use this much, but when you're delirious and arriving in a new town after dark, having a brash robot woman order your around is just what the doctor ordered. We named ours Margaret and we're Working It Out.)
+ A fake Navajo indian blanket (Kelsey's mom donated to a fake native american organization/Ponzi scheme and they sent her this "handmade" (fleece) throw that is most excellent).
+ A neck pillow. They have animal-shaped ones, so hit that.
+ Purell pump for car door access
+ A minumum of 5 different pairs of sunglasses
+ Bandanas in a minimum of 3 colors (red, navy and a third of your choosing– go wild!)
+ Camera that isn't a phone camera
+ Bathing suits and stolen hotel towels at the ready
+ Physical maps. The kind that fold out and aren't made of pixels
+ Anything you can wring out of AAA (Get a AAA membership!)
+ Tresemme Fresh Start Refreshing Mist. This stuff is amazing, smells amazing, and makes your hair unweird when you can't shower as often as is socially acceptable.
+ These playlists Autostraddle made for you a while ago!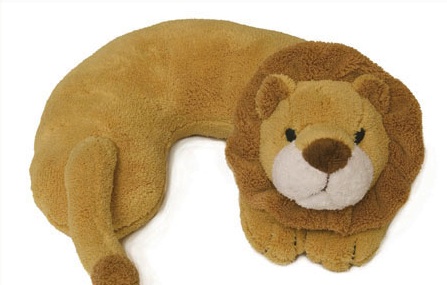 Infinite NPR:
Print off the PDF that lists each state's NPR stations. Taylor's fave NPR programs include All Songs Considered, A Prairie Home Companion, World Cafe and All Things Considered. Also all of the other programs that aren't classical music.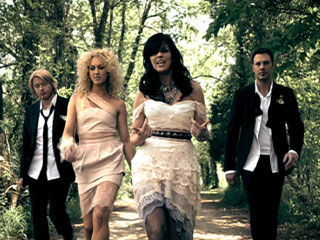 Listen to Country Music:
In a desperate attempt to remain conscious on a particularly harrowing stretch of Virginia highway late at night, we turned to country stations. For many of us, modern country is altogether alien, and listening to can be compelling, like observing some kind of bizarre, possibly lesser indigenous people. I'm from the South, so I'm allowed to say that.
During the course of this we discovered our new fave song, a real gem called "Little White Church." (Go watch that, it won't let me embed it because record labels like to market their music by not letting you listen to it.) (Buy it) Now we are authentic country music listeners.
Know When to Stop Eating Mexican Food:
A few months prior to the road trip, Kelsey and I became vegetarians. I think we'd both like to be locavores, but we're gonna figure that shit out in San Francisco. We also made a no fast food pact, and at the time of writing (day 13 of the road trip), we've (I've) only broken it once, somewhere in rural north Texas when I lost my mind and bought and consumed fries when Kelsey wasn't looking. Anyway, the moral of the story is Mexican food. Eat Tex Mex, New Mexican, Cal Mex, chile everything. Never stop eating mexican food.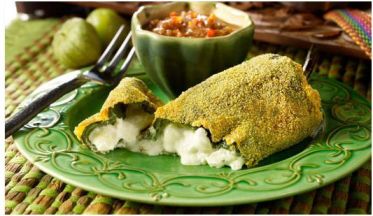 On Substances:
What to take: Beer (buy local beer in each state–it's like an alcoholic scavenger hunt!), bourbon, a pack of light cigarettes (NOT American Spirit periques or Camel Reds), double shot espressos in those little cans. And try to buy adderall from your ADHD friends along the way, but don't buy much. This isn't finals time, it's a road trip. So get your shit together. The espresso, adderall and cigarettes are for when you feel like you're about to steer off the road to a certain death, the beer is for drinking in Waffle House parking lots when you are done driving for the day and you get to be the drunk passenger and the bourbon is for emergencies.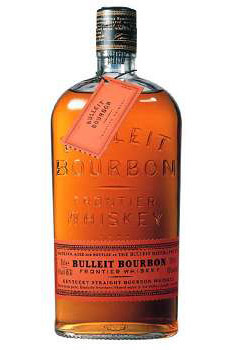 On Technology:
While most of us are normally hyper-fucking-connected people, being on a Road Trip is also about letting go, technologically.
Much to the chagrin of your fellow Autostraddle Editors, your Boss, your Family and the twitterverse, you will have a hard time staying connected to the internet. Once you realize that many states in the confederacy/union have vast stretches untouched by 3G, you may panic. So get that out of your system, stop trying to get a connection every chance you can and chill the fuck out. Because nothing is more frustrating than a faltering internet connection. And if Autostraddle published this, it means that these people will forgive you.
Letting Go:
We didn't realize this until we started leaving people we liked behind, but a road trip is a lot about letting go. You will see amazing places. You will fall in love with new cities, with uncannily comfortable mattresses, with aloof but malleable kittens named Yoshimi. But in due time, you must leave them. So leave it all on the field. That's what I would say if I was your football coach. But I'm not, so I will merely suggest that you love everything harder.
In the next installment, we pick back up in New Orleans because things started being cool and zany there. We will regale you with bayou tales, cemetery tales, lesbian tales and more!