Over the last few years, sex toy companies and stores have asked us to review their toys in exchange for, you know, their toys. Today we're reviewing Kegelbell from the Vagina Gym.
---
There I was on a Thursday night, rounding out my first ever rewatch of True Blood, watching Lafayette dance around his living room in sunglasses and a bedazzled shirt, and I decided to finally test out Kegelbell.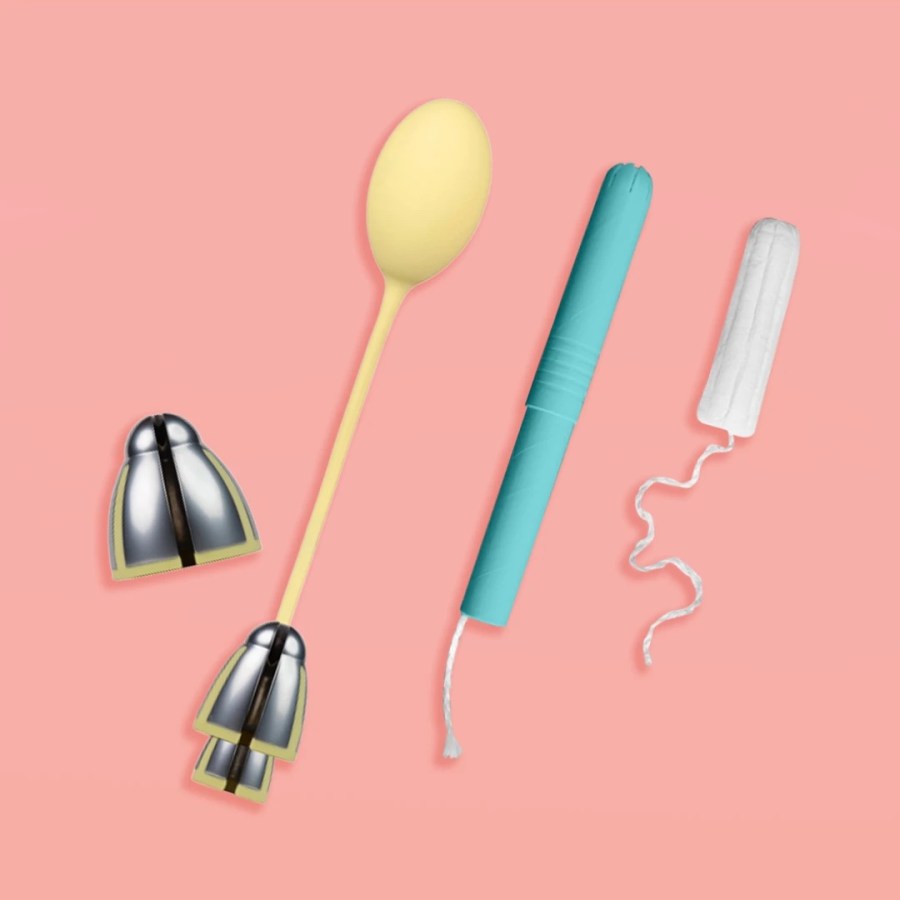 First of all, I can't believe it's taken me this long to rewatch True Blood, like what? It's the best rewatch decision I've made in a while. But I blasted through it far too quickly and got sad. I went too fast, and my love for the inhabitants of Bon Temps and Pamela Swynford De Beaufort made me speed through it all. So what's something I do when I am a little sad and want things to turn around? Put things inside my pussy!
I reached for the Kegelbell box and started to open it, but realized I should probably pee first. The first time I learned about kegels, it was in an issue of Cosmopolitan from when I was in middle school, no doubt in some article where the writer was telling the reader to do the exercise so their two-bit boyfriend would be more satisfied while they were fucking. It seemed like anything to do with the kegel exercises wasn't meant at all for the person who owned the vagina, but more so meant as another way to please the person who was going to be inside of it.
It was a long time before I learned that kegels didn't just have to be for a vagina having a person's pussy to be tighter for someone who probably didn't deserve to be in there in the first place. As we get older, have babies, or enter into menopause our bodies change and it's something we don't always have control over. We often use these anonymous sex toy reviews to talk about new vibrators, dildos, butt plugs, and other stuff that helps to increase our sex lives, partnered and solo. But I wanted to make a small change and test out something that can be used for something beyond just something for sexy times.
I wanted to try it because so much of Kegelbell doesn't seem to be aimed at all things sex-related. It helps with that but also claims to be a better alternative to surgery for things like looseness, vaginal dryness, and even orgasm dysfunction. Kegelbell says they can also help with incontinence, restrengthening after birth, and pelvic organ prolapse — something I'd never even heard of until I tried out Kegelbell. They also don't claim to be a medical device, which I appreciate; they classify it as an exercise tool to help women with their fitness goals and a natural way to take care of their bodies. I do hate the fact that they link vaginas directly to womanhood, and that only one of the visual reviews they have chosen to share is from a Black person — both of those things could use some SERIOUS readjusting. But onto my time with the product.
As I watched Sookie Stackhouse run across that cemetery in a white dress for what felt like the millionth fucking time, I got started. I was sent the entire original kit ($99.95), which has two different sized inserts (made from body safe medical-grade silicone), three different weighted bells (ranging from 30g to 120g), an instruction guide, and a really soft little fuzzy storage bag for it all. They also sent me their Insert Serum, which is basically just lube (and you can use it with other things, except it's not compatible with polyurethane condoms) but I like the idea of having a lube just to use with the system. I made sure to wash everything down first with warm water and soap — they sell cleaner meant just for the system too, if you wanted even more separation — then dried it off and added the lube.
It was easy to insert; I started with the small bulb first and they suggested trying to see if you can squeeze the insert and keep it in while pulling on the cord. I could, so I added the first weight at 30g. After I attached the weight I just, well, squeezed. 10 seconds squeezing with my knees slightly bent while the bell swung in between my legs, then relaxed for 30 seconds while holding the bell in my hand before starting again. I didn't have any issues with the insert falling completely out, but it did take a little bit of extra work to keep it in when I wasn't kegeling. I repeated it all for five minutes, took it out, cleaned it all, and put it away in its little pouch.
After two weeks of workouts (I was pretty consistent in doing it three times a week) I was able to move up to the second bell and had to work a little less hard at keeping it in when not squeezing. Don't get me wrong, it was still slipping out but it genuinely felt like it was slipping out a little less. I couldn't feel things getting stronger, necessarily, but when I was using the system I noticed a difference. I wasn't expecting to be able to walk around and feel my pussy muscles getting brolic but it was obvious that there was a change.
There are about 16 different combinations of weight that you can work up to when you're using the system: combining the bells together, using different sized inserts, and extending the amount of time you exercise for. I recommend starting small and working your way up; you don't need to be a hero and go for the gold right away. Kegelbell recommends doing it in the shower since each workout is only five minutes long at the start — but I liked doing it in the middle of the living room with the windows open.
In the end, it works, and I'll be using it more as time goes on but I'll probably knock it down to just twice a week. It does the job of strengthening what it's supposed to and it's fairly easy to use. The price is a little steep, especially when it's something that you can technically do for free, but if you are considering surgery for any of the reasons I talked about earlier then maybe getting this first and trying it is the way to go before you go that route. My major qualm is the makers directly connecting having a vagina to being a woman. Rethinking that approach would make it so they don't erase an entire group of folks who may be interested and need the product. That and they have to get rid of whoever this guy is who is supposed to talk you through your workout — it's terrifying, haunts my dreams, and dries me up so quickly that I almost emptied out the bottle of Insert Serum.